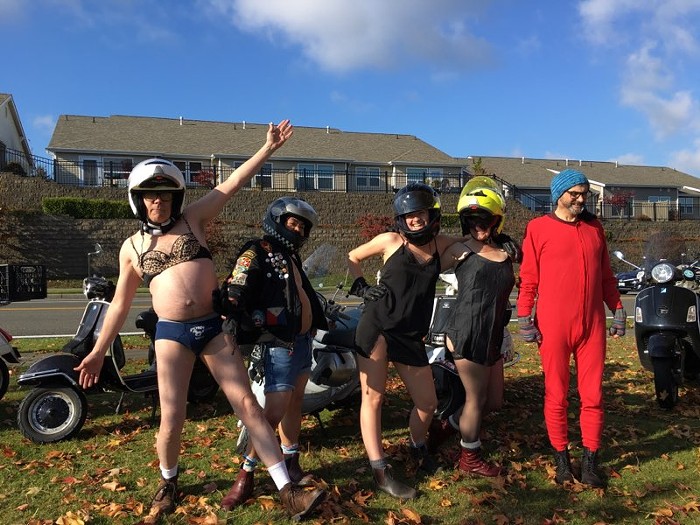 Where
: Tacoma (???)
When
: Saturday, November 10
The Stranger shaved our legs for the first time in months. Why? We were headed to Tacoma. We groaned initially—Tacoma???—but the invite was from Tacoma's elite scootering clubs. Would The Stranger strip down and join them for their 10th annual nearly-naked scooter ride?
You bet your ass we would. So we shaved our legs—our nearly-naked outfit of choice (a black lingerie slip) would be showing a healthy amount of thigh—and packed a towel, as we were advised.
We'd left behind the gay paradise of Capitol Hill, the Stepford-like pseudo-suburbia of Wedgwood, and waded into the unfamiliar waters of I-5 south toward T-Town. It was 9:30 a.m.
Running about 30 minutes late, we texted our host with one hand, breaking all distracted driving laws. "Don't worry," our host responded, "we run on scooter time."
We were meeting at Knapp's, a cocktail lounge, for breakfast. There was a smattering of Lime E-scooters, a product still considered contraband in Seattle, out front. But these weren't the scooters our bare asses would be touching today. No, we'd be barebacking on Vespa-like scooters like an X-rated Lizzie McGuire Movie.
As soon as we opened the door to Knapp's, we were greeted by whoops and hollers from a group of leather-clad scooterists. We were the only one who got carded—everyone else looked over 40. There were jackets à la motorcycle gangs except their two-wheel vehicles of choice reached only 60 miles per house, or, as someone said, "It can get to 90, but only if there's a strong wind behind you."
The Fuck Yeah Scooter Club (or just "F-Yeahs" for short) were putting on this event, but another club, the Firkins, were in attendance. They do it rain or shine and always in the winter. In the past, they'd journeyed from Tacoma to Fife and met up, numb and red, at a hot tub place where they'd stay and thaw for hours. The past two years, the groups have changed things up. Now they ride to a park where they set up a massive slip n' slide.
"Last year, there was a lot of goose shit on the slip n' slide," someone muttered. "I hope there's less goose shit this year."
The Stranger was given our very own F Yeah patch (are we a part of a gang now?) and indoctrinated into the culture. Our host, Scooter Dawn, said she had gotten into scootering when she lived in Seattle. She couldn't justify having a car anymore so she got a scooter. The lifestyle followed.
Scooter culture is less dramatic in Tacoma than Seattle, Dawn said. Even though the F Yeahs and the Firkins are different groups, they still get along. No Bloods and Crips in this scooter town! Seattle, she said, has some drama. The Vespa Club of Seattle has all but crumbled because of it.
"Hey! Can we take our pants off in here?" someone yelled at the scandalized Knapp's waitress.
"No!"
"Please, it's our annual nearly-naked scooter ride."
"You really want to take your pants off," she sighed. "Go ahead."
Clothes were flying, knobby knees were exposed, one man seemed to only be wearing his jacket and just his jacket.
"Hey, aren't you in the Little Donuts?" One of the non-scooter patrons asked him.
Dawn sidled up next to me and whispered, "He's a part of the Northwest's premier all-Filipino Hall & Oates cover band. They're called the Little Donuts." We were in the presence of celebrity.
Our nipples were hard as we walked outside behind a man in tiny spandex shorts and a luchador mask. Dawn gave us a helmet and pointed to the seat on the luchador's scooter.
"You'll ride cupcake with him," she said. "Cupcake" is the scooter term for "bitch," or, what's motorcycle lingo for passenger. Cupcake is more progressive, everyone agreed.
We swung our leg over the scooter. We felt like we were mounting a glorious, creamy white steed. In this metaphor, that made the luchador-masked man our prince charming. His bare back was tanned. We could see wisps of a graying beard and a pair blue eyes through the mask.
"How are we supposed to hold on?" The Stranger asked, "Do we just, uh, grab you?" We nodded toward his waist and everything tucked imperceptibly into the tight spandex.
"There are handles under the seat," he said gruffly. Oh.
The scooters rumbled to life. Riders were clad in long johns, in lingerie, in just bras and underwear. The cold was settling into our bones as we waited for the call to action. The people shopping at the farmers market down the block gawked. Passing cars honked. And then we were off like bats out of hell. It was like the music video for Macklemore's "Downtown" and the Seattle Police Department's lip sync video, except sexier (if that's possible).
The Stranger and the luchador filed into line. Two rows of scooters took up an entire lane. The wind whipped at our skin, whenever the luchador turned around to check in on us—he was very kind—his eyes were watery from the cold. We fumbled with the straps of our lingerie during every turn. There's a strong likelihood that some Tacoma family saw our left nipple. You're welcome!
Then, we were at the park. A slip n' slide so big it took up an entire hillside was set up. There was a tent, a portable fire, and a vat of heated water. We lumbered toward the tent, our numb extremities slowing our pace.
People lathered themselves in baby oil. "Did someone buy any soap this year?" someone shouted. Then, they
hurled themselves face-first down the slip n' slide
. People cheered. One man in just a Canadian Speedo ripped the plastic tarp.
"He ripped it with his penis!" One person shouted. "Put that damn erection away already!" another rebutted.
On the other side of the hill there were three children's soccer games being played. Some kids had crested the hill and were watching curiously, or with abject horror.
"Why can't I slide fast?" One woman asked. "I'm telling you, Karen, it's your muff."
At one point, someone went up to the man who had donned a leopard print bra and said, "Hey man, I'm not into body shaming, but your tits are small."
Someone said they liked how The Stranger glistened as we lathered ourselves with baby oil. Then, with that vote of confidence, we vaulted down the slip n' slide ourselves. The whole group of people, which had grown to well over 20 scooterists, cheered.
We had never felt more alive.
"Ugh, the lube on my legs is just disgusting," someone remarked. "It's better than goose shit," came the reply.
At one point, one man climbed under the slip n' slide tarp. He wanted to make a jump for sliders to go off of. He volunteered his own body. Chaos, naturally, ensued. The man that slip n' slid over him felt the impact in his chest area.
"You ripped my nipples!" He exclaimed to the human mogul. "What's the matter, Robert? Did you do a little boob rip?"
Everyone was happy. We were happy. Women our mother's age and older ran around, giddy. They giggled and mooned someone named Frank. "My wife and daughter are here!" Frank yelled. All of these people had known each other for at least a decade. Scooters were what brought them together but they stuck around because they enjoyed each other's company.
The rest of the Filipino Hall & Oates cover band showed up. It was well and truly a party.
The temperature never reached above 45 degrees. We were shivering by the end and pressed for time. We had to get back to Seattle to volunteer at HUMP! So we bid our new friends adieu. They were headed to their next spot—to wet their whistles at a local dive called the Unicorn.
As we drove away, warm despite being unable to confirm that we still had 10 functional toes, we watched Puget Sound clip by out our window. Tacoma might actually be all right.
Want The Stranger to come crash your party? Email us at partycrasher@thestranger.com.