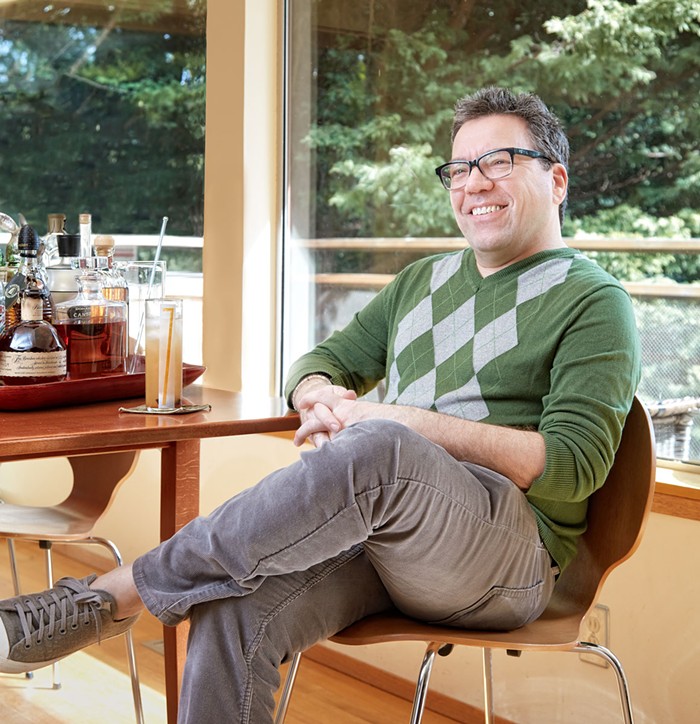 Warren Etheredge describes himself as a storyfinder—"I can mine narrative gold anywhere, from anyone," he claims. And he's amassed more than 3,000 interviews to prove it: from his compelling conversations with guests as host of The High Bar (once a television show, now a podcast), to his work helping combat veterans cope with PTSD through the art of storytelling at the Red Badge Project.
Etheredge is also a champion of other people's stories—through his indefatigable support of the Seattle film community over the years. He is one of the founding faculty of TheFilmSchool, the former curator for the 1 Reel Film Festival at Bumbershoot, and a programmer for SIFF and a ton of other local and regional film festivals.
You're now in season five of your showThe High Bar, where you talk to "people who care about culture that matters." Who and what should listeners look for in the coming weeks?
After four years as a television show, I've now relaunched The High Bar as a podcast with producer Tina Nole, which has allowed us greater diversity of guests and subjects as we can travel more easily. This week, author/activist Ijeoma Oluo schools me on intersectionality. Later this season there will be talks with legendary local music maker Sir Mix-A-Lot, Shrill author Lindy West, and maverick French chef Jacques Pepin.
Through the podcast and other work that you do, you've had hundreds (thousands?) of conversations with folks ranging from actress Jodie Foster to writer William Gibson. What's your secret to a perfect conversation?
I've conducted more than 3,500 interviews—nearing 125 for The High Bar alone. Here are a few broad takeaways: Allow enough time; meaningful conversations cannot be hurried. Allow for the pause; silence beats constant conversation, you'll learn more. Allow for the discovery; tamp down expectations and enter conversations willing to be changed by them.
It is this last point that underscores the necessity of honing our listening skills. Change starts within, with us. If the saying is correct—"Be the change you want to see in the world"—meaningful conversation is not a bad place to begin.
How do you keep your cool while talking to famous people?
Honestly, I have never been intimidated by celebrities. I look at it this way: What's the worst that could happen? They'll never speak to me again? Regardless of how "good" I am, that is likely the outcome, so why sweat it? Any awkward moments have been my own doing—not lapses of judgment, per se, but rather flights of fancy that crashed shortly after takeoff.
Perhaps I should not have greeted Lewis Black for an hour-long sit-down interview wearing nothing but a leopard-print bathrobe, but when I saw it hanging in the hotel closet, I couldn't resist. The trick to recovery, in every arena and at all times: OWN your choices and keep going. And keep the bathrobe on.
You also work with ex-soldiers who have PTSD, helping them cope with stress and trauma through storytelling. What have been some of the rewards (and challenges) of this kind of work?
My work with veterans via the Red Badge Project is easily the most rewarding work within my 25-plus-year teaching career. Not only do I believe it has a positive impact on the men and women who have served our country, but the level of honesty and vulnerability I both experience and exhibit in these classrooms is, frankly, addictive, as these traits are so rare in the rest of our lives.
You're pretty immersed in local Seattle film as a curator for multiple festivals over the years, and also as the former host of Reel NW. What do you look for when you dig for gold from local filmmakers? Do you have some recent Seattle favorites you'd recommend that we catch if we can?
In the first pages or the first minutes of any good book, movie, or story there is Truth. You can hear it, see it, feel it. Even in fiction, you can sense that the storyteller is committed to the tale and, in turn, you should have faith your time will be rewarded.
I am desperate for Jo Ardinger and Lisa Hurwitz to complete their feature-length docs, Personhood and The Automat, respectively. I've seen snippets and am entranced by both. Neil Ferron's This Brute Land Virginia will playfully shock many upon its release. Peter Edlund (Mixtape Marauders) is a talent bound to take off. Mark my words.
You've mentioned that Seattle is an easy place "to surround yourself with like-minded people." What do you mean by that?
Dear lord, the homogenous nature of Seattle is near fatal. While we all love validation, the only way to learn, to grow, to thrive is by challenging our ideas and ideals daily. When your audience is like-minded, you become too comfortable. I'd argue your critical skills are bound to atrophy. Seek out intellectual discomfort.
What neighborhood do you call home? What do you love (or hate) about it?
North Beach. Love the water, love the privacy, hate having to drive everywhere.
What is your favorite restaurant in Seattle? What's your go-to order?
I order the pork chop deluxe at Porkchop & Co. (in Ballard) most consistently. The venue and the meal are the epitome of comfort food.
Favorite bar? What's your drink?
Gin. Anywhere. The Tom Collins at Virginia Inn convinced me I could live in Seattle. The Tuscan Limoncello Rosemary Drop at Volterra regularly convinces me to stay in Ballard. The cocktails I make at home are the ones that convince me to stay at home.
Do you get SAD (seasonal affective disorder) during the gloomy Seattle winter? What's your strategy for dealing with it?
I do not. I like gray and overcast. That said, when we approach the biblical 40 days and nights, it can become a drag. My solution: Give over to it. Binge The Knick or Top of the Lake, intersperse with Mike Tyson Mysteries to stave off suicidal ideation.
What are you tired of people complaining about in Seattle?
Independent thought? I am going to "pivot" so I can complain about Seattle's fixation on consensus. Hell, few acts of greatness are achieved unanimously, folks.