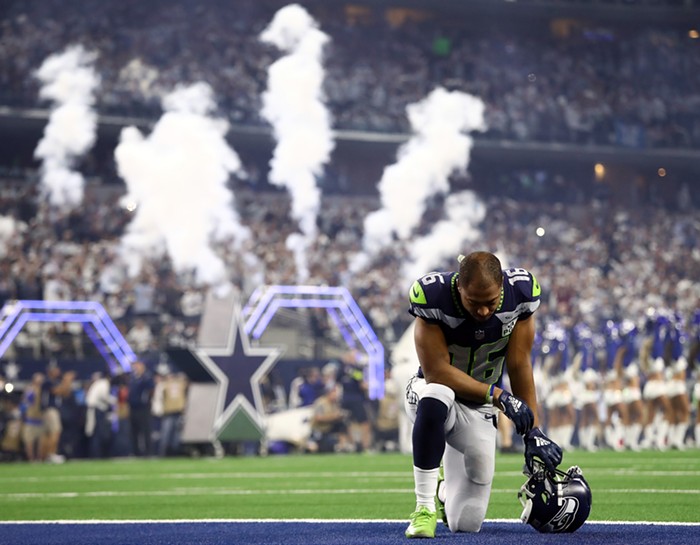 Well that sucked.
The Seahawks season is over after a 24-22 loss to the Cowboys. That the Seahawks lost a close game to a comparable team on the road in the playoffs is not what stings. Well maybe it is a little, losing in the playoffs always sucks. But what makes this really hurt is that it felt like the Seahawks barely even tried to win.
Who is the best player on the Seahawks offense? The answer is obviously Russell Wilson. It isn't close. And the Seahawks refused to let him work on Saturday, running the ball in early down situations to the point of absurdity. It was an exercise in stubbornness and futility, designed to torment. I'm pretty sure that the Seahawks just ran the ball again, right now, whenever you are reading this, with the game long since over, reenacting the Cake song "The Distance" but with running instead of driving.
When Wilson was allowed to execute he had a really solid game. But for far too much of the game, the Seahawks ran the ball and ran it predictably. The Cowboys linebackers were hardly asked to cover ground laterally (which, to be fair, they're very good at). Instead, they were asked to just sit tight in the middle of the field on first down and demolish Chris Carson. It was ugly.
The blame, of course, does not fall on Carson, but on the coaching. I won't parse here whether or not offensive coordinator Brian Schottenheimer or head coach Pete Carroll is more to blame for the situation. All responsibility falls on Carroll, but Schottenheimer is the one calling the plays, so they both get some blame for a game in which it felt like they were not trying to win the game.
Or rather, they wanted the game to come down to the final play and the final drive. They were banking on Russ being able to play clutch football (which he did) and win a close one late. The problem with that plan is that one missed tackle and Dallas gets up by two scores and the whole thing collapses. In some matchups against teams, the Seahawks are worse than? Staying close makes sense. But the Seahawks were good enough to grab this game by the lapels early, and just refused to do so.

Something needs to change next season. I no longer believe Brian Schottenheimer to be the dumbest carney at the county fair, but I do not think he is a particularly good play caller. This season was a bit of a rebuilding year, and the team massively overachieved to make the playoffs. Next season, if this off-season goes well, will see the Seahawks restocked and capable of making a run. Squandering a year of Russ's prime with a retooled roster by having him hand the ball off on first down over 50% of the time would be a tragedy.
Okay, let's break this tragedy down a bit:
• Some people are going to blame the refs for this loss. I, uh, won't. There were a couple borderline calls that went against the Seahawks, but nothing absurd, or any more than you would expect to play on the road in Dallas. That's the deal with being a wild card team in the NFL playoffs. The borderline calls won't go your way. But again, I'm not leaving this game mad at the refs.
• 
Seahawks kicker Sebastian Janikowski got hurt on Saturday, pulling a hamstring attempting a long field goal at the end of the first half. This should have really hurt the Seahawks. Instead, it made them make smarter choices all night long. They went for it on fourth down in a couple questionable spots that really worked out for them. And then they hit on two two-point conversions, which would have given them a chance to win if they had recovered an onside kick.

Alas and alack though, rookie punting genius Michael Dickson, asked to do too much after Janikowski's injury, mishit the potential onside attempt, dooming the Seahawks to defeat. So Janikowski getting hurt gave us a chance to make a game-winning play that we needed Janikowski to make. Twas a classic kicking Gift of the Magi situation.
Seahawks fans have turned on cornerback Shaq Griffin who had an absolute nightmare of a game on Saturday. Playing through a sprained ankle, it felt like Griffin was always at the center of whatever the Cowboys were doing right on offense. This was especially true in the run game, where it felt like he lost containment or missed a tackle on Ezekiel Elliot five or six times over the course of the game. Does this mean the Seahawks don't have an answer at cornerback going forward?
• I genuinely don't know the answer. I get wanting to write off Griffin; he failed to fill Richard Sherman's shoes this season and had a number of disappointing games. And this was a really bad showing. But he was playing through a sprained ankle. I get that fans don't want to make excuses for players, and it's fair to be mad at Griffin after his performance, but writing off his potential to develop because of how he played when he was hurt is premature. I think Griffin is a part of the Seahawks future.
• Despite all that! All that nonsense! The Seahawks were a 3rd down stop on a Dak Prescott run away from winning this game. The Seahawks did keep it close, but just not close enough for Russ to work his magic. How did they do that? Two guys who are amongst the most interesting questions for the team going forward.
• The first is Tyler Lockett. Lockett had the most efficient receiving season in the history of the NFL in 2018, and it was not close. He had a perfect passer rating when targeted, and the highest single-season DVOA (an efficiency metric made by nerds) for any receiver since 1986. He was incredible again on Saturday, reeling in 4 catches for 120 yards, and breaking off some really nice returns.

The question with Lockett is whether he can be this good with more targets. Can this efficiency scale up? Lockett was hurt the previous two seasons and managed to stay largely healthy this year with a reduced role. If he sees the ball more will he be as healthy and effective? If so, he's an All-Pro. If not? That's a bummer.
• The second is linebacker K.J. Wright. Wright missed a lot of this season with injuries, but on Saturday was the best defender on the field for the Seahawks. Wright is 30 years old and out of contract. The question here is whether the team wants to re-sign him? And whether he would stay on a deal they could afford.
Wright has been such a crucial foil to Bobby Wagner over the past few seasons it's almost impossible to imagine a Seahawks linebacking corps without those two guys together. Wagner is the unstoppable tackler in the middle. Wright is the screen whisperer, working sideline to sideline to shut down opposing running backs. Is Wright going to be here next year? I hope so, but I genuinely do not know how this ends.
This game was really disappointing, but it does not undo what was a largely very fun Seahawks season. But it does leave some big questions to be answered. The main one: can this team be smarter in how it uses Russell Wilson? I respect that Pete Carroll wants to run the ball generally, but too often this team has failed to maximize its offensive potential. I really hope that is not the case again next season.