Former President Donald Trump's arraignment is imminent: Trump, famous for his cameo in the 2002 Sandra Bullock movie Two Weeks Notice, is scheduled to appear today at about 11 am PDT in a Manhattan courtroom, according to the Associated Press. The charges are related to falsifying business records in a hush money investigation. After that, the court will unseal Trump's indictment, revealing the details of the case against him. Keep an eye out for the PDF link drops, everyone. 
Update: Trump plead not guilty to 34 counts of falsifying business records related to hush money payments to Stormy Daniels—all felonies, according to the Washington Post. The first criminal charges ever leveled against a former US president would feel more historic if he weren't already the country's worst person. Anyway, check out the mopey perp en route to his arraignment: 
Mayor playing for time on policing alternatives: Seattle Mayor Bruce Harrell was supposed to have outlined his plan for policing alternatives by the end of 2022. However, as an alternative to the alternatives, Harrell's focused on bolstering the Seattle Police Department through a hiring and retention plan, establishing the interim chief of police as the permanent chief of police, and conducting morale meetings with officers, according to the Seattle Times.
Harrell promised to create a third public safety department to send "civilians" to calls where neither police nor firefighters are required. In the meantime, Harrell promised to stand up a "dual-response team" to send to some of these calls while the city built up the broader, larger third public safety department. The mayor's office said the pilot will definitely, probably launch late this year. But that timeline might shift. Planning police pizza parties—er, morale meetings with officers—takes a lot of time.
Judge sets $2 million bond for man suspected in Capitol Hill shooting: The 35-year-old man's public defender appeared on his behalf at a Monday bond hearing. The judge agreed the state had probable cause to hold the man on charges of murder in the second degree and assault. 
The charges stem from the shooting death of 23-year-old Elijah Lewis, an activist and entrepreneur heavily involved with Seattle's Central District. At the time of the shooting, Lewis was driving his nine-year-old nephew to a monster truck show at Lumen Field. 
According to charging documents, the 35-year-old man was riding an electric scooter eastbound on East Pine Street when Lewis drove up and tried to turn right onto Broadway. Something happened, and then the two argued through the car's open window. The man then pulled out a handgun and shot three times into Lewis' car, according to prosecutors. One bullet hit Lewis in the chest, and he later died from his injuries. Another bullet his Lewis' nephew in the leg, and doctors released him from the hospital Sunday. Lewis' family believes he tried to protect his nephew from the gunshots. People gathered Sunday afternoon for a vigil to remember Lewis, according to the Capitol Hill Seattle Blog.
#ElijahLewis - "In the last five years, I've lost over 40 people. A lot of them were due to gun violence. For me, this isn't work, it's community, it's life, and it's the life I live because I don't have a choice. What I'm doing actually saves lives." - Elijah L. Lewis.

Lewis… pic.twitter.com/0cHg1Pslxt

— Converge Media (@WWConverge) April 3, 2023
Emaciated whales to watch for on your next ferry tour: A dead gray whale washed up Saturday on Fox Island in Pierce County, according to KIRO 7. Washington Department of Fish and Wildlife noted the underfed 41-foot long male whale making his way around Puget Sound in the last few weeks. Another gray whale washed up near the end of March in the Bay Area, according to the LA Times. The 35-foot long dead whale wasn't malnourished, but the death is still linked to the abnormal increase in gray whale deaths first noted by the National Oceanic and Atmospheric Administration in 2019. Scientists say gray whales are known for their hardy resilience, with one retired NOAA biologist calling them the "jeeps of the ocean." That's a bit rude, as jeeps are the jeeps of the ocean, given their moisture-resistant body openings and high air intake. Also rude because cars are probably helping to kill the whales.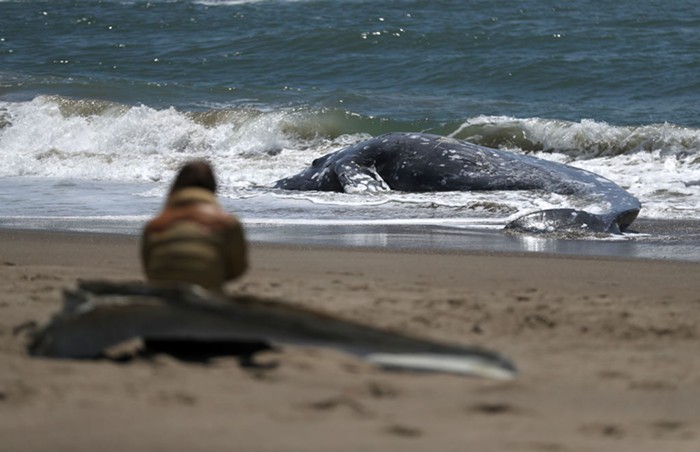 Today's weather is overcast: But cheer up! The really depressing weather won't come until later this week. 
A few showers lingering around the area this morning. Drier conditions are expected this afternoon and into Wednesday morning. An active pattern sets up Thursday into the weekend. #WAwx pic.twitter.com/aYzKI68Xwp

— NWS Seattle (@NWSSeattle) April 4, 2023
Providing services isn't cheap: Over the past decade, Seattle spent a billion dollars on the issue of homelessness, according to KOMO. And yet, the number of unsheltered people rose. Based on the comment section, KOMO may have unintentionally indicated that the rise in homelessness meant the City wasted ~$100 million per year to address the problem, and that throwing more money into the system will do nothing. An interesting point! For comparison, the Seattle Police Department's budget was $355 million in 2022, but violent crime rose in 2022. To borrow a quote from KOMO commenter Seattlesucks: "Gee, how many mental health care facilities could this have funded?"
Some important elections happening elsewhere today: Chicago will elect someone to replace Mayor Lori Lightfoot, who placed third in the primary election. The contest pits Paul Vallas, 69, a former schools executive and loser, against Brandon Johnson, 47, a county board commissioner. In classic Chicago fashion, crime is the major issue in this election. Johnson is distancing himself from past comments regarding defunding police, and Vallas is positioning himself as someone to hold criminals accountable, according to the Washington Post. 
Wisconsin will elect its next state Supreme Court justice today: Liberals hope to tip the court's lean to the left by electing Milwaukee County Judge Janet Protasiewicz. Spending in the race tripled an old national record, topping out at more than $45 million, with most of that money coming from out-of-state sources, according to NPR. If the court tips in favor of liberals, Democrats may have a chance to overturn a more-than-a-century-old abortion ban, which took effect after the Dobbs ruling.
First-year lawmakers in Tennessee get rowdy over gun control: Tennessee legislators want to expel three Democratic members of the GOP-controlled House for the Dems' role in a protest for gun control at the state Capitol last week, according to Politico. In the gun protest, the three lawmakers basically just showed up at the entrance to the House chamber with a bullhorn, so this seems like a bit of an overreaction.
A fair to remember: A nine-year-old girl took her goat, Cedar, to a fair in California. She was set to auction the goat for slaughter, but she had a change of heart, so her mom let her take the goat home. Less than two weeks later, the local sheriff's office came to confiscate the animal and return it to fair officials for slaughter, according to the Washington Post. The fair took a real hard line against the mom and her daughter. The emails in this story are wild. But, good for the fair officials, honestly. You're never too young to learn about the unyielding cruelty the world has in store for you, or your pet goat, Cedar. 
BETWEEN FRIENDS is going to be at the Capitol Hill Block Party: This song was my summer anthem. Highly recommend not romanticizing your situationship with this, but still excellent music.