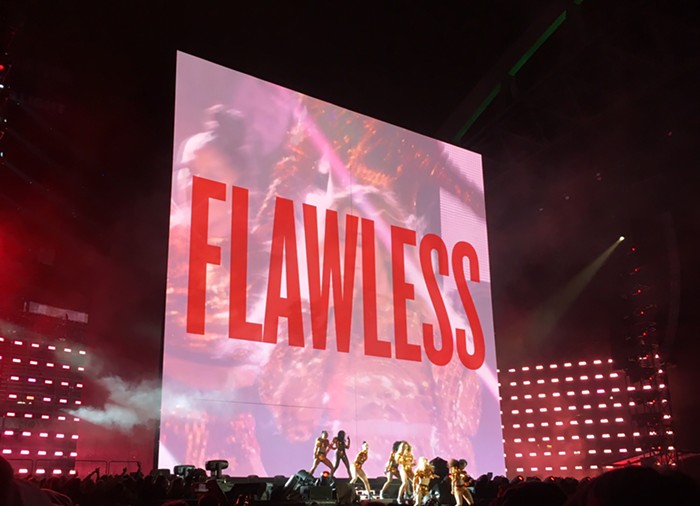 Before Beyoncé even took the stage last night, we saw her body—flashes of flesh broadcast on a massive, four-sided tower made of video screens. We saw her holes. An orchid bloomed from out of her mouth. She sat on a backwards chair looking into each and every one of our souls, a light emanating from her pelvis.
Sponsored
He took on Trump to protect our Democratic values. It's time for his proven progressive leadership.
This is the Formation tour, and we are all formed from women.
How does a black woman—a pop star—come to be in complete artistic and commercial control of her music and image? And how does the world's biggest pop star come to transcend all of pop's trappings and become a seemingly unstoppable cultural force?
After watching what Beyoncé Giselle Knowles did last night at CenturyLink Field over two straight hours and thirty-plus songs, the answer is clear: She works.
"If you came to have a good time tonight, say 'I slay!" Beyoncé instructed us.
The opening of the Formation tour is all aggression and empowerment. The songs—"Formation," "Sorry," "Run the World (Girls)"—flared, quite literally, with fire but also raw emotion and power. Once everyone was drawn in, the rest of the show could begin.
She's hurt and angry, but she's resilient. She's grown and sexy—and proud. She's a flawless diva who is feeling herself, literally and figuratively. But wait, hold up, she's also insecure and flirtatious, a naughty girl in a red vinyl fantasy. Ultimately, she is all of these things at any given moment, which is what makes her free.
Beyoncé gave us everything last night. She performed songs mostly from her two most recent albums Lemonade and Beyoncé, but also plenty from 4 (her best, most complete album), B'Day, Crazy In Love, and the Destiny's Child catalog. She gave us a gutwrenching rendition of Prince's "The Beautiful Ones." It was one of her best vocal performances of the evening, and she did it all on her knees, vulnerable. She gave us the sexed out bliss of "Rocket," then segued straight into a few bars of D'Angelo's "Untitled (How Does It Feel?)" She gave us a safe space to lose our minds.
Formation is a woman's world—Beyoncé, 20 backup dancers, an all-female band, including guitar and bass players who take the stage to play gripping solos. The only men in Formation are the ones offering Beyoncé water, handing her towels to wipe off her face, and switching out her microphones.
In new videos made for the tour, Beyoncé appears inside a few different glass boxes. She wears a rhinestone muzzle. Onstage, her backup dancers appear in wire necklaces that extend upwards over their faces like cages. And then Beyoncé smashes one of those glass boxes with her fist, and she and her dancers move with a ferocity and ownership of space that you realize nothing can hold them.
The choreography—muscular and unrelenting—is a powerful throughline of the show. Whatever subject, style, or emotion was being explored musically, it was rooted in the tribal-like movements of Beyoncé and her backup dancers. Their arms, echoing West African dance traditions, swirled in circles and also moved with military precision through sharp, wide angles while their legs were often set in wide, powerful stances. There was a lot of stomping.
"If you're a woman, you're strong. We survive," Beyoncé said.
Beyoncé—and Formation—are functioning on all levels.
At one point, Beyoncé walked off stage and disappeared—only there she was on the giant screen, wearing the same gold bejeweled panties, her legs spread wide. She sat on a black box. Then, suddenly, the box opened up, the screen slid apart, and there was Beyoncé, sitting underneath her own vagina as the nasty bass line of "Partition" made everyone's nether regions quiver involuntarily.
"She's everything," a woman near me screamed.
She's not wrong. Beyoncé is everything, but she's also exactly only everything that Beyoncé wants us to see. All two hours of Formation are perfectly constructed and edited. There are the visuals: snippets of the visual album Lemonade, the home videos of her, Jay Z, and their daughter Blue Ivy, as well as a live video feed that, during songs like "Drunk In Love," display altered, transportive images in real time.
Musically, it's the same meticulous editing. Songs are re-mixed and pre-mixed with others ("Rocket" with "Untitled," "End of Time" with "Grown Woman"). While Beyoncé performed a few songs in their entirety (mostly from Lemonade), she sang only a verse or so from the majority of the thirty-plus songs in her set—still more than enough to satisfy and remind us all of the breadth of her body of work.
"Many of you met me 19 years ago with Destiny's Child," she said in one of several moments of sincere and joyful gratitude. "Thank you for allowing me to grow and evolve."
How she is able to give us seemingly everything? Her source of inspiration and power—herself, her life as a black woman, a wife, a mother, an artist—is, apparently, endless.
The end of the show found Beyoncé alone on stage—glittering, glistening, barefoot—thanking us. She didn't walk off the stage; she was absorbed by bright lights and vanished through a hole in the floor.
Our society's understanding of what it means to be a woman—what our bodies should look like, what parts should or should not define us—is changing and growing for the better. Beyoncé, flawless and with blonde hair, isn't necessarily at the forefront of that. But she is, undoubtedly, the most powerful cultural force celebrating women. She tells our stories, explores our emotions, embraces our complexities—our glorious, glowing holes.
Sponsored
Take 10% off all full-price online orders, plus discounts for essential & service workers, all day