Oh, the news seemed so blessedly happy and simple—that Stephanie Stebich and Anne-Imelda Radice not only found each other, fell in love, and walked down the aisle, but that they were able to do it openly and proudly in the New York Times Vows column, with a whole slide show of photographs of their bucolic big day.
"In the summer of 2015," the New York Times began in a heart-tugging account of their romance, "the two women met in Detroit for a museum directors' meeting and had a cup of tea together. But while they started talking art and museums, the conversation quickly turned personal: Ms. Radice told Ms. Stebich about her frustrations about living in the closet. Only her close friends knew she was gay."
"I felt I could trust her because she had never hidden her sexuality," the older Radice told the NYT. "I looked up to her for that."
Said Stebich, "She talked about how her career dominated her life and how her personal life was always second and secret, especially as a government official. I had compassion for her..."
James D'Entremont was "a little disgusted" to read that. He knows firsthand about Radice's time as a government official.
"I still have nightmares about her reign," he said.
Radice, 68, is now director of the American Folk Art Museum in New York. Stebich, 50, is director of the Tacoma Art Museum. I asked them for comment. I got no response from Radice through the folk art museum. Stebich wrote me: "Happy to talk more about our wedding if you like. That's the only topic of interest to us."
Radice served in government positions all through the 1980s, but really came into public view in 1992, when she ascended from Senior Deputy Chairman to Acting Chairman of the National Endowment of the Arts under President George H.W. Bush. She was a self-avowed lifelong Republican at the time. Her political donations records from 1991 to 2008 show her to be a regular supporter of Republican candidates including George W. Bush's two presidential runs. At the end of 2015, Radice donated to Hillary Clinton. (Stebich has donated on both sides of the aisle, including to a Republican museum board member advocating a flatter tax code for Washington state, which already has "the most unfair state and local tax code in the country.")
Back in 1992, Radice only held the position of Acting NEA Chair for less than a year—but her time was memorable.
In her very first week, she earned the nickname "the decency czar" after she argued for the survival of the NEA to a House appropriations subcommittee by promising that the agency would steer clear of "the divisive things that have caused the Congress and the American people to be frightened of the NEA."
"If a grant application projects sexually explicit material—if it leaps out at you—we just can't afford to fund it," she told the subcommittee in public hearings, adding the NEA would fund art that appealed to the "widest audience."
Radice was immediately criticized for appearing to save the NEA but effectively neutering it—for doing what her predecessor had been fired for not doing when he stood up for art on First Amendment grounds.
In quick succession, Radice followed words with actions.
She yanked funding from the three gay and lesbian film festivals in New York, LA, and Pittsburgh, the same festivals that had gotten NEA funding before.
Asked to explain her decision, she remained silent but the NEA issued a statement that "the acting (chairwoman) of the NEA finds that the proposed sub-grants do not demonstrate artistic excellence and artistic merit worthy of support by this agency."
In another headline-making call, Radice overruled an endowment-appointed peer panel and the 26-member National Council on the Arts and unilaterally refused grants to two art exhibitions at colleges.
Longstanding NEA affiliates—establishment figures including Seattle's major modern art collector Virginia Wright—protested by refusing to continue their service to the NEA.
During that time, James D'Entremont headed the Boston Coalition for Freedom of Expression, the principal New England affiliate of the National Campaign for Freedom of Expression, which arose in response to attacks on the arts from Republicans and the religious right in the 1980s and early 1990s—the so-called Culture Wars.
The Boston Coalition tried to defend one of the exhibitions Radice wouldn't fund, Corporal Politics at the Massachusetts Institute of Technology's List Visual Arts Center. Corporal Politics featured art depicting the human body in the aftermath of the AIDS crisis, by the artists Louise Bourgeois, Kiki Smith, Robert Gober, David Wojnarowicz, and others.
"I'm the head of a federal agency that has a responsibility to the taxpayer," Radice had told a conference of arts administrators. "And the taxpayer has been pretty vocal about what he or she feels about everything, including the arts."
On Facebook, San Francisco-based gay historian Gerard Koskovich wrote last week, "As best I can document, Ms. Radice has never apologized for her actions at the NEA. So I'm sorry, but I can't really congratulate the newlywed on her latest good fortune. I'll think about that once she owns up to the harm she caused the LGBTQ community and our allies and takes active steps to repair the damage."
"Filed under Vichy Homosexual," wrote a commenter named Beth Callaghan, referring to the puppet regime in Nazi-occupied France.
I asked Stranger editorial director Dan Savage if he knew of Radice, since he was involved in the arts during the Culture Wars and writes extensively about gay history and politics.
"Fuck her," he said.
And how many are like her, he wondered? "How many Ken Mehlmans are there out there?"
Mehlman was "the most powerful Republican in history to identify as gay," The Atlantic wrote in 2010, when the former RNC chair and George W. Bush campaign manager came out.
Powerful gay people have been accorded a certain level of protection, D'Entremont said—unlike poor and struggling gays and lesbians, including artists such as Wojnarowicz, who died of AIDS in 1992, just when Radice decided the government couldn't touch him.
What made Radice's tenure especially painful, said D'Entremont, was that in the 1990s when she was head of the NEA, "she was basically openly gay but eager to throw less privileged gay people under the bus. She would show up with her regular date... at Human Rights Campaign functions and things like that. Everybody knew she was gay but nobody mentioned it in print except certain gay publications that don't exist anymore. Yet she targeted gay and lesbian material quite frequently either through direct de-funding or denouncing as controversial anything that had to do with gay politics."
The late artist Wojnarowicz is a test case for the happy-ending story that Radice and Stebich told the New York Times.
Radice made a decision about him in 1992, and Stebich made another one in 2011.
In December 2010, Smithsonian secretary G. Wayne Clough yanked a Wojnarowicz video out of the National Portrait Gallery exhibition Hide/Seek: Difference and Desire in American Portraiture after a complaint from the right-wing Catholic League.
The art world erupted in protest, echoing the events of 1989, when Christina Orr-Cahall caved easily to the pressure of right-wing bigots and canceled a Robert Mapplethorpe exhibition headed to the Corcoran Museum, where she was director. (Mapplethorpe died just months before her decision, of AIDS. Meanwhile, Orr-Cahall's showed up alive and kicking as CEO and director of Seattle's Experience Music Project from 2009 to 2012.)
The 2010 protest and censorship was a reminder that art was still vulnerable to attacks from the religious right.
The NEA never did recover, not really.
The NEA's budget, of nearly $175 million, was at its highest level ever when Radice took over in 1992. It dropped to $99 million in 1996—Clinton was no NEA hero, nor was his NEA chair, Jane Alexander, in the era of Newt Gingrich. Under Obama, the NEA's budget has risen to $148 million, but to match 1992's dollars it would have to be $300 million today, more than double—just to break even with 1992. Grants to individual artists have mostly evaporated.
(Aside to election 2016: Would the NEA even survive a Trump presidency? Hillary Clinton's record in the arts as First Lady and over the years is tepid. Her priorities have been in arts education for children, despite the famous story that her first date with Bill was at a Mark Rothko exhibition in 1971. In fact, what's happened at the NEA since Hillary entered politics tracks with her own trajectory: rightward.)
Stebich and Radice's story could be a book—if they were willing to be openly reflective about it.
After the Catholic League's 2010 antics, Stebich and the Tacoma Art Museum refused to cave.
TAM was scheduled to host Hide/Seek, with the Wojnarowicz video that the National Portrait Gallery censored, and TAM stood up and showed that video.
The artist Stebich embraced was the artist Radice recoiled from. Have things changed so much? Or is a private museum like TAM inherently more accepting than the American government?
What would Radice have done in 2010 if she were facing the Wojnarowicz decision at the National Portrait Gallery?
What do Radice and Stebich talk about when they talk about Wojnarowicz?
Sponsored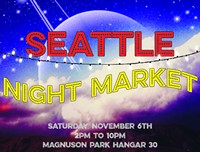 Shop, snack and booze your way through 75+ local shops & retailers. 21+ with vaxx or negative test