Who's ready to start election season all over again??! Too bad!
Next year in Seattle, Mayor Ed Murray and City Attorney Pete Holmes will be up for reelection. Two citywide council seats—currently held by Tim Burgess and Lorena González—will also be up. If cities are more important than ever, then deciding who runs them is more important, too. What's more: Several of these city races will, for the first time, test Seattle's brand new public campaign financing system.
New what? A brief recap, stoner: Last year, Seattle voters—hopefully you were one of them!—approved a new public campaign finance system that includes a small property tax levy to fund "democracy vouchers." Seattle residents are now going to begin receiving those "democracy vouchers," which they can then give to candidates to help fund their campaigns. All Seattle residents, whether or not they're registered to vote, will be eligible for $100 in vouchers each election year, and the application process for non-voters officially opened this week.
Here's how to make sure you get your democracy vouchers:
• As a registered voter, you'll automatically get four $25 coupons in the mail and you'll be able to donate those to candidates for city council or city attorney who participate in the program*. The city will begin mailing those vouchers on January 3. (Yes, that is ridiculously early. Do not throw them away!)
• If you're not a registered voter but you are at least 18, you live in Seattle, and you're a U.S. citizen, U.S. national, or lawful permanent resident (you have a green card), fill out this form. Email it to democracyvoucher@seattle.gov; drop it off at 700 5th Ave, Suite 4010; or mail it to Democracy Voucher Program, PO Box 35196, Seattle, WA, 98124-5196. While you're at it, if you want to register to vote, do that here.
Once you receive your vouchers, you can give them to any candidate who has qualified for the program (or a representative of that candidate). You can't gift or sell the vouchers to friends, and you can't trade them in for money, weed, etc.
Some of next year's races are unlikely to see a real challenge on the money front (good luck to anyone who thinks they can take out González or out-fundraise Murray), but others will get competitive. Tenant advocate Jon Grant has already announced his plans to run for Burgess's seat and use public campaign dollars to do it. Stay tuned for others.
When you inevitably think they're junk mail and throw them away If you lose your vouchers after you get them next month, call 206-727-8855 or email democracyvoucher@seattle.gov.
*To qualify for public funding, candidates must first raise a set number of contributions to demonstrate their viability. Public financing will be available for the mayor's race starting in 2021. If you're thinking about running for office and want to know how to qualify for public campaign financing, click here.

Sponsored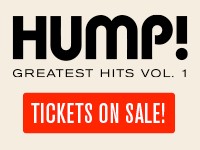 What are YOUR favorite HUMP! films? Start with HUMP! Greatest Hits, Volume One! Relive the memories!