Since 2013, Tarra Simmons' resumé has boasted a series of accomplishments: Graduating magna cum laude graduate from the Seattle University School of Law. A law school dean's award. A King County Washington Women Lawyers scholarship. A renowned national fellowship working with formerly incarcerated people in order to get their lives back on track. Two appointments from Governor Jay Inslee to co-chair and serve on councils related to prisoner reentry and public defense.
But according to the Washington State Bar Association, Simmons isn't fit to be a lawyer. Earlier this year, the bar's Character and Fitness Board rejected Simmons' application to take the bar exam by a a vote of six to three. Simmons, the board wrote, had not done enough to outweigh her "years of misconduct" prior to 2013.
Simmons' story has been covered by a number of news outlets over the last year, and tomorrow the state Supreme Court will hear her case. As KNKX covered in a story published in May, Simmons spent 20 months in prison on drug charges, including marijuana possession, and unlawful possession of a firearm after she became addicted to prescription drugs. She had to declare bankruptcy after she was released in 2013, but eventually got a minimum wage job, applied to law school, and graduated this year.
On Thursday, the Washington Supreme Court will hear oral arguments on why Simmons does meet the "good moral character" standard of the Washington State Bar Association, an argument supported by lawyers from the American Civil Liberties Union-Washington, law school faculty members, and a host of other organizations.
Briefs in Simmons' case are sealed, but lawyers who proposed an amicus brief in support of Simmons made their argument public. A past criminal record may be considered in the "good moral character" standard, they wrote, but it doesn't "automatically 'outweigh' evidence of the applicant's present good moral character." In addition, hundreds of supporters co-signed an open letter to the Washington State Bar Association Board of Governors supporting Simmons' admission to the bar and expressing concern about the bar's decision.
State legislator Drew Hansen, chair of the Washington House Higher Education Committee, said Simmons has testified in the legislature multiple times. He sees the Washington State Bar's rejection of Simmons' application as baffling.
"I don't know why we wouldn't welcome someone to practice law in Washington State who has totally rebuilt their lives," Hansen said. "She's graduated from law school, won one of the most prestigious fellowships in the law, and testifies regularly before the Washington State legislature. That just makes no sense to me."
"Look," Hansen continued, "if you are credible, capable, and competent enough to testify in informative, helpful ways before the Washington House of Representatives Judiciary Committee, that probably tells you something about your ability to serve as a lawyer in this state."
Leslie Levin, a professor of law at the University of Connecticut, has conducted one of the only studies in the United States that looks at whether empirical evidence supports bar associations' character and fitness standards. In Connecticut, where she and her co-authors conducted their study, Levin found that of 1,343 applicants to the bar, there was little evidence that an applicant who committed a crime in the past would have disciplinary problems in the future.
"The problem is that we rely on our intuitions, I think, too much about who is going to be a good lawyer and who is going to be a problem lawyer," Levin said.
Previously committing a crime only raised the risk factor of future discipline by two percent, Levin said—not very much at all. As for bankruptcy and debt, Levin found the reverse. There weren't that many people who had declared bankruptcy in Levin's study, but of the ones who had, none had been disciplined as lawyers over the course of 20 years.
It's concerning, too, Levin said, that these standards remain in place when we know that certain ethnic and socioeconomic groups face disproportionate arrests and involvement in the criminal justice system.
"We know that certain groups are more likely to be arrested, are less likely to be able to afford lawyers, and are more likely to have convictions that they have to disclose than more affluent white people," Levin said. "And I do believe it runs the risk of discouraging people to practice law because of concerns they won't get through the admissions process."
Simmons is being represented by John Strait, an emeritus professor of law at her alma mater and a former member of the Washington Supreme Court's Judicial Ethics Advisory Committee, as well as Shon Hogwood, an associate law professor at Georgetown University who was once incarcerated in federal prison. The Washington Supreme Court will hear oral arguments from her side, and the side of the Washington State Bar Association, tomorrow morning at 9 a.m.
This post has been updated.
Sponsored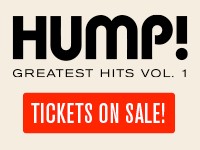 What are YOUR favorite HUMP! films? Start with HUMP! Greatest Hits, Volume One! Relive the memories!