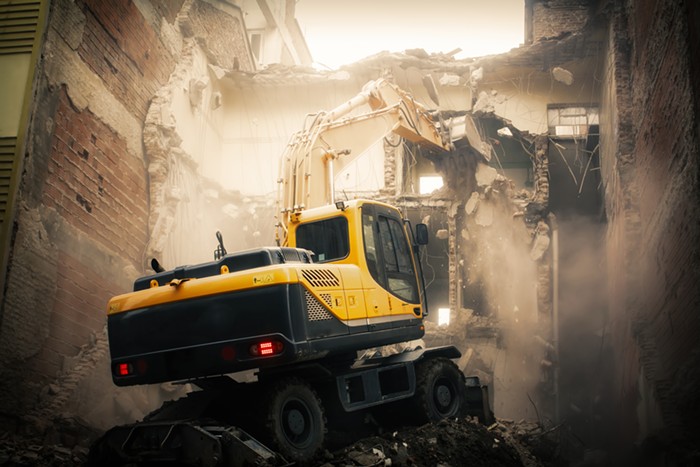 The story on
Hyperallergic
is about a historic Frank Lloyd Wright building in Whitefish, Montana that was demolished by its owner after sunset on January 10. An effort was made to save the former medical clinic, which was completed in 1958. The developer who bought the building in 2016 did not know it had any "architectural" value. It just looked like money that could attract more money, and sure enough it did. According to
Hyperallergic
, the property was sold for $1.7 million to a company that will replace the building with "a three-story development for residences, retail space, and offices."
"This devastating situation underscores the vulnerability of all Wright-designed buildings that don't have some form of legal protection," said Barbara Gordon, the executive director of Frank Lloyd Wright Building Conservancy. But the vulnerability and destruction of Wright's buildings should not be seen as something tragic, but a golden opportunity to remind ourselves of this fact: Wright was one of the greatest enemies of the city that the previous century produced. He was also a white supremacist (but that matter is for another post).
All our feelings about this man should be deeply negative. Wright was, indeed, much worse than Robert Moses—the eternal villain of post-car urbanism. But Wright never had a Jane Jacobs, a voice that exposed him and his deeply regressive concepts. Indeed, the urban historian Lewis Mumford championed Wright's awful Broadacre scheme. And the world is still wondering what the great urban planner Catherine Bauer saw in Mumford, another figure who needs a 21st-century reevaluation?
In Americans Against the City: Anti-Urbanism in the Twentieth Century, urban historian Steve Conns points out that Wright once suggested the Nazi bombing of London with V-2 rockets was actually a good thing because it destroyed an overcrowded city and forced it "to plan for decentralization." The importance of this remark is not found in its callousness but in what it exposes: the foundation of an architectural program and urban planning that no city in the past 250 years has escaped. The overcrowding that Wright detested was not the consequence of bad planning. The ideas of urban planners did not result in the East End of London, when it was an "arrival city" in the 19th century. The appearance of a building designed by modernist Minoru Yamasaki could never have dissolved or worsened a mid-century slum in St. Louis.
Wright's grand solution to overcrowding was simply less crowding. This is the idea is at the heart of his Broadacre City. It offered more space to its inhabitants. But how could that solve anything? Slums exist because their inhabitants do not have money, and this class of people are poor because capital is scarce, and this scarcity is imposed not by wrongheaded architects but by market forces. To believe that planning can provide a spatial fix to this fact is pure dreaming. And yet, from the Second Empire Paris to this day, we have consistently rejected all other forms of planning, urbanism, and architecture that do not begin and end with the belief that at the most, persistent urban problems are caused by bad characters and designers.
This is Hausmannization. This is Urban Renewal. This is why we blame modernism for the Pruitt-Igoe's demise. This is suburbanization. This is Broadacre City. This is why we have to completely break with Wright, his legacy, and this long and undying tradition of avoiding the real economic causes of urban misery. This avoidance has retarded our cities and broken millions of lives.
Finally, the point of this post: The destruction of a Wright building should be seen as an opportunity to recall the deleterious influence of his regressive, anti-density, pro-car, pro-white urban planning and thinking.