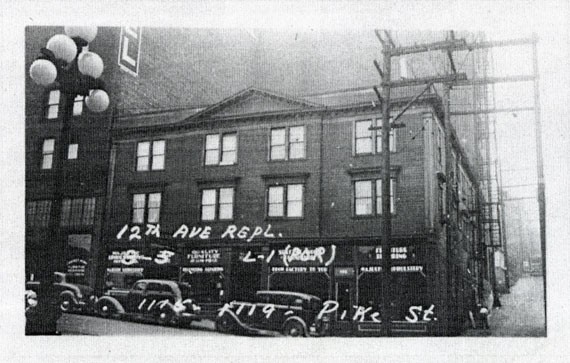 Sponsored
A world premiere musical that you can really sink your teeth into Get your tickets
HERE
!
Club Z, a gay bathhouse in Capitol Hill originally called Zodiac Social Club, was supposed to close in 2006. One of Christopher Frizzelle's early assignments at The Stranger was to cover its history and potential closing, which he did in an exhaustive, very interesting feature called "Bleak House." At the time of writing the feature, Christopher fully believed that Club Z would be shut down and replaced by a mixed-use structure of condos and ground-level retail. Actually, his piece seemed to help the business. A new, updated sign for Club Z appeared shortly after. But now, as first reported by Capitol Hill Seattle Blog this morning, similar rumors of Club Z's demise are swirling.
From CHSB:
A building that embodies some of the histories of Capitol Hill — including its never ceasing appetite for tearing down and building back up — is up for sale.

Here is the realtor's description for the $2.15 million listing for 1117 Pike:

Built in 1906 this three story commercial building is for sale for the first time in almost 40 years. The Pike Building is located just above downtown Seattle in an A+ Capitol Hill location. This offers a Buyer the rare opportunity to purchase a pride-of-ownership property located only 3 blocks from downtown Seattle.

"The property offers endless potential for an investor to redevelop the property or maintain the existing use," the marketing copy concludes.
!!!!
The main point of this post is to tell you that: (A) Club Z is up for sale again, and (B) "Bleak House" is a great read. (Fun Fact: Lindy West, at that time an intern for The Stranger, appears in the piece as a "research assistant" because "she has a car.") Some of my favorite passages are below:
The building is at 1117 Pike Street, between Boren and Melrose Avenues, one of the most trafficked blocks in the city, but you've likely never noticed it. History has barely noticed it. It's a void. My obsession with it is personal. It haunts me. If all goes to plan, it will be destroyed this year, the year it turns 100, which feels right. It is a building that has destroyed people. This is a story of many kinds of death, and of misery's association with a building whose past is a tangled mess of war, disease, drugs, wrecked loves, and real estate.
I mean, what a set-up!
Now on to the sex...
Sometimes doors are left open. Occasionally you walk by a room and see someone on their stomach, bare ass facing you, waiting. Or you see someone sitting up in bed, masturbating, trying to be inviting. The idea of the club is that anything is possible, that pleasure and adventure reign, that a sexual energy prevails that's not allowed expression outside the club's walls—but the truth is that a lot of these men look extremely bored. At one point I walked into a large room where a handsome guy in jeans and a baseball cap was flipping channels. A hardcore dildo scene... a pool scene... a guy getting comed on... an ass being eaten... a group scene in which some of the guys were tied up. He settled on the group scene. He watched. A few people walked by. He looked around the room. He watched some more. He looked at me. I was being standoffish. At last he said, "I want a pizza."
Speaking of pizza, you may not want to eat while you're reading this next part.
The door to room 340 was open, a red bandanna tied to the door handle. Inside, a huge man with studded genitals was suspended from the ceiling on his back. Another man stood between his legs, putting on gloves. There was no one else in the room. They introduced themselves. The guy in the sling was Carl. The guy in the gloves was BJ. They were not attractive.

BJ scooped some white lubricant out of a tub and began sliding his hand into Carl, whose expression was casual. A large diaper pad was spread out on the bed below Carl. On the television screen, a man was sinking a dildo into another man. BJ was plunging his hand in and out of Carl, slowly, not being too aggressive, not punching, warming it up. They did this for a minute and then BJ looked down at his hand and said, "Uh oh. Brown." He pulled his hand out. The white lubricant was tan. Carl sighed big and literally said, "It's been one of those days," and got out of the sling and went off to the bathroom, and BJ said something about not being afraid to get shit on his hands.
Did I scare you away? I hope not. Someone once told Christopher that this was the most traumatizing use of the word "tan" they'd ever encountered. Hopefully you're not traumatized—it's just poop—so much that you forgo reading "Bleak House," which you should do right now.