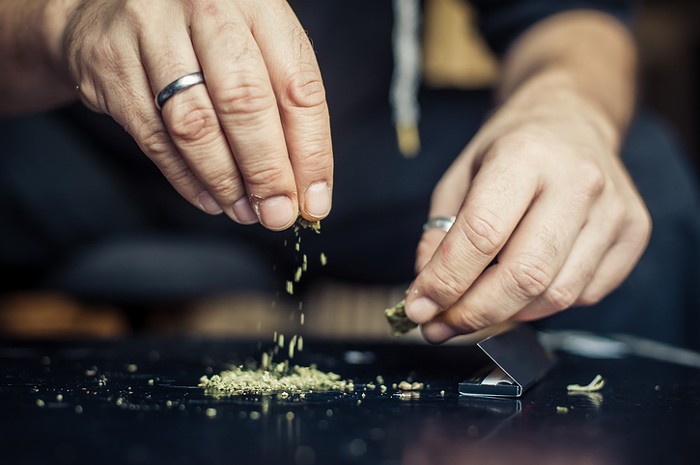 Sponsored
A world premiere musical that you can really sink your teeth into Get your tickets
HERE
!
Welcome back to Maintenance Request, a regular column where you email me with your questions about renting in Seattle/King County and I try to get you answers. If you have a question, send it to me at heidi@thestranger.com. Ask me anything about bad landlords, finding a roommate, dealing with noisy neighbors, pets in apartments, etc. Anything about renting in the region. Please specify whether you're in Seattle or elsewhere in Washington since the answer may vary based on your city's laws. You can also come talk to me about all this stuff in our new Facebook group right here. Remember, I'm not a lawyer. It's always best to talk your situation over with a tenant advocate or a lawyer. You can find one using one of the services listed here. On to this week's questions:
I was just wondering like how acceptable is it to have weed in an apartment building? My lease says no marijuana but I figured that's just to legally cover their ass. Is there serious enforcement of those sort of provisions?
You and me both, buddy. My landlord regularly leaves us scoldy, handwritten notices like this when someone forgets to shove a towel under their door before lighting up:
When she slips us this nearly impossible to read reminder that "marijuana possession and/or use is a federal offense," she is, of course, right. No matter what Washington state law says, Jeff Sessions could send his goons after us at any moment. But the likelihood that those goons are going to show up at your landlord's door is slim. So why do they keep you from smoking what's legally yours?
Just to be clear, landlords can legally ban all sorts of stuff in their buildings, even if those things are legal. That includes smoking cigarettes of cannabis—or even just possessing bud. They can also ban "all illegal activity" and sometimes won't specify whether that means federally illegal, illegal in Washington state, or both.
None of this means they can call the Seattle Police and get you arrested (so long as you're possessing a legal amount). They can evict you if you're violating one of their rules. All of this applies even if you're a medical cannabis user, although landlords may be more willing to make an exception for that out of fear of discriminating against someone with a medical need. Sean Martin, interim director of the Rental Housing Association of Washington, says attorneys have advised landlords to "tread lightly here."
Landlords have several reasons for wanting to keep cannabis off site. As you said, they may be covering their ass to avoid the long arm of the federal government or, more likely, to protect things like bank loans or mortgages that may require the property to be free of illegal activity, says Daniel Shortt, a local attorney who works with cannabis businesses. They may also just be worried about the lingering smell or potential for fire damage from smoking. Because of potential damage, landlords are likely to be strict about enforcing their no-smoking policies, Martin says. "But marijuana use in other forms like gummies, oil, etc? No, I've not heard of anybody being evicted for that."
All that said, the heart of your question isn't really "can I use marijuana in my apartment?" but "can I get away with it?" And the answer to that is yeah, almost certainly. Use some common sense, reduce the smell, consider vaping/edibles. After all, you're far from alone in this dilemma. Washington's legal weed law didn't establish any clubs or lounges where you can smoke legally, and it says you can't smoke outside. That means that unless you own your house/condo, you're out of luck.
Long story short: We think they are selling our building. Multiple rounds of visits by "investors" have been more frequent in the past few months. The other day we had a horde of 8-10 men in business attire stomp through everyone's units, taking measurements and writing notes on clipboards. When we asked our landlord what they are "investing" in, she gives a vague answer or avoids the question all together. If this is the case - that they are planning to sell the building to other investors, whether its for remodeling or a complete tear-down...what our our rights as tenants when it comes to this? Does the landlord have to provide us ample notice to move? Do they owe tenants any sort of compensation for possible displacement as an outcome of selling the building? Or can the landlord not make any final moves until all tenants have lived out their signed lease terms?
The owner has every right to sell your building, but what happens to you depends on your lease, your income, and the new owner's plans for the building. If the new building owner decides to demolish or renovate the building, as you suspect, you should be ready to find a new apartment. Here in Seattle, the landlord can kick you out to demolish or renovate the place or turn it into condos or a hotel. If this happens and you make half of area median income ($33,600 for a single person) or less, you're eligible for relocation assistance of $3,658. But even if you're not, you should have a few months of breathing room to find a new place. In order to displace you, your new building owner will have to apply for a tenant relocation license from the city. Then, they have a month to notify you they're doing this and then you have another month to apply for relocation funds if your income is low enough. Once the landlord has paid that assistance, they will have to wait 90 more days to get the license to renovate/teardown/condo-ize the building. After all those days, they can end your rental agreement.
The bad news is that if the new landlord really wants you out, they have a much easier way: jacking up the rent. Landlords aren't technically allowed to do this in order to get you out so they can renovate and if you think they are, you should file a complaint with the Seattle Department of Construction and Inspections. But that doesn't mean they don't try. Seattle City Council member Kshama Sawant is currently working on a bill that would require relocation assistance for certain rent increases. But that will be a long, uphill battle. If you get word your landlord really is selling your building, it's probably best to just starting hitting up Craigslist. Good luck.
What can the average person do to encourage/influence a future with affordable housing options?
Fight capitalism and convince your neighborhood NIMBY to move to the barrens of eastern Montana so we can turn their single-family home into 40 stories of affordable apartments. In the meantime, show up every chance you get when local government is considering housing policy.
In Seattle, there are several ongoing campaigns you can get involved in right now. The Transit Riders Union is leading the Housing for All coalition to advocate for more subsidized housing, more homeless shelters, and more housing options like backyard cottages. You can learn more about their campaign here and what you can do to help here. Housing advocates across the city are also advocating for upzones that will require developers to build affordable housing or pay into a housing affordability fund, parking reform to separate parking costs from rent and require less parking in new developments, and affordable housing in Magnolia.
To stay updated on upcoming chances to testify on these and other issues, follow the The Urbanist, the Transit Riders Union, Real Change, YIMBY Seattle, the Low Income Housing Alliance, Washington CAN, the Tenants Union, and the local chapter of the Democratic Socialists of America.