Sponsored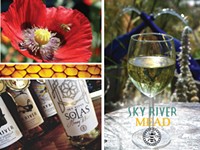 Find out at Sky River Mead.
Once reserved for Kings and poets. Old-world inspiration for the modern palate. Made locally for you.
SEIU 1199, a union representing nurses and healthcare workers, has donated money to the campaigns of two Republican incumbents in the Washington state legislature. So far they've spent $2,000 on Washington State House Rep. Jeff Holy (R-Spokane) and $1,000 on State House Rep. Gina Mosbrucker (formerly McCabe, but anyway R-Goldendale nonetheless).
One weird thing about these contributions is that both Republican candidates have Democratic challengers. Jessa Lewis is running against Holy for the State Senate seat in the 6th Legislative District, and public records lawyer Liz Hallock is running against Mosbrucker for a House seat in the 14th Legislative Districts. Both Lewis and Hallock are pro-union, pro-single-payer, pro-reproductive rights, and the Washington State Labor Council—the largest labor organization in the state—has endorsed them both.
Another weird thing is that Holy and Mosbrucker are pretty loathsome Republicans who are not well-rated by unions. Both backed a bill banning abortion for rape and incest survivors. Though they both voted for healthcare workers to get uninterrupted breaks (HB 1715, which passed the House but died in a Senate committee), this year both also voted against banning the box, against collective bargaining for community college faculty and port workers, and against ensuring reproductive health coverage in Washington State.
The WSLC gives Holy a 14 percent rating this year and a 17 percent lifetime rating, which means he gets an F. The union gives Mosbrucker a 25 percent lifetime rating, which is also an F. There is no reason unions—let alone healthcare-related unions—should be supporting these two Republicans, especially when they both have excellent Democratic challengers during a wave election year that could help shore up the party's majority in the legislature.
It's true that both Mosbrucker and Holy voted in support of improving the lives of healthcare workers, but so did Republican state reps Mike Volz (R-Spokane) and Ed Orcutt (R-Kalama). The SEIU isn't contributing to their campaigns, nor are they contributing to the campaigns of their Democratic challengers, Kay Murano and Brennan Bailey, respectively.
So whyyyyyyyyy is a union voting (with their dollars) against their best interest? I've e-mailed and called their spokesperson, but I haven't heard back.
In the meantime, Hallock (the Democrat running to unseat Mosbrucker) is a little confused. She says that over the weekend she met with some SEIU 1199 representatives at WSLC's COPE convention, Washington state's big labor conference, and they told her the union contributed to Mosbrucker's campaign because she voted for HB 1715 and "her sister is a nurse."
"Oh great," Hallock said in response. "My sister is a nurse practitioner." Hallock is also a cancer survivor whose parents and siblings work in medicine. She also recently had a child and says she's paying $800 per month for her family's health insurance that doctors in the Yakima area don't even take.
When I told Hallock that SEIU donated to not only to Mosbrucker's campaign but also to Holy's campaign she said, "That's stupid." She added that she would have voted for the bill to help healthcare workers secure uninterrupted breaks because, "I mean, c'mon, this is the 21st century—obviously they should get their overtime and their breaks. I'm a full-time employer and I would get hosed if I didn't give breaks." She's a great candidate with a lot of good ideas for helping poor and working people, but for some reason the SEIU doesn't want to support that.
In an e-mail, Lewis says she was unable to speak with representatives for SEIU.
*UPDATE*
The union responds:
SEIU Healthcare 1199NW members identify as Democrats, Republicans, and members of other parties. We often find that we share common ground with elected leaders on some issues and diverge on others. As a member-led union, nurses and healthcare workers from across the state decide our support and contributions to candidates. In this case, Rep. Mosbrucker and Rep. Holy have always had an open door to their constituents. In addition to supporting legislation for uninterrupted breaks, they have supported workers on other healthcare issues, specifically prime sponsoring a bill addressing legal financial obligations on the part of Rep. Holy—ending a debt trap that criminalizes poverty and that is of critical importance to the members in our union who work in housing and behavioral health care. Rep. Mosbrucker has worked alongside our union and partners on issues including equal pay for equal work, Paid Family and Medical Leave Insurance, and ensuring that Sexual Assault Nurse Examiners are available across the state to all victims who need them. We look forward to making dozens of endorsements on races around the state that reflect a variety of backgrounds, perspectives, and priorities.