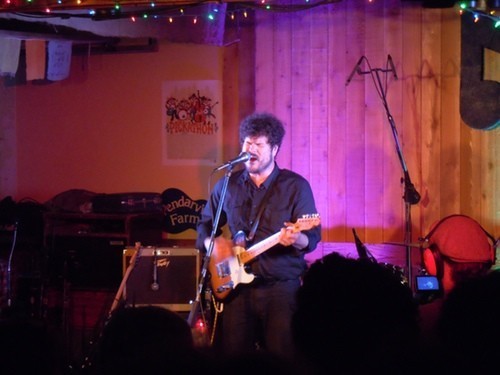 A very sad post appeared on Facebook this morning, stating that singer, songwriter, producer, and multi-instrumentalist Richard Swift passed away today at the age of 41. Last month a GoFundMe was launched to aid Swift in his bills to combat a "serious medical condition." Pitchfork reports that he died in Tacoma Washington, where he was receiving treatment. The cause of death has not been disclosed.
If not a marquee name to the general public, Swift was perhaps the most prolific and accomplished musician who called Oregon home. He had a lengthy solo catalog including albums like The Novelist, Richard Swift as Onassis, and The Atlantic Ocean and a copious amount of EPs and singles. But his career as a singer/songwriter was augmented by his prodigious work with other bands as a musician, producer, and arranger. He played in the Shins and the Black Keys, as well as Black Keys offshoot the Arcs, and his Discogs credits page reads like a who's-who of 21st century indie rock.
Swift's collaborations with Damien Jurado rank among his greatest accomplishments, a quartet of albums including Saint Bartlett, Maraqopa, Brothers and Sisters of the Eternal Son, and Visions of Us on the Land, as well as a covers album. Much of this material was recorded at Swift's National Freedom Studios in Cottage Grove, Oregon, a few miles south of Eugene. That home studio was also the site of much of his high-profile work as a producer, including breakthrough records for Foxygen, the Mynabirds, Kevin Morby, Pure Bathing Culture, and Tennis.
For so long, he was a cult artist, a unique Oregon treasure, but it's no wonder that his secret finally got out, resulting in just about everybody on Earth wanting just a thimbleful of his magic on their records over the past few years.
— Dave Depper (@davedepper) July 3, 2018
One of my favorite things Swift ever did was an EP of covers with Jessie Baylin, recorded around the time of her 2012 album Little Spark. Called Pleasure Center, it includes songs by Thin Lizzy, Fleetwood Mac, and Arthur Russell (and a Baylin original) and was recorded on a four-track cassette recorder in Baylin's living room in Nashville. Swift cut his teeth making four-track cassette recordings, many of which are on his early solo records, and he became an absolute master of the medium, turning its limitations into artistic tools. I don't think Pleasure Center ever got a physical release, but fortunately it's up on Soundcloud in all its four-track glory. It sounds magnificent.
Here's Richard Swift, with perhaps his biggest solo "hit." This recording still astonishes—here's one man conjuring, on his own, an entire Motown rhythm section and backing chorus. Swift could play any instrument and had a magic way with sound, turning an invisible thing into moving air that had temperature, motion, and emotion. His passing marks the end of a remarkable era in Oregon music. Rest in peace, Richard. You will be greatly missed.