Breakups can be good for a band, as it forces the musicians within it who may have become complacent in their regularly scheduled roles to grow creatively as individuals—and potentially return to their old bandmates to reunite with a fresh head and new ideas.
In the case of Ween—purveyors of ironic and absurd rock music—coleaders Dean and Gene Ween both took the opportunity to focus on their respective solo selves when they called it quits in 2011. Deaner reunited his hard-rock group Moistboyz and started a new one, too, the Dean Ween Group, releasing two albums under his old (new) moniker: The Deaner Album in 2016, and a sophomore follow-up this March, rock2. Both are high-quality outings and what you'd expect from the brasher, louder, readier-to-initiate ball-busting member of the group. Sonically, he draws heavily on elements of hard-rock, prog, and psych-rock, more lightly from metal and twang, and adds dashes of nasty funk and soul; "Dicky Betts" is a homage that sounds like straight up Allmans, "Love Theme From 'Skinheads Kicking Your Ass'" is a crunchy shredding scorcher, and cheeky brown humor is intact in songs like "Pussy on My Pillow" and the scuzzier "Someone Greased the Fat Man."
Some videos and select tracks included below. Show is tonight at Neumos.
And some Deaner-led Ween jamz that have been on recent Dean Ween Group setlists:
Sponsored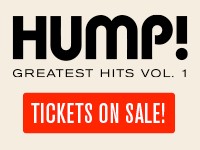 What are YOUR favorite HUMP! films? Start with HUMP! Greatest Hits, Volume One! Relive the memories!