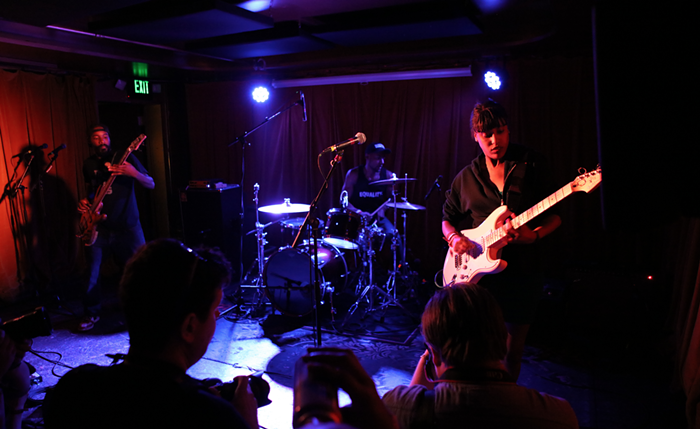 Sponsored
ArtsWest reopens with a heartwarming tale of family strength. Watch in-person or online until Dec 26
Buzz bands reflexively trigger skepticism in me, and the Black Tones definitely have been accruing massive buzz over the last six months or so. But once you see the Seattle trio play live (this was my first time, and it felt so right), you'll quickly understand why the chattering classes are losing their shit over them.
Led by singer/guitarist Eva Walker (who has the best smile in the city's music scene, if my scientific survey of one is correct) and her brother, drummer Cedric, the Black Tones don't do anything innovative, but they sure do inject excitement into traditional rock, blues, and funk moves. I like how they started their packed Barboza set with "Mr. Mines," a Hendrixian funk-rock warm-up exercise that gradually built in intensity, highlighted by Eva Walker's articulate wah-wah modulations.
"Welcome Mr. Pink" appeared to earn the audience's eternal gratitude by alternating Eva's bent a cappella recitations with power-trio explosions, and the way that Walker extended the word "crazy" at the end of each verse. It's the kind of song that invites crowd participation and catharsis in equal measure.
The next number, a song "about spiders trying to kill me," as Walker explained, was a seductive landslide of funky blues-rock while "Ghetto Spaceship" somehow made rambling classic rock seem like a fresh, combustible proposition.
For the last tune, "The Key of Black (They Want Us Dead)," which Walker said is "a response to all the bullshit going on" around the 50th anniversary of the Martin Luther King assassination, the Black Tones invited the Walkers' mother, aunt, and sister to sing backup vocals and dance to this funkadelic excursion. If a cuter thing than this "we are family" exuberance happens at Block Party, please document it on Instagram and let me know.
I'm looking forward to the Black Tones' debut album, which they're recording with Jack Endino. Also, I've got a feeling the Black Tones won't be playing venues the size of Barboza for much longer.
Going to Capitol Hill Block Party? Here's everything you need to know.
Sponsored

Custom framing, photo frames, printing on metal, paper and canvas.