DINO ROSSI QUOTES THE SECB AFTER KICKING US OUT
9:40 PM
Dino Rossi will be one of the two candidates running for Congress in Washington's 8th District, one of the most closely watched races in the nation.
We've always thought Rossi was a slick communicator, but he appeared a little nervous as he approached the podium situated in the lobby of some office building in Bellevue, slightly stumbling over his words a bit as he quoted YOURS TRULY during his acceptance speech.
To support his claim that the Democrats running against him were the most liberal competitors he's ever run against (it's still too close to tell if it'll be Schrier or Rittereiser) he guessed it might be Schrier and quoted at length from the SECB's profile of her, noting in particular her origin story as a member of the #Resistance. As the SECB predicted, Rossi plans to hammer her hard on that as the race continues to November.
The SECB noted the extreme irony in Rossi's party initially keeping us out of the event only to later read from our work in front of news cameras. After the speech, we thought we'd bring up this fact with Washington State GOP Chair Caleb Heimlich. Heimlich said he didn't think the press was the enemy of the people, even though the President does. "I think The Stranger is heavily biased, I think they don't report the facts," Heimlich said. "Unless our candidate for the 8th Congressional District is using them to support his point," he forgot to say.
When asked if it was Heimlich's decision to exclude the SECB from the event, he said, "It was my decision to let you back in." He then slapped on the big smile politicians use when they know they've dodged your question.
Susan Hutchison also gave a speech. Down 30 points to Senator Cantwell around 8:30, the SECB asked Hutchison what she plans to do to make up the difference. "Wait for more returns to come in," she said. During her speech she said Republicans vote later than Democrats do, which, uhhh, may be technically correct but goes against conventional wisdom.
Anyway, back to our boy, Rossi. Maybe Rossi was a little nervous because he didn't crack 50 percent in the district. But he could have been a little nervous because the Washington State GOP Headquarters this evening was extremely inhospitable to life. The creepy office building that they booked for their Rossi/Hutchison party cut off the air conditioning at 6:00 p.m. By the time Rossi hit the podium around 8:30, the room was a sauna infused with Republican cologne and carpet stank. (The SECB accidentally spilled half of its beer on the carpet. We cleaned it up with an American flag napkin, felt bad, then ran to the bathroom to get more paper towels. WE CLEANED IT UP. YOU'RE WELCOME.) In any event: He might have been a little nervous because now—based on a good showing from the Democrats—he actually has to start running.
***
WE BLEED FOR YOU, KIM
9:35 PM
The SECB got its period during Kim Schrier's victory speech. Do you think this is what they mean by "year of the woman"?
***
TACOMA INCUMBENT ACCUSED OF SEXUAL HARASSMENT FLOPS IN PRIMARY
9:20 PM
David Sawyer, the Democrat state representative down in Tacoma that was accused by eight women of engaging in inappropriate behavior or harassment, might not make it past tonight's primary election. The incumbent received only 23.36 percent of the vote, a third place to Republican Terry Harder and Democrat Melanie Morgan.
Sawyer faced pressure from outside progressive groups to back out of the race after the sexual harassment allegations surfaced, including a report by the legislature that found he had acted inappropriately and used state resources on personal business. But Sawyer refused to back out from the race.
Now it looks like the voters are kicking Sawyer out of the race he refused to leave. He is currently over 100 votes behind the Republican Harder. Morgan, a Democrat endorsed by Planned Parenthood, easily won the plurality of the vote with 40.23 percent.
The SECB is proud of their use of the word plurality after all of the dabs and beers they consumed tonight.
***
"SCHRIER FIRE" OH NO
9:06 PM
Kim Schrier is here and she is feeling GOOD.
"Things are looking good," she tells the crowd to a huge round of applause. Schrier says "every vote matters," so she's "not going to declare anything" yet.
"But let me just say," she says, "I'm feeling really good. I'm going to sleep really well tonight. Dino better be worried."
The crowd fucking loves it.
Schrier says her campaign knocked on 80,000 doors and is now trying to make sure that "Schrier fire catches." Oh god.
"No rest for the weary." "The real fight begins tonight." "Now more than ever we need people in Congress who will speak truth to power." The SECB is not pulling these out of a political cliche Madlib. These are actual quotes Schrier is saying right now.
Schrier tells her supporters there "could not be a starker contrast" between her and Rossi. She's a doctor who takes care of kids. "He has been in this always to serve himself."
"Do you all think we need another career politician in this seat?" she asks. "No!!!!"
"Or do you think Congress might be better served by having a woman doctor at the table?"
"Yes!!!!!"
Over in Ellensburg, meanwhile, Jason Rittereiser, who's in second among the Democrats, issued a statement, saying: "We knew this would be a close race and I commend Dr. Schrier and Dr. Hader on running strong campaigns. We will keep pushing forward until every vote is counted and the results are clear."
***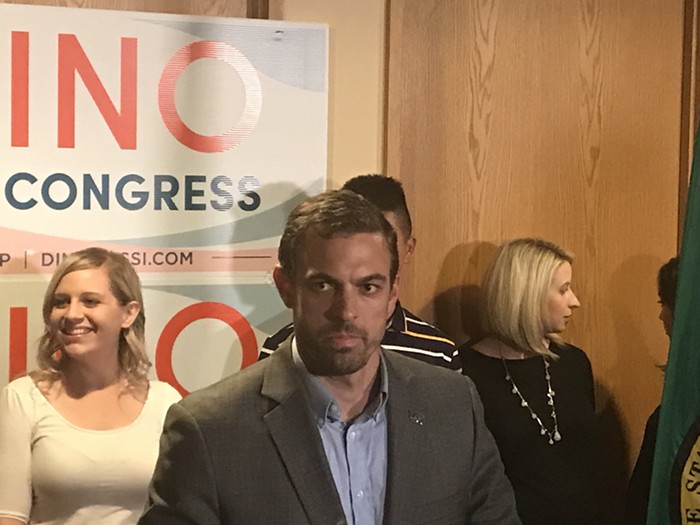 Hey guys, do you think the chair of the Washington State GOP is mad because Democrats Lisa Brown and Carolyn Long DID EXTREMELY WELL IN THE 5th AND 3rd CONGRESSIONAL DISTRICTS (RESPECTIVELY) TONIGHT. HOLY SHIT.
***
MARIA CANTWELL WINS BUT MORE IMPORTANTLY JOEY GIBSON LOSES
8:49 PM
Why is SECB the only media overlord eating around here? Does KING-5 have rules against free tacos or something? That's fine (more for us), and three chicken tacos and 12 cupcakes later, THERE'S WINE!! Finally, some angel has busted out the booze at the joint Cantwell/Dhingra/DelBene office party in Redmond. We've seen million dollar townhouses go up in less time than it takes to get a drink around here.
Alas, almost as soon as the wine is uncorked, it's over. The ballots are cast, the votes are in, and the minority of Washington voters who deigned to grace us with their participation in this election soon know who will be facing off in the next goddamn election, which, according to a sign posted on the wall at Cantwell's HQ, is exactly 91 days away. It never ends, does it?
At least until then, there are smiles all around at this office park in Redmond. The results have rolled in and it's a clean sweep for Cantwell, Dhingra, and DelBene. Dhingra claims a 63 percent of the vote, DelBene gets 69, and Senator Maria Cantwell gets a solid 64.
Cantwell's only real rival, Trump-lover/tax-hater Susan Hutchison, has claimed second place with 21 percent, and poor Joey Gibson ain't looking like such a Proud Boy after all, with a mere 1 percent of the vote. Time to take your AR-15 and go home, Joey! Bye girl.
After the initial cheers from the audience and a cute photo op with Manka and her team, everyone else has fled to the parking lot for some fresh air. There's no booze, no dabs, no candidates in sight, and the SECB is getting itchy. A tall man tries to commandeer our laptop to check the results of the 8th. He wants to talk about the chances of beating Dino Rossi, but what we want is for him to leave so we can file this report and get the fuck back to Seattle. Is there any ice in Redmond? Is anyone going to actually give a speech? It's almost 9 PM, goddammit. DEMOCRATS, GET IT TOGETHER.
Manka, finally, takes the stage first. She thanks everyone (volunteers, staff, family, etc etc etc), says something about the importance of winning in the general and the need to participate in the face of Donald Trump's America. "Take all that anger, sadness, and frustration, and turn it into something you can be proud of," she says. Hear hear.
DelBene is up next, followed by Cantwell. The blue wave is coming, folks! They can feel it. Is this optimism deserved? We'll find out in November.
***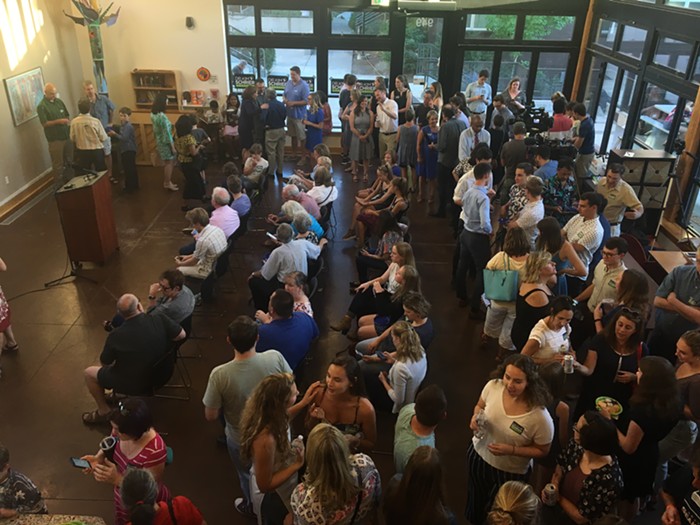 MORE NUMBERS, KIM'S STILL AHEAD, BUT WHERE IS SHE

8:40 PM
All right. The last few counties included in the 8th Congressional District have turned in their first numbers and here's where we're at: Dino Rossi is at 43 percent. Schrier is leading the Democrats at 18.8 percent, Rittereiser is at 17.6, and Hader is at 12.6. (Note: The SECB fucked up these numbers earlier. We've fixed them.)
What does Schrier think? How is she feeling? Has she changed her mind about having a single glass of wine?
The SECB does not know!
Schrier still hasn't returned to her party, where semi-excited suburban looking volunteers in shorts and floral prints are looking at their phones. Someone says Schrier will be here in 10 minutes and to "hang tight." Almost all of the food is gone except for the vegetable plate of course. The playlist has started to repeat. "Last Friday Night (T.G.I.F.)." plays again. Then "Girl On Fire." Is this where the SECB dies?
***
WE HAVE LEFT SARAH SMITH'S SIX HOUR PARTY
8:40 PM
After five minute's consideration, the SECB decided to leave and check Sarah Smith's later returns later. On the way out, we were presented with verbal math that we were told makes it CERTAIN that Sarah Smith will pull ahead given how many votes still remain to be counted, and then, when that didn't halt our departure four hours into this SIX HOUR party, supporters offered the SECB shots—and then, when that didn't halt our departure, supporters offered the SECB coke. The SECB is now in an undisclosed location.
***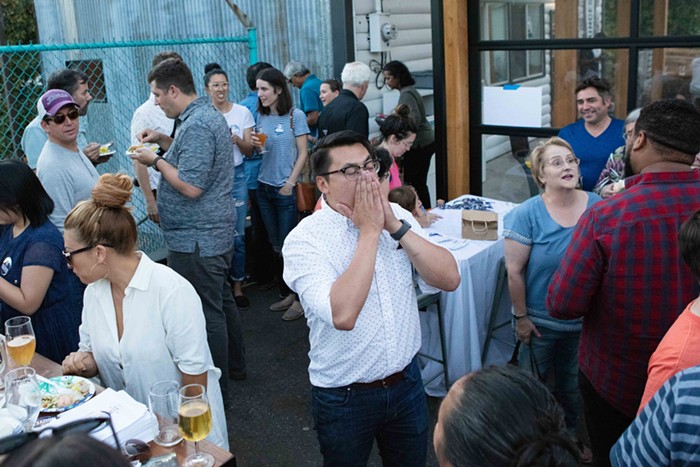 NGUYEN: WE'RE NOT FUCKING AROUND
8:35 PM
Screams erupted into the warm summer air in West Seattle when results dropped just after 8 p.m. showing that Joe Nguyen was in a narrow first place ahead of Shannon Braddock with enough votes to essentially ensure that he would face off against the establishment favorite in the general election in November.
"That's big, that's big. This is what happens when you put people first. This is what happens when you have representation that matters," Nguyen said.
Nguyen appeared astonished as soon as the initial results came in, showing he had 6,769 votes to Shannon Braddock's 6,570. Both leading candidates had more than twice the number votes of any of the other 11 candidates in the field, essentially ensuring that they will face off in November's general election.
"I thought we were going to get second place but what? We are not fucking (7) around. We are not here to play, we are not joking around, we are here to fucking (8) win," Nguyen said to his crowd of supporters, bringing his use of the word fuck to nearly 10 on the night.
As the SECB ran into the air-conditioned interior of Ounces Taproom to use Wifi they heard Nguyen utter his ninth and tenth use of the term fuck, officially reaching the SECB's official forecast for the number of fucks given on the night.
***
MAYBE THERE ARE MORE VOTES SOMEWHERE
8:35 PM
In the 9th Congressional District, the first returns show incumbent Democratic Congressman Adam Smith far ahead of the pack with over 50 percent of the vote.
Republican Doug Basler is currently in second place, but Democratic Socialist Sarah Smith is only 2,300 votes behind Basler.
"We are alive and well," Sarah Smith's campaign manager just told the crowd at Tutta Bella.
Late votes, people here are saying-slash-hoping, just might push Sarah Smith ahead of Basler and into the second place spot she needs to mount an Ocasio-Cortez-style general election fight against Adam Smith, this district's 11-term Democratic incumbent.
The free pizza plates are now empty and the SECB is trying to decide whether it believes the talk here about more ballots maybe being counted somewhere in the county-straddling 9th District tonight—tonight!—and then added to the tally—tonight!—so that maybe—it could happen!—Sarah Smith pulls into second before this SIX HOUR party is over.
***
SHANNON BRADDOCK MAKES IT TO TOP TWO, ONE OF HER VOTERS WANTS US TO SIP HIS G&T
8:31 PM
Shannon Braddock made it to the top two in her race for Legislative District 34. She shows us her phone. She and Joe Nguyen (the candidate we endorsed, who may have said fuck ten times by now) are neck and neck. Braddock has 27 percent of the vote. Nguyen has 28 percent.
"C'mon, let's win this damn race!" Someone in the crowd yells.
A man comes up to us, we're seated at a table, typing. It's very echoey in here. As we type this, Les, our friend from earlier, remarks that these are the worst acoustics in Seattle. And did we mention it's hot? There are beads of sweat dripping down the nape of our necks. It's really too much and we love to be dramatic.
Anyway. The man. "Are you the campaign manager?"
"No, no," we add. "Reporter."
"With who?" We don't correct that it should be whom, actually.
"The Stranger."
The man fixes us with a quizzical stare. "You didn't endorse Shannon."
We nod, not knowing what else to do. "Nope, we didn't."
Kaitlynn also gave us the same shpiel. "If you didn't endorse my mom then why are you here?"
We didn't have an answer for that one either.
The crowd moved outside. Thank God. The man from earlier says he used to work in media and that we look like we could use a sip of his gin and tonic. We say what the hell and put our lips on his glass and drink that sweet nectar.
Braddock comes over to us.
"This is what we wanted," Braddock says. "To make the top two. Working, working, working."
Why do you think your voters have confidence in you?
"It's a combination of my work experience and working as a single mom, doing work for working families," Braddock says. "I was endorsed by every labor union that endorsed in this campaign."
We accidentally introduce ourselves to her again.
"I know." Braddock says. "We met when I walked in." Must've been that damn gin and tonic.
There are scattered cheers. It's mostly a muted, comfortable response.
Braddock moves the crowd back inside. She stands up on a chair. She's excited. The crowd cheers. It sounds very loud because it is very echoey, remember? Our ears are sensitive.
Shannon thanks everyone. She especially thanks Kaitlynn who we agree deserves to be thanked. We're not sure what for but she's obviously great.
"I think it's important for Kaitlynn to see women and moms doing this kind of thing," Shannon says.
Team Shannon is lit. They love that.
We don't know where we fit in here. We want the bougie pizza people are eating but at this point it seems too late to ask. Everyone is mingling and chatting. They seem happy. Except for the guy who ate out the entire middle of his pizza and not any of the crust. Fuck that guy.
***
LET'S CHECK IN ON THE MATT CAUCUS
8:30 PM
It's a good night for secessionists and people who marry their high school math students. Both Eastern Washington Republican/Bundy sympathizer Matt Shea and Ellensburg Republican Matt Manweller—who faces allegations that he sexually harassed students while working as a professor at Central Washington University—are ahead.
Shea is up 54 to 46 percent. With three of four counties in his district reporting, Manweller is leading 64 to 36 percent.
***
Rodney Tom is a fake fucking Democrat. He's a snake. He's a traitor. He deserves to lose tonight, in November, and every night for the rest of his life.
Tom is a former Republican turned Democrat turned Democrat-who-caucused-with-Republicans-like-a-fucking-snake. In 2013, Tom's caucusing with the Republicans effectively gave them control of the state legislature, allowing them to do all sorts of heinous shit. In 2014, Tom left the legislature. Now, he's running again against incumbent Patty Kuderer, an actual Democrat. He's getting help from Republicans and right-leaning interest groups. Like we said, he's a snake.
Anyway, this snake is going to make it through the primary, but things look OK for November. In the first drop of ballots, Kuderer has about 59 percent of the vote to Tom's 30 percent. Anti-light rail crank Bill Hirt has about 11 percent.
***
GOOD JOB EVERYONE, FACIAL RECOGNITION IS COMING
8:20 PM
King County Proposition 1 showed up on your ballot with the title "Regular Property Tax Levy Automated Fingerprint Identification System Services." If you made it through that phrase and voted on this thing without falling asleep, congratulations.
When the SECB dug into this measure, we were paranoid skeptical about the language that allows levy dollars to be used on facial recognition. Local electeds told us not to worry, they'd be suuuuuuuuper careful before they authorized any tech that would allow cops to scan our faces and keep them in a database like shrunken heads in a small-town museum. (Does that joke make any sense? The SECB can't tell.) We weren't sold.
Apparently, most of you thought we were overreacting. With most ballots counted, the measure is currently leading 56-44 percent.
***
The SECB is frantically reporting. The dabs are strong. View results here.
***
RESULTS ARE DROPPING: KIM SCHRIER AND DINO ROSSI LEAD IN THE WA-08
8:10 PM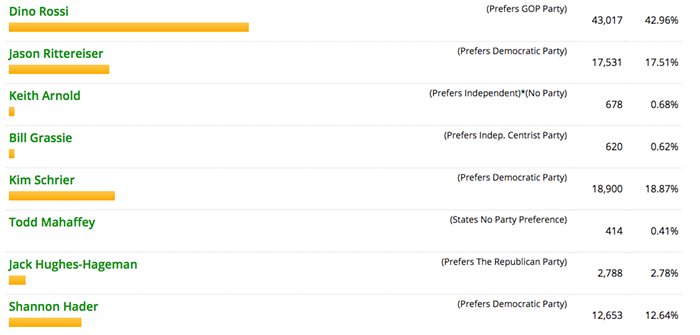 Results in the 8th Congressional District show Kim Schrier leading the pack of Democrats. She's got 18.87% percent of the first drop. Jason Rittereiser is in second at 17.51% percent and Shannon Hader has 12.64%
percent.
A staffer for Schrier put the results up on the screen in front of the party and everyone applauded. But Schrier isn't here.
She's "back at the office with the team," the staffer told the crowd. "Continue enjoying yourself. We've got some snacks over here."
***
"HONESTLY, I REALLY WANT TO FLIP CONGRESS"
8:00 PM
Most of the Kim Schrier supporters we've talked to are stoked on Schrier, the Year of the Woman, etc etc. But Margalit Zabludowski, who first met Schrier when Schrier was her son's pediatrician, cut right to it: "Honestly, I really want to flip Congress," Zabludowski told the SECB. "I don't like what's happening. I think he's ruining America and the world. [She's talking about Trump, obviously.] We need Democrats in Congress."
That is exactly right, Margalit.
Lindsey Walsh, another supporter who lives in Issaquah, says she was "shocked" when she learned there were no women doctors in Congress. She believes Schrier has a concrete plan for health care reform and can best fight for reproductive rights.
Monica Lane, also from Issaquah, says Schrier will "serve her constituents, not big pharma." (The SECB will let you know if we find anyone here who's not from Issaquah. The 8th District is a big place, but it is a Tuesday.) Lane has Schrier's origin story down pat: She was motivated to run when she watched Republicans attempt to gut the Affordable Health Care and saw Congressman Dave Reichert doing nothing about it. "I admire her greatly for that," Lane said. "She has the toughness and stamina to take on Dino Rossi."
***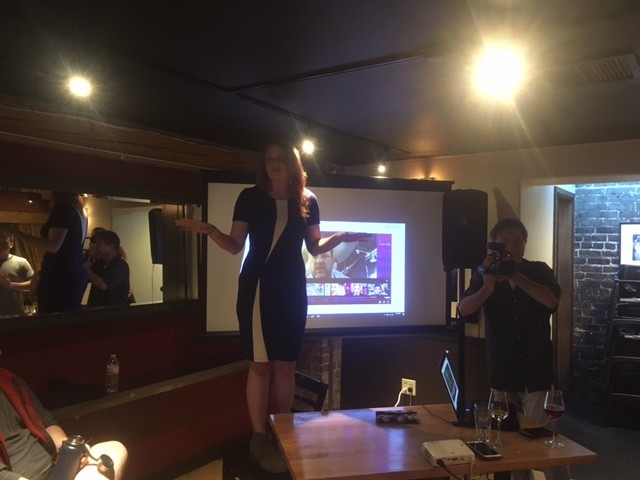 SARAH SMITH MAY NOT WIN BUT SHE HAS INTEGRITY
7:57 PM
Just before the first returns came in, Democratic Socialist candidate Sarah Smith sounded a slightly less optimistic note than the SECB heard earlier this evening from her campaign's political director.
No matter what tonight's returns bring in her run against incumbent Democratic Congressman Adam Smith, Sarah Smith said, "We did it our way. We did it the right way. We did it with integrity."
She continued: "Whatever happens, this has been an incredible night."
If she doesn't make it through the primary, she told the crowd, "I'm not considering this a loss for 2018, I'm considering it a victory party for 2020."
***
IT'S ALMOST TIME FOR RESULTS
7:55 PM
"It's just that nobody wants to canvas," says some random Republican at Washington State GOP HQ in Bellevue.
That's about all the SECB had time to catch before settling into write this update. As you may have already read, the SECB had some trouble getting into the election night party for former Washington State GOP Chair Susan Hutchison (who is running for Senate) and Dino Rossi (who is running for Congress in Washington's 8th District).
Once we got a press badge (thanks, my local journalist brothers and sisters!) we hit the snack table. Say what you will about the Republicans, but you will not go hungry at one of their parties. You may get diabetes drunk, though. The table was piled high with little rectangular lemon bars, fancy meat and cheese platters, Kirkland red and white wine, and some pretty patriotic edible arrangements.
The room was maybe 1/2 local journalists and 1/2 white people who seemed to have just gotten off work at one of the creepy office buildings in the Bellevue office park, which served as the venue for the evening. Young, slick flacks you've seen in stock photos of "brunch" drank water out of bottles and looked away when we looked at them. They were maybe a little embarrassed for being, you know, enemies of the free press. JUST KIDDING GUYS DON'T KICK US OUT.
For those of you who haven't been following these races, three-term incumbent Maria Cantwell is defending her seat against 28 kooks including Joey Gibson, a far right gun nut last seen leading a small troll army in Portland. (The SECB has a soft spot for Socialist Steve Hoffman, however. Love his style, love his substance. Really just love his hat.) Hutchison is running as a dignity beard for the Washington State Republicans, who otherwise would have to deal with Gibson as their most visible candidate. Although, "dignity" might be a strong word. Hutchison called on rich people to engage in "civil disobedience" after the Seattle City Council proposed an income tax on people making over $250,000. She thought Ted Cruz wasn't pro-Trump enough. Polling from the House Majority PAC indicates that Cantwell would have beat Gibson with 57 percent of the vote. We'll see how she fares against Hutchison.
Rossi has lost three state-wide races but is expected to win one of the two top spots in the primary. He faces off against three Democrats—Shannon Hader, Kim Schrier, and Jason Rittereiser. Rossi is anti-gay, anti-choice, anti-immigrant, and he may be a robot.
***
KIM HAS TAKEN A COLD SHOWER AND ARRIVED AT THE PARTY
7:50 PM
Kim Schrier has arrived at her party and she seems chill as hell.
She's got her messaging dialed in on that poll that showed her losing in a face-off with Dino Rossi: "That was one poll of many," she tells reporters. "Our poll showed I beat Dino by a point."
She's setting expectations low: Rossi will be ahead tonight by "a very large margin," she predicts, with each of the three frontrunners on the Democratic side "in the teens."
She's thanking all her volunteers: "I have really built an army over the past year."
She's got a message for independent voters (who that poll showed preferred other candidates over Schrier): "Healthcare is the biggest issue on voters' minds," Schrier says. "If you can't afford to pay your premium or take your child to the doctor, it really doesn't matter what political party you're in."
And she is sure as hell not going to let you forget it's supposed to be the Year of the Woman.
"I'm excited," she says. "This is an exciting time to be running. I'm part of this wave of women."
Schrier says she would be only the third Democratic doctor in Congress and the first woman doctor. (Her media handler jumps in to point out that people "trust a pediatrician even if they don't trust a politician.")
Schrier says she spent today talking to reporters, knocking on doors, and taking a cold shower.
The SECB asks what she's going to do to celebrate if she wins. "Take a nap," she says.
"Not even one glass of wine?" the SECB asks.
"Probably not."
***
MEAT HAS ARRIVED AT JOE NGUYEN'S PARTY
7:47 PM
The SECB is happy to report that pounds of shumai have arrived to Joe Nguyen's party but the SECB is sad to learn that all of the shumai has meat it in it and the SECB does not eat meat so the SECB is still hungry.
***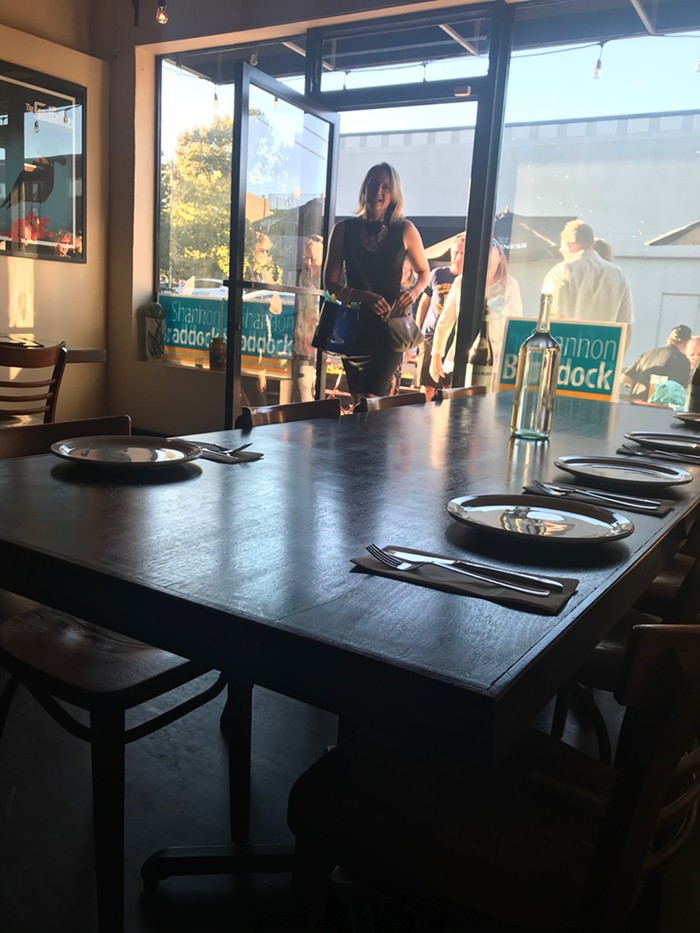 WE ARE SWEATING IN WEST SEATTLE, SHANNON BRADDOCK SASHAYS IN 25 MINUTES LATE OR WE WERE GIVEN THE WRONG START TIME WE DON'T KNOW
7:45 PM
The SECB got to Shannon Braddock's election night party in West Seattle and passed the time by shooting the shit with over-50-year-olds. It comes naturally for us. They were drinking liberally as part of the Democratic District 34 "Drinking Liberally" club. The SECB and our new friends Dale, Less, Marcy, and Carol chatted single-payer health care and commiserate over West Seattle's lack of light rail. Marcy is really upset that there is no light rail. We're upset for you too, Marcy.
The highlight of our evening was when Dale offered to buy us a drink, we had to check with our journalistic ethics handbook and got sidetracked by Braddock's adorable daughter Katelynn who is in middle school and loves crafts. Katelynn is 11 and telling us about how much she fights with her brothers. We fought with our brothers growing up, too, Katelynn. Good luck to her brother at coding camp in San Francisco, though. Katelynn has shed her jacket, we wish we had another layer to shed because it is boiling hot. This is West Seattle, don't they have air conditioning here?
Everyone seems very calm — too calm, maybe — about Shannon's chances. She has experience they say. She's got labor on her side, they assure us. We'll wait and see. She does look fabulous, though. Maybe we were given the wrong start time of this event. There are people in here now, including Dow Constantine. When we ask how he is he grumpily says he's just trying to get a straw so his daughter can drink her water. A compostable straw, he hastily adds.
***
REVIEWING BEER AND JOE NGUYEN
7:40 PM
Joe Nguyen and his supporters have arrived and are drinking. While we wait to see if Nguyen makes it through a crowded primary field in the 34th District, the SECB asks the party to get critical about what they're drinking and how they're voting.
SECB: What makes you want to order a pint of Joe Nguyen?
JEFFEREY VU: He is from the community. He was born and raised in White Center and Burien. Where a large immigrant population is. He represents, to me, a lot of these poor neighborhoods that don't see politicians or government funds come to their door. He represents paying attention to their communities.
SECB: What beer are you drinking and why do you want to send it to the Senate?
JEFFEREY VU: Schooner Exact Summer Ale. It's light and I could drink probably four of these.
SECB: Is that a lot for you?
JEFFEREY VU: No.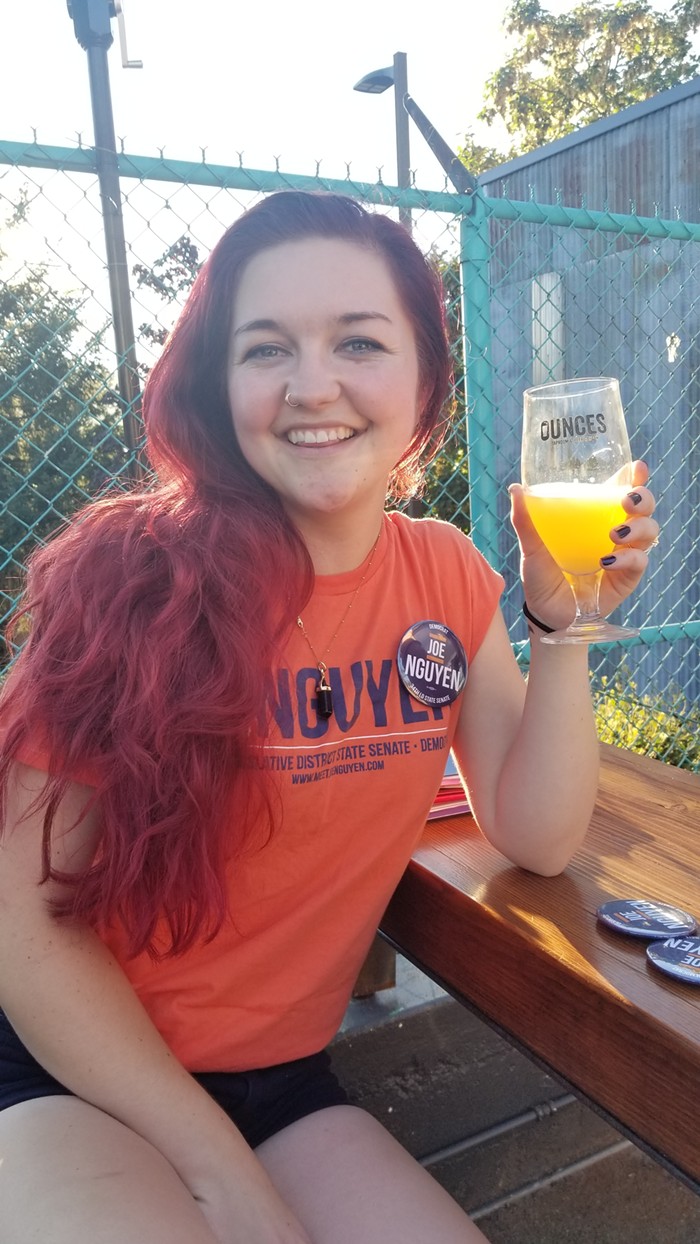 SECB: What do you think about this Joe Nguyen guy?
TIFFANY WILK: I had no intention of supporting a man in 2018. I had every intention of working on a women's campaign, and then a friend told me they're working with a really great guy and I got connected with Joe. He has a really fantastic balance of optimism and enthusiasm and also pragmatic sensibility which I really value. Because he hasn't been in the system before he isn't burned out. He has a really impressive resume of community and organizing experience. He's an idealist at heart, and he's a great feminist dad.
SECB: What are you drinking?
TIFFANY WILK: This is a good IPA that's not too hoppy. It's a good blend between a really citrusy wheat and good hoppy IPA.
SECB: But what's it called?
TIFFANY WILK: I don't know I'd have to go look.
SECB: What kind of beer is that?
JOE NGUYEN: Three Fates pilsner. It's nice and smooth. It's perfect for a pre-funk before you figure out you just spent the last four months doing the right thing or fucking it all up. It's refreshing on a nice warm night in West Seattle.
SECB: What makes you want to vote for Joe Nguyen?
JOE NGUYEN: Forget the stump speech. Honestly, I care and I show up.
The reason I care so much is this community literally raised me. My family went through pretty significant hardship when I was a kid and the community really gave a shit about me, and because of that, I will make sure they will have the opportunities that I did. I will literally fight for this community because they did the same thing for me when I was a kid. I see everyone in this community as a member of my family.
***
THE WASHINGTON STATE GOP LET US IN THE BUILDING BUT WE HAVE TO PLAY NICE
7:40 PM
"We had a quick conversation, and we said if you play nice, then it's okay," Fischer told the SECB, when asked why the Washington State GOP had a change of heart. We are now looking for snacks, as the dabs have made us hungry.
***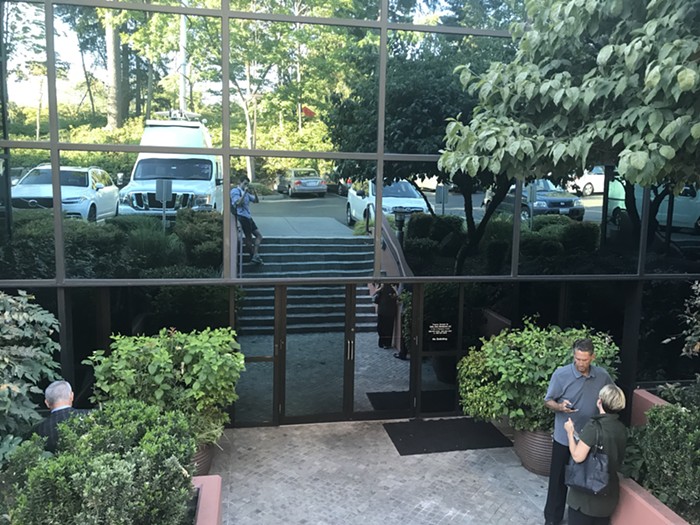 WASHINGTON STATE GOP WONT LET THE STRANGER INTO THEIR PARTY
7:25 PM
Kyle Fischer, who is working communications for the Washington State GOP party, said they're not letting "The Stranger outlet" in because the paper excessively criticized the candidates. In an apparent contradiction, Fischer then said the event was closed and that The Stranger needed to sign an RSVP beforehand.
Caleb Heimlich, Washington State GOP party chair, offered no comment when the SECB saw him in the hallway.
Some guests coming in did not RSVP. One of the people working the party said "just make a name tag, you're fine." There are blank name tags next to pens on a table.
***
KIM, THE ANOINTED ONE
7:15 PM
In yet another indication that Democrats learned absolutely nothing from the 2016 election, there is a fucking vegetable tray at Kim Schrier's election night party. NO ONE LIKES A VEGETABLE TRAY. WHY DO WE HAVE TO KEEP DOING THIS??
The party is off to the usual sleepy start: a dozenish volunteers, a few journalists. But more people seem to be arriving quickly. A consultant working on the campaign introduced herself to the SECB but when the SECB asked how the campaign was feeling, she said she had to go off the record because she couldn't speak on behalf of the campaign.
Uh, ok.
We're pretty sure we know how the campaign is feeling anyway. Schrier is one of three Democrats running for the open seat in the 8th Congressional District and she is the one pretty much everyone expects to make it through tonight's primary.
As a refresher: The 8th is where cowardly Republican sheriff Dave Reichert is retiring and real estate loser Dino Rossi is running to replace him. The expectation tonight is that Rossi definitely makes it through. Then it's either Schrier (a pediatrician with an Indivisible origin story), Shannon Hader (a wonk with experience working as a public health doctor for the Centers for Disease Control), or Jason Rittereiser (a former prosecutor who absolutely cannot wait to get in Dino's face "any time and any place") running on the Democratic ticket. None of them have run for office before.
Schrier has an obvious edge—an air of inevitability??? almost like Hillary Clinton????—tonight. She's got big endorsements, the most money, and rumored favoritism from the state party (which the state party denies). The only independent poll that's been made public in this race also had some good news for Schrier. Among the Democrats, she had the best name recognition.
But if she wins tonight, can she beat Rossi in November? While she had the best name recognition among the Democrats in that poll, it was just 17 percent, compared to Rossi's 41 percent. And the same poll found that in a head-to-head with Rossi, Schrier did worse than Hader or Rittereiser. Not great!
Schrier hasn't arrived at the party yet, so we can't ask her how she's feeling about probably almost definitely facing Rossi in November. But finally, someone has turned on the music. It's Katy Perry's "Last Friday Night (T.G.I.F.)." The SECB has also noticed that the snack table includes caramel corn. Now we're talking.
***
THERE'S NO OPEN BAR AT MARIA CANTWELL'S PARTY. THERE'S NO BAR AT ALL.
7:05 PM
Wow! There is just nothing like being at an enthusiastic, hard-working campaign party on election night. All this democracy really gets the blood flowing, you know? Which is why it is a massive panty-drier that SECB finds itself in the middle of fucking REDMOND (why is this side of the lake 10 degrees hotter?) waiting for shoo-in incumbent Sen. Maria Cantwell to show up at this florescent-lit excuse for a party. It's in the party headquarters, for fuck's sake!! Next to a shipping store!!! We hear Joey Gibson rented a Hooters with an open bar and open carry, but here we are about to eat pizza and tortilla chips with a dozen sub-30 campaign staffers down from DC and three near-dead volunteers manning the phone lines. Is there any booze in this place?? We appreciate the attempt at austerity, but c'mon, Sen. Maria Cantwell!! Bulleit isn't that expensive. Good thing we dabbed in the parking lot after the Uber ride over.
In the midst of this raging potluck (the most interesting-looking person here is a gray-haired lady with crutches, Crocs, and a tie-dyed dress), we interrupt Jeanette, a perky 70-something volunteer with bright pink lipstick for a brief interrogation: "What the hell are you doing in Redmond, Jeanette? Got any cigarettes?"
She does not, but Jeanette tells us that she lives in Monroe, where there are lots of Trump signs ("big ones") and rednecks in pick-up trucks. Jeanette doesn't talk politics much with her neighbors, but she's here to support Manka Dhingra, Suzan DelBene, and Maria Cantwell, and not just because they aren't men, although that is a bonus.
"I'm excited about all of them," Jeanette says. "I volunteered with Manka last time. She does wonderful things, and Maria Cantwell is on some great committees. Same with Suzan DelBene. People really love her. She's for the farmers. She's for everyone."
When asked about Donald Trump, Jeanette beams a little. "I hate him," she says. "Sorry. I don't hate anyone, but I hate him. He's not good for the country. It's ludicrous. Especially with the immigrants. On my god, you don't separate them. It's so inhumane. He's such a dictator. I could go on forever about him."
And we could listen. Lucky, there will be plenty of time before this night is over. No sight of the candidates yet, but Cantwell, Dhingra, Roger Goodman, and Larry Springer are supposed to put in an appearance. We hear Suzan DelBene is on sight and apparently doing something very important in the back room. Hopefully dabbing as well.
***
THERE ARE MORE JOE NGUYEN BUTTONS THAN JOE NGUYEN SUPPORTERS AT JOE NGUYEN'S PARTY
6:48 PM
That is all.
***
ISSAQUAH SHOULD SEND THESE SIDEWALKS TO CONGRESS
6:35 PM
The SECB arrived in Issaquah too early and Kim Schrier—sorry, DOCTOR Kim Schrier—has not opened the doors for her party yet. So the SECB is across the street at something called "The Habit Burger Grill" (what) where a mom is desperately trying to convince her small child to use the bathroom before they leave because "the drive home is going to be long because of the traffic." The kid is taking a strong stand against going to the bathroom. He eventually relents. Issaquah feels like one big strip mall but the sidewalks are incredible. I mean, just look at those things.
***
WE ARRIVED TOO EARLY TO JOE NGUYEN'S PARTY BUT THIS IPA IS EXACTLY WHAT OUR HIGH MOUTHS NEEDED
6:27 PM
The SECB thinks this Hazy IPA from Skookum tastes like guava and melons and is happy they got assigned to a party at a taproom. They wanted to ask State Sen. Candidate Joe Nguyen if he thought this IPA was fucking delicious or fucking wack but turns out we showed up an hour early to his election party at West Seattle's Ounces Taproom and Nguyen and his swear words are not here yet.
***
DEMOCRATIC SOCIALISM HAS BROUGHT FREE PIZZA
6:15 PM
Exactly one hour into the SIX HOURS of Democratic Socialist utopia that is the Sarah Smith "not worried about the second place thing" victory party, free pizza has arrived. (Though the masses still thirst for free drinks.)
Not one second after the oven-fired, fungi-covered masterpiece landed on the table the above hand—not the SECB's hand, the dab's got our normal starving-feral-cat-like reflexes slowed, and certainly not the gnarled hand of the rapacious free market—this eager, eager hand (and really, who can judge its eager eagerness in these late-stage-capitalism times?) this needy, beautiful, ready-to-hold-aloft-the-red-rose-of-victory hand moved in and swiped the first slice out from under our hungry mouth.
***
DEMOCRATIC SOCIALISM WILL NOT BRING FREE DRINKS—YET
5:51 PM
Democratic Socialist Sarah Smith is feeling so good about getting through the primary that she's scheduled her party to last SIX HOURS. Not one to miss a celebration, the SECB showed up promptly for the bash's 5 PM start and found about a dozen people talking quietly in an upstairs room at the Columbia City Tutta Bella.
There was no food in sight yet, only liquids. The SECB, uncharacteristically, is starting with water (because our earlier dabbing is giving us hella dry mouth). The campaign's political director, Supreet Kaur, already has a glass of rosé in hand. We'll see if Democratic Socialism brings us free pizza in the fulness of time. (So far, it's only brought us news that Democratic Socialism will not be bringing us free drinks—yet.)
No challenger from the left has ever made it through a primary against the incumbent in this race, 11-term Democratic Congressman Adam Smith. That's why we reported, earlier today, that if Sarah Smith pulls an Alexandria Ocasio-Cortez and moves on to a general election battle against the Democratic establishment, "it'll signal a major shift in the attitudes of the 9th Congressional District's primary voters and another huge rejection of Democratic centrism by the building 'blue wave.'"
However, history is not on Smith's side in this district, as we outlined.
Even so, Kaur said she's more confident than ever after checking in with Sarah Smith's grassroots campaigners throughout the day. "All the field data suggests we are going to make it," Kaur said, predicting a Smith-Smith finish this evening (and, implicitly, predicting doom for Republican Doug Basler, who's once again on the ballot after taking second place to Adam Smith in the last two primary election cycles and then, in the last two general election cycles, going on to lose badly to Adam Smith). "I am not worried about the second place thing," Kaur told the SECB.
Kaur said the campaign had done enough "knocking on doors, text-banking, and face-banking" to assure her that Sarah Smith will be on the ballot against Adam Smith in November.
Along with the election results and the price of pizza, the SECB also hopes to learn WTF "face-banking" involves.
***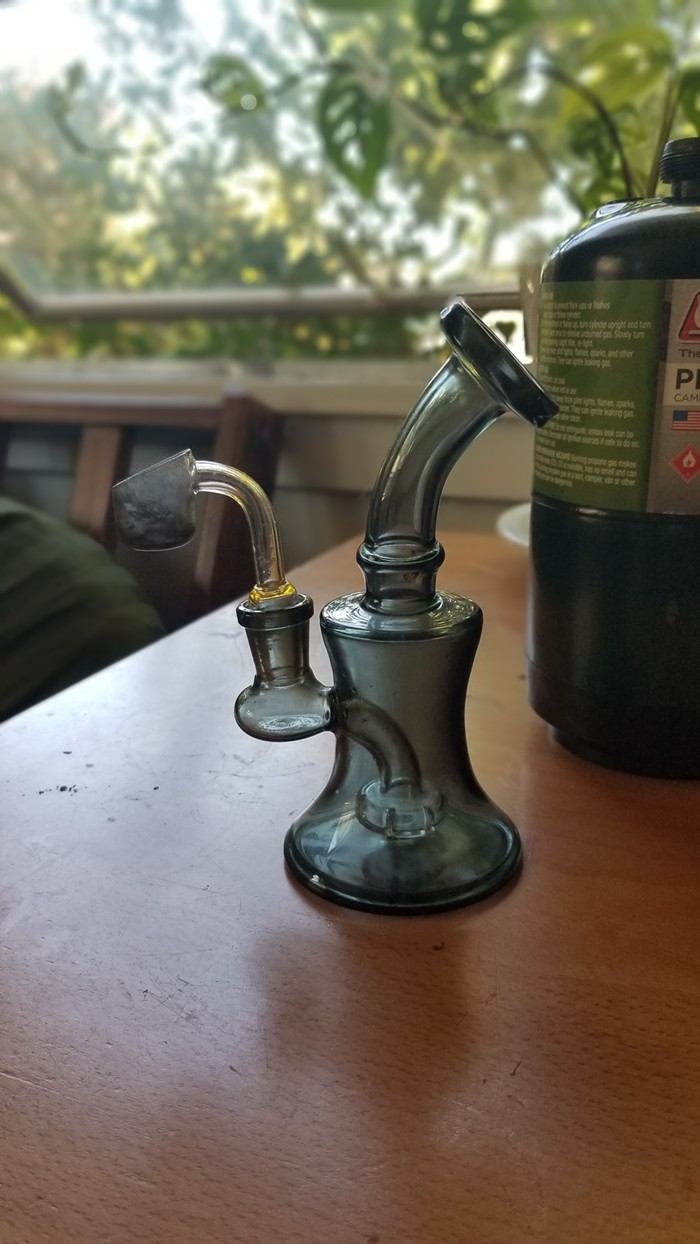 THE PRIMARY PRE-GAME BEGINS
5:18 PM
Most newsrooms get Election Night Pizza. But the Stranger Election Control Board gets a Superfly Election Night Dab Rig! Check this thing out!!! This got us so high at Sean's going-away party last week that several of us only emerged from the dab cloud this morning—just in time to hit this baby one more time.
In this "pretty fuckt but still definitely working, Dan!!!!" state, we're heading out to the suburbs looking for Maria Cantwell, Susan Hutchison, Dino Rossi, and any other sociopaths we can find. A couple of us are also going to West Seattle—which might as well be the suburbs—to keep an eye on Seattle's most competitive state legislative race, and to see how many times we can get Joe Nguyen to say "fuck." We're going for ten fucks.
If you've heard about what a big deal the 8th Congressional District is—it is a VERY BIG DEAL—read this. Can't remember what exactly makes Dino Rossi such an absolute fucking loser? Right here.
Heard about that Alexandria Ocasio-Cortez-like candidate we've got running? Wonder what it will take for her to win? We've got you covered.
Want to know which state legislative races are the hottest and heaviest? Click.
Strong feelings about whether pineapple belongs on pizza? Sure, here you go.
The first and only results of the night will drop around 8:00 p.m. See you out there.