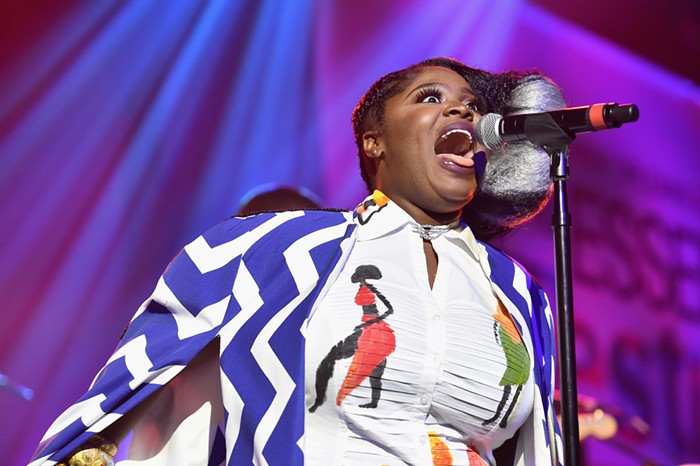 Last night, as the anxiety started up and my co-workers had left for their election parties, I put my phone down and resolved to ignore the midterm results until after I'd vigorously shaken my ass. I didn't check on the bus ride home or the walk over to my friend's house or in the Uber on our way to
the Neptune
. If the country was going to reify its own ugliness, I would wait until I had let New Orleans sensations
Big Freedia and Tank and the Bangas
work my whole body into a pulp.
The show was supposed to start at 8:00 p.m. and yet when we rolled up, Naughty Professor, the six-piece ensemble opening the night, was just getting started. As the brass trio fired up, my friend and I grabbed our fourteen-dollar well drinks and made our way to the floor. We noticed, as we pushed towards the front, that the sold-out crowd was one of the most diverse either of us had ever seen assembled in Seattle. Cool young black folks, kindly-looking NPR dads, and queers of a more rustic cast all jostled together excitedly as the music started up.
On first inspection, Naughty Professor did not seem promising. As a general rule, I do not fuck with jam bands, and even though my nerves were somewhat soothed by the announcement at the top of their set that they were from New Orleans, these dudes were looking very jam-y.
The six of them—a brass trio, bassist, guitar player and drummer, all suspiciously white-looking—were splayed across the stage, shaggily maned and clad in a series of button-ups. But here's the thing: Naughty Professor actually rule. All six of them are virtuosic, sensitive players who lob solos gracefully back and forth like skilled jazz players. After the first white hot trumpet solo early in their second number, my anti-jam reservations melted away; if Dave Matthews ever learns how to rip that hard (not likely) I'm slapping on a pooka shell necklace and relocating permanently to the Gorge.
Later, after Naughty Professor had finished, I ran into another friend, a young black woman who was attending with her mom who remarked, "White people in New Orleans are different than white people up here. They've got something else going on." We all agreed that this was certainly true.
After a short break and another overpriced cocktail, Big Freedia sashayed onstage and began what I can only describe as a psychosexual onslaught set to music. Big Freedia is, in the most basic sense, a rapper, but it's difficult to talk about her without resorting to superlatives. Widely regarded as the foremost popularizer of bounce music, a subgenre of New Orleans hiphop, Big Freedia is a free-wheeling, gender-bending, high priestess of the Church of Shaking Your Ass.
Onstage she was flanked by a trio of dancers, all of whom were clad in "Black Pride Matters" t-shirts and all of whom inspired more lustful sensations in my body than I've felt for a long time. They blazed through most of her hits and most of the material off her latest release, 3rd Ward Bounce. "I want to know who's got some liquor in their system," she yelled at one point. "Bitch we're right fucking here," came the reply from a beautiful nelly gay behind me. And he was right. We were right there.
Midway through Big Freedia's set, it was time for the twerking competition. Members of the audience were herded onstage and began vigorously popping their asses, first individually and then in pairs. Asses were everywhere: the floor, the walls, in the air, on the balcony. Ass ruled everything around me. At one point, beholding the glory of all those butts, I wondered if perhaps, in some alternate timeline where Donald Trump lost the election, this was what America looked like.
After a short break to towel off, Tank and Bangas took the stage. Well, actually, the Bangas took the stage, followed about a minute later by Tank in a panda suit. I didn't get the reference, but such is the force of frontwoman Tarriona "Tank" Ball's charm that I didn't care. Pandas? Why not! We were having fun and I was buzzed on twenty-eight dollars worth of gin!
They opened with "Quick," the song that won them NPR's Tiny Desk competition and brought them widespread acclaim, and plowed through an almost two-hour-long set. Admittedly, I find TATB a bit lacking on wax. They have a proclivity for cheesiness that I find sort of grating. But in person, there is nothing cheesy about them. The woodwinds roar, the drums are blistering and precise, the backing vocals possess a gospel splendor. And leading it all is Tank, whose delivery oscillates between sideshow clown, Pentecostal pastor and slam poet. If there's anything negative to be said about the set, its that the band—animated by New Orleans' jubilant energy—was more prepared to party than the audience. Several people left before they'd finished. Their loss though because the final number of the night was a stellar cover of Outkast's "Bombs Over Baghdad" featuring the surprise return of Big Freedia.
As my friend and I spilled out the door of the Neptune, grinning and sweaty, I checked the election result. They were fine. Not especially great, but not terrible. Democrats regained control of the House, but several of the most visible races had gone to Republicans. Donald Trump was still in the White House and we were still locking migrant children in cages. And yet, despite all of that, it was hard not to feel hopeful. I do not trust politicians, even the most progressive, will be able to destroy all the forces that oppress people in this country, but I cannot imagine how anyone could emerge from the Neptune last night and not feel optimistic. There's that oft-quoted Mr. Rogers line about looking for "the helpers" in times of struggle, but I would suggest also looking for the people willing to hike their skirts up and pop their ass. We cannot, at present, fix everything, but we have our bodies and our joy, and no election can ever take those away.