There's a civil war happening right under our noses in Northeast Seattle. The War for 35th Avenue will go down in history books, mark my words.
As first reported by The C Is for Crank, the future of a safe street redesign is in the hands of Mayor Jenny Durkan.
Back in 2012, the Wedgwood, Bryant, and Ravenna neighborhoods independently put a redesign plan together for safer streets. The plan—which would include protected bike lanes along 35th Avenue, slower speed limits, and more crosswalks—was approved and compiled into the city's Bike Master Plan in 2014. Everything seemed like it was going smoothly until last October. That's when Save 35th—a neighborhood group comprised of small businesses along 35th Ave, those people who get uproariously angry on the app NextDoor, and car-lovers—was formed. Bike lanes would take away their street parking, it would drive business away, they said.
Red posters advocating for the preservation of this suburban arterial were posted in storefront windows. Red anti-bike lane picket signs cropped up in countless lawns. All of them read "Save 35th Avenue." The group flooded City Councilman Rob Johnson and Mayor Jenny Durkan with thousands of emails and phone calls, according to The C Is for Crank.
The pro-bike group, Safe 35th Ave, tried valiantly to keep the plans in order. The city, kowtowing to the anti-bike lane group, stalled. They conducted four parking studies—all found that only 40 percent of street parking on 35th was utilized during peak hours—and, eventually, hired a mediator between the groups.
Now, those mediating sessions (which cost a rumored $14,000) are done.
"It wasn't very fruitful for us," Chris Priest with Safe 35th, the pro-bike lane group, said. "It feels like at the eleventh hour another plan has been put forward that we hadn't heard of before."
There are two options that Durkan will decide between: the plan to put in protected bike lanes, or a new plan that will remove any and all potential bike lanes in favor of a center turn lane. The latter option is the one that Save 35th, the anti-bike lane group, wants to go with. That group has refused to speak with The Stranger since I referred to them as "Suburban Seattle Parking Purists" back in September. The new plan will reduce the same amount of parking along 35th Ave.
"If you look at NextDoor," Priest said about the Facebook-like app for neighborhoods, "everyone is really mad."
They wanted the parking but they didn't want the bike lanes more. They had to compromise if they were going to get something they wanted, Priest explained.
"They didn't want bike lanes because they didn't understand what bike lanes do," Priest said. "Bike lanes aren't just about convenience for a cyclist, it's also how they reduce collisions and slow people down."
Priest is a cyclist, but he says he's not advocating for these street improvements for his own gain. It's dangerous, he says. In his time living in the neighborhood, he's seen multiple fences crashed into and even pulled a 16-year-old kid out from under a car that flipped on 35th.
"35th is by no means Beirut in the '80s, but it's no fun," Priest said. "We want basic safety improvements that we got along 75th near Eckstein Middle School."
Cars used to race up 75th, a street with an imposing incline. In 2013, the Seattle Department of Transportation redesigned the street and put in a photo enforced speed limit after a family was mowed down by a drunk driver. Since then, traffic accidents dropped by 60 percent.
"The point for us is that we don't feel like safety should be trumped by parking and convenience," Priest said.
The same improvements on 75th could easily come to 35th Ave as well. But, the two groups are at a standstill. They were at a standstill before the city hired a mediator and they're at a standstill after. For Priest, this reaffirms his belief that Durkan lacks vision and leadership as mayor.
"It's really frustrating to have her to put things in sort of limbo," Priest said, "to spend money on a fourth parking study, and then to hire a mediator that cost $10,000 to $14,000 that did nothing— we're still over here in our entrenched positions. We appreciate the opportunity to be heard but there are so many amazing things that the city could be spending their money on. Difficult to justify for an arterial in a wealthy suburb."
Durkan has the two plans on her desk. She's expected to have a decision by the end of the year.
Sponsored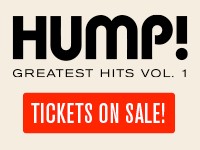 What are YOUR favorite HUMP! films? Start with HUMP! Greatest Hits, Volume One! Relive the memories!