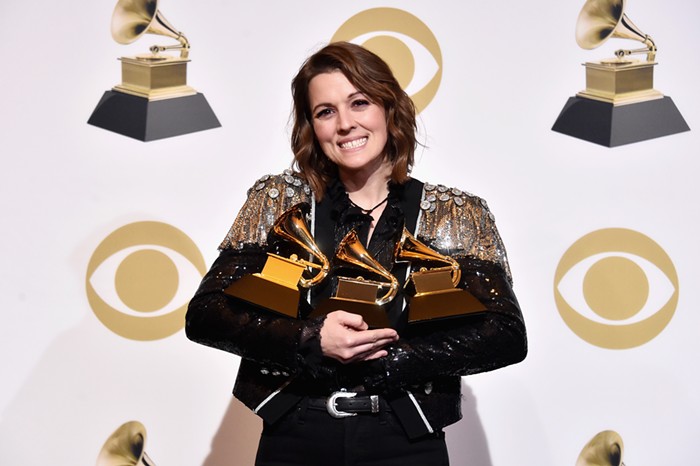 Much of the country was introduced to Brandi Carlile for the first time on Sunday night when the Seattle-area musician won Grammy awards for Best Americana Album, Best American Roots Performance, and Best American Roots Song. These wins make her sound like a niche artist, and maybe she is, but she was also nominated for Best Album and Best Artist. She didn't win but perhaps she should have. Certainly, her performance of "The Joke" stood out, and in a crowd of the some of the world's most accomplished musicians, she got a standing ovation.
It would be satisfying to claim that the world was finally discovering what Seattle has long known, that Brandi Carlile is as much a talent as any of the men normally connected to this city (you know who I'm talking about). But as our dearly departed Sean Nelson wrote last year, Carlile is "one of Seattle's best-kept secrets"—maybe even in Seattle. Nelson (RIP) was a fan, as is Barack Obama, but despite her talent (and the Grammy nominations) Carlile has yet to really break into the mainstream. That might change after last night.
There's one other demographic aside from her hometown fans that has always loved Brandi Carlile, and that's lesbians. Carlile, as she said in her acceptance speech, came out at 15, and now she lives with her wife and their two kids in Maple Valley. Of course lesbians like her. She's one of us.
And yet, despite her popularity among my people, I've never really listened to Brandi Carlile. My reasons for this, I'll be the first to admit, are not good. By virtue of who I dated and/or lived with in my 20s (lesbians, mostly) I binged on singer/songwriters for years and now I get a little nauseous every time I hear the first notes of "Closer to Fine" or anything even resembling Ani DiFranco. The music is like food poisoning to me, dredging up memories of bad breakups and even worse haircuts.
The second reason is even more trivial: her name. Every Brandi (with an i) I've ever known has been a stripper, and while there's absolutely nothing wrong with stripping, I associate the name with an especially depressing strip club where I day-drank for over a year. I'm not particularly into strip clubs, and was more likely to sit at the bar reading the New Yorker than I was to stuff dollars in anyone's thong, but it was the only bar in my neighborhood that opened at noon. The daytime bartender was "Brandi with an i," as she introduced herself, and every time I hear the name, I think of being hungover by 4 in the afternoon.
The third reason I've been avoiding Brandi Carlile is the most shameful of all: I don't really like music. It's my worst quality, I know, even worse than being a Literal Nazi or a human trash pile or whatever GermanSausage is going to call me this week in the comments, but I just can't help it. I've tried. I spent years going to shows just to get bored during the first song and spend the rest of the evening standing outside making small talk with smokers. This was fine for a while, but then everyone quit smoking and I decided I was done with live music. No more shows for me. (I've mostly stuck to this, although my girlfriend, along with everyone else in the world, actually enjoys live music for some reason. A few years ago, she got tickets to go see Solange in Portland and convinced me to go with her by promising that the venue had seats and we could go to Pok Pok afterward, but as soon as Solange came onstage, everyone stood up. It was awful.)
In light of the above, I didn't know the Grammys were on last night, much less that Brandi Carlile was performing or nominated for anything. If the batteries in my remote control weren't dead I probably still wouldn't know, and would have spent the evening watching KOMO News reporters stick rulers in the snow instead. Fortunately for me, my TV will be stuck on CBS until the remote fixes itself, and, during what was an otherwise slightly odd awards show (Why did so many speeches get cut off? Why did J.Lo do a Motown tribute? Where was Donald Glover?), I caught Brandi Carlile's remarkable performance.
Here, see it for yourself.
It was a staggering performance—raw but polished, emotional but full of strength, and the audience responded in kind. The woman can fucking belt, and even though I had no idea what the song is about because lyrics are just sounds that people make with their mouths and I have to see them written down to grasp their meaning, I could tell something special was happening. This was not the folk-rock I overdosed on in my teens and 20s, and Carlile wailed with all the power of Whitney Houston or even Aretha Franklin. It was an immensely powerful performance, and even though the last time I was stirred by a song was at Barack Obama's first inauguration, whe she hit the high notes, I got goosebumps and my eyes started burning. I immediately became invested in seeing Carlile win Best Album and Best Artist even though I hadn't cared the slightest five minutes earlier and the chances were probably slim to none.
Later, I watched the official music video for "The Joke," which features women in head scarfs, old folks, people of color, gays, trans folks, a person doing sign language, a young black ballerina. Not much happens—it's shot in a rich black and white, and the action is mostly close up of Carlile and the others lip-syncing along, but as simple as it is, it reads like a repudiation to everything that's wrong with America at this very moment.
I've now watched Carlile's Grammy performance at least six times and I'm not yet inured to its effects. I'm still getting goosebumps, still welling up. I didn't know music could do this to people, but now that I do, the next time Brandi Carlile plays in Seattle, I may have to break my own rules and actually show up. Here's hoping that there will be seats.