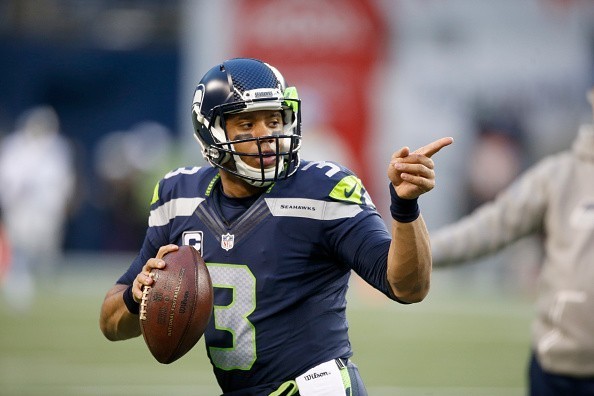 There's a rumor that Russell Wilson wants to leave the Seahawks
: The genesis of the rumor is that Ciara, Wilson's wife, would rather live in New York for her music career. So, the sports pundits—that's a thing right?—are talking about whether Wilson wants out of the Seahawks to transfer to the New York Giants. That seems to be the gist and that Wilson hasn't actually talked to the Seahawks about it. Still,
the rumor mill is churning.
UW exposed the personal data of nearly 1 million patients: Due to a weakness on the UW Medicine website, 974,000 patients' files were exposed. Information like names, medical record numbers, and a description and purpose of the information was available. Goddammit, I'm probably one of these people. I'll let you know if I get a letter—they're sending all the people impacted notice in the mail. Allegedly there hasn't been any misuse of the data yet. UW Med wasn't good for my insurance anyway. Anyone know any good general practitioners?
Rep. Matt Shea introduced a bill to get rid of the recently-passed gun control laws: This is the least surprising news. Shea, the Republican State Representative known for calling journalists "dirty, godless, and hateful" and other gems, has introduced a bill to repeal I-1639, the initiative containing comprehensive gun control laws. He says it's unconstitutional. It was approved by nearly 60 percent of voters in November.
A chilly night ahead:
Below normal temps are forecast to continue for next 7 days in W WA. Tonight will be dry but lows in the mid 20s to lower 30s so slick spots on roads & surfaces are possible. Sunny but cool on Thursday, with highs in the low to mid 40s. #WAwx pic.twitter.com/G46tyo2MRx
— NWS Seattle (@NWSSeattle) February 21, 2019
You might have to wait until you're 21 for a cigarette: Or other tobacco products. That includes your vapes, kids! A bill that raises the age of sale for all tobacco and vapor products passed the Washington House of Representatives today. It would raise the purchasing age from 18 to 21-years-old. It's headed to the Senate now.
Puget Sound is desperate for restaurant workers: There's a shortage of employees in the restaurant industry around Puget Sound. According to Q13, last December there were 6,500 open positions and only 1,400 people applied. Staffing is the number one issue facing restaurant owners. This is making a lot of people in the business nervous as the busy summer season approaches. "Please, please, apply for a restaurant job" is the thesis of this article.
King County Metro Security Boss arrested on suspicion of human trafficking: The head of security for King County Metro was arrested Tuesday on suspicion of sex trafficking with a person who provided childcare for his children, according to the King County Sheriff's Office (KSCO). He allegedly groomed his children's babysitter from 2008 to 2013 into engaging in sex acts with him and then others. He then coerced her into prostitution.
Is this Tim Eyman's Spliff submission? 'Cause boy, is it a comedy. Eyman, notable car-tab tax troll and alleged office chair thief, filmed a vlog of himself attempting to return and/or pay for and keep (something he would very much like to do, he points out excessively in the 9 MINUTE AND 40 SECOND video) the chair he took from Office Depot without paying for. This publicity thirst trap of a stunt is downright impossible to watch. But I did it. Did you know Eyman was on vacation in Orlando, Florida? He told this to the police after the Office Depot people told him that, no, he couldn't return stolen property and evidence in an active case to them and that, please, sir, would you turn that fucking camera off. There were a lot of rides at Harry Potter world, Eyman said. The chair, unfortunately and unexpectedly, was logged as evidence and kept by the police. Eyman then purchased a new chair and sat on it in the Office Depot parking lot. He paid a $12 assembly fee. If this video is his legal strategy for this case I can't wait to see how he handles the Attorney General's lawsuit against him!
Seattle Police Department reneges on federally-mandated reforms: The city approved a labor contract with the Seattle Police Officers Guild that doesn't improve transparency and whittles away public trust, according to the Community Police Commission (CPC), a citizen panel. The CPC filed a brief with the U.S. District because Seattle "bargained away critical reforms … crafted carefully and deliberately, drawing on hard lessons over many years with the existing system," according to the Seattle Times.

Teen makes bank plowing snow during Seattle snowstorm: The teen, an 18-year-old from Idaho, was visiting his mom who was recovering from surgery in Seattle. He works in landscaping and plows snow back in Idaho. When the snow started to fall, he set up a Craigslist ad to plow snow for Seattleites. He got an offer for $1,000 and went back to Idaho for his plow. He raked in $35,000 plowing snow in four days.
A U.S. Coast Guard and self-proclaimed White Nationalist was planning on carrying out a terrorist attack: His targets were going to be politicians and journalists. The Coast Guard lieutenant, 49-years-old, had stockpiled "15 firearms, including several long guns and rifles, and more than 1,000 rounds of ammunition," according to the Washington Post. The intent of the attack was allegedly for him to "create a white homeland" and that he was "dreaming of a way to kill almost every last person on the earth." He was arrested and will appear in court Thursday.
Who the heck is Andrew Yang? And is he going to be our next president?
What's your favorite National Park: If it's not Yosemite, you're wrong.

Every February for a few days, the setting sun illuminates Horsetail Falls, making it glow like a cascade of molten lava. Right now, Yosemite National Park is again wowing visitors and photographers with its annual "firefall." https://t.co/Qqpyys8Ctj pic.twitter.com/je2mbN0XjJ
— Los Angeles Times (@latimes) February 21, 2019
Jussie Smollett has been charged with a felony in his own hate crime report: The Empire actor has been charged with felony disorderly conduct after allegedly filing a false report for an attack that occurred on Jan. 29. He is due in court for a bond hearing on Thursday.
How much would you have to be paid to get one of these haircuts?
A barber in Hanoi is offering free Donald Trump and Kim Jong-un hairdos ahead of the leaders' summit in Vietnam. https://t.co/YfLYwmRBwp pic.twitter.com/4nD3lxmEMi
— ABC News (@ABC) February 20, 2019
Headline of the week: Zuckerberg, forgetting about Facebook's Portal: 'We definitely don't want a society where there's a camera in everyone's living room'