Remember that crummy remake of
The Magnificent Seven
from a couple of years ago? Three of its titular septet—Ethan Hawke, Chris Pratt, and Vincent D'Onofrio—have reteamed for another western, perhaps to make up for the shortcomings of their previous attempt. While
The Kid
isn't exactly good enough to right past wrongs, it's a mildly diverting entry into a genre that you either love or don't give a shit about. In other words, it's a western, and if you love westerns, you'll get something out of
The Kid
. Everyone else should probably just go see
Captain Marvel
.
D'Onofrio directed and co-wrote The Kid, which retells the part-true-story and part-legend of outlaw Billy the Kid and Sheriff Pat Garrett, the lawman who set his sights on bringing him down. That story is flexible enough—and has been retold enough times, with degrees of historical accuracy—that recounting too much of this particular plot is probably dipping into spoiler territory. One of the movie's pleasures is how characters ascend and recede in its central framework, so that you're never quite sure where to put your allegiance. In a world where gunfights break out with regularity, you're also never sure who's going to stick around.
The story begins from the point of view of a pair of young siblings—Rio (Jake Schur) and Sara (Leila George, daughter of D'Onofrio and Greta Scacchi)—who are on the run from a nasty uncle (Chris Pratt, in an unusual turn as a villain). Rio and Sara team up with Billy the Kid (Dane DeHaan) and his crew, and are seduced by the outlaw lifestyle and Billy's laidback, grinning charm. Of course, Pat Garrett (Ethan Hawke) is hot on their trail, and horse chases and gunfights ensue.
It's all pretty conspicuously average, but The Kid comes to life in its second half, when Hawke takes center stage. Unsurprisingly, he's the best thing in the movie by a country mile, and he's happily partnered with sidekick Ben Dickey, the musician-turned-actor who made such an indelible impression in Hawke's recent directorial effort, Blaze. It's apparent that Hawke, Dickey, and D'Onofrio have plenty of affection for the well-worn western genre, and The Kid revels in all of its requisite gruff talk and lead-bullet promises.
You'll need to share that affection in order to get a charge out of The Kid, a low-key fable that's not doing anything particularly fancy. It's interesting to see Pratt attempt a menacing villain, even if he doesn't quite pull off the menace (or the fake beard). DeHaan's DiCaprio-lite persona also works pretty well as the unflappable Billy the Kid. But Hawke's the real reason to see this, and if he and D'Onofrio somehow wrangled this tiny thing into a series of Pat Garrett adventure movies, I'd watch every last one.
The Kid opens in theaters tonight. For more reviews, visit our Film & TV page. For more films screening this weekend, visit our Movie Times page.
Sponsored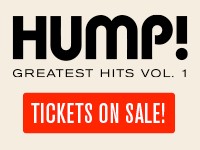 What are YOUR favorite HUMP! films? Start with HUMP! Greatest Hits, Volume One! Relive the memories!