In January 1972, Aretha Franklin joined forces with the Reverend James Cleveland and the Southern California Community Choir to make
Amazing Grace
, a double live album recorded during two church services at the New Temple Missionary Baptist Church in the Watts neighborhood of Los Angeles. A documentary crew, led by director Sydney Pollack, was present at the time, but technical problems prevented the
Amazing Grace
film from being completed—they were unable to use a clapperboard during the actual live performance, so the film's audio and picture were never able to be synchronized effectively. Not until more modern technology was developed could the film be completed. Producer Alan Elliott finished
Amazing Grace
after Pollack's death in 2008, but Franklin, somewhat bizarrely, didn't want the film ever to be seen. After her death last year, Franklin's family gave permission for it to be released, allowing other people to witness these two extraordinary nights.
Even at a remove of 47 years, and even with Franklin's Amazing Grace album firmly established as a familiar classic in the canon of recorded music, the movie is a staggering thing to behold. It is probably the greatest filmed document of American gospel music that has ever been captured, and it deserves to be seen somewhere with a good sound system; luckily for Seattleites, the movie is currently playing at several great theaters around the city.
To someone familiar with the Amazing Grace album front to back, it's something of shock to see the conditions under which it was recorded. The photos on the album's inner gatefold make it look much more theatrical than it really was. The New Temple is a simple and not particularly glamorous or beautiful-looking church; it looks like it was probably a converted movie theater. All of the lights are on. You can see, during the first night, rows of empty seats in the back (by the second night, it's a full house, complete with Mick Jagger and Charlie Watts lurking in the last row). What looks like a mover's blanket is thrown over the grand Steinway in front of the podium, to isolate its sound for multitrack recording. Microphone cables and film gear are littered everywhere. The church is almost completely undecorated, except for a decidedly of-the-moment mural of Jesus above the choir.
But the music transcends its everyday surroundings. Franklin and Rev. Cleveland take turns at the piano and singing lead (although Franklin, naturally, spends the majority of time at the podium). Cleveland, it has to be said, is a remarkable presence in his own right, providing all the commentary in between songs and demonstrating his magnificent singing and piano-playing skills. The choir, seated except for whenever the spirit moves them—which is often—is a gallery of personalities, each with indelible faces. The same can be said for the audience, too: The first night's audience seems largely to be members of the neighborhood congregation, while the second night hosts a decidedly younger and hipper Los Angeles crowd (word had evidently gotten out). While Franklin's voice is unquestionably the star of the show, the supporting cast of these individual attendees is crucial—something you can't perceive from the audio recording alone.
The first night begins somewhat tentatively, as all first nights do. But it soon becomes apparent that this is destined to be a special occasion, and when Franklin closes with "Amazing Grace," there is definite, palpable magic in the air. On night two, the vibe is more confident and celebratory, and things quickly become rapturously chaotic. But at no point does the music suffer; even as Cleveland and the other performers are visibly overwhelmed by power of the music—at one point, Franklin herself is overcome—it remains impeccably performed, with no raw or unintended notes. The rhythm section, featuring drummer Bernard Purdie, bassist Chuck Rainey, and guitarist Cornell Dupree, is unflappable, holding down a thick, supple foundation that leaves plenty of room for the choir and piano to extend their notes toward heaven.
Words can't really describe how exciting these performances are. The actual event itself must have initially seemed a bit strange: a somewhat awkward combination of concert, recording session, and church service. But as the performances progress, the walls fall away and the music takes over. Even among the seasoned team of gospel performers, who reach for transcendence every time they make music, you can sense this was a pretty momentous affair. While everyone's relationship with God (or lack thereof) is different, I don't think there's anybody who can sit through Amazing Grace and not pick up on something recognizably holy in this music. Whether it's proof of a divine creator is entirely up to you; for me, it's more than enough that the music itself is capable of attaining the quality of what we generally think of as divine.
This week, Beyoncé's 2018 Coachella performance finally became something more than a fleeting livestream that slipped instantly into the ether, with the footage taking corporeal form as a re-streamable Netflix documentary and the audio released as a proper live album. For a moment, I wondered what on earth took so long for Homecoming to be finalized and released in a format we can revisit whenever we want—of course, Ms. Knowles-Carter likely wanted to go over every last detail with a fine-toothed comb and spit-polish it to perfection. But Homecoming's one-year gap is nothing compared to how long it's taken for us to see Amazing Grace. It's positively baffling that Franklin didn't want people to see the film, as the performances are among her best. Perhaps there's an insecurity at work that we can't ever fully understand. To that end, one of the most striking things about the film is how muted of a presence Franklin is whenever she's not singing. Her face is largely expressionless, and she scarcely says a word to the audience. She's aware that her singing voice can do all the heavy lifting, and she lets it. Otherwise, she comes across as almost bashful.

Maybe Franklin thought her performance was
so
personal that she thought it would be improper for it to leave the walls of the church. Maybe it was an experience that she wanted to keep between herself, God, and those who were present at the time. That doesn't really explain why she released
Amazing Grace
as an album (it's her best seller, too) and the film certainly doesn't contain anything she should be embarrassed by. Who knows—maybe she simply didn't like the way she looked? Oceans of sweat drip down the faces of everyone who was there, including Aretha; one of the film's best moments is when her father, the Rev. C.L. Franklin, wipes the sweat from her face as she sings from behind the piano. Of course, on Aretha, all that perspiration looks like nothing so much as glittering diamonds. It remains a mystery what she saw, or didn't see, in this film. But the greater mysteries of
Amazing Grace
are how these two performances were so blessedly great. They're mysteries that are a joy to behold.
Sponsored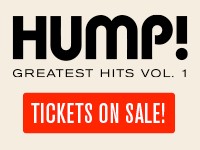 What are YOUR favorite HUMP! films? Start with HUMP! Greatest Hits, Volume One! Relive the memories!