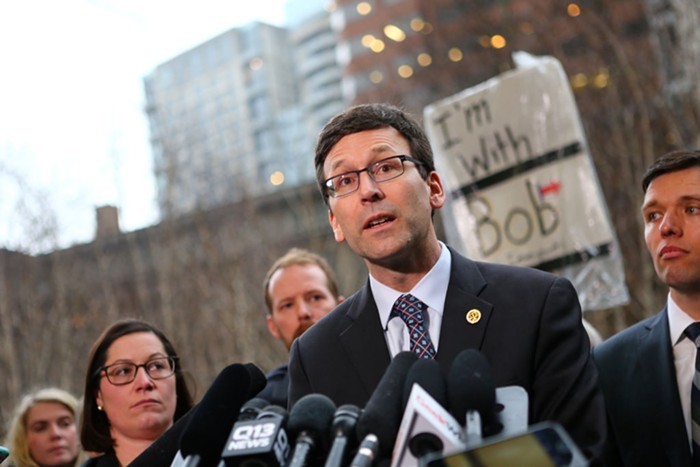 While analysts continue to compare the President's political strategy to a game of
"three-dimensional chess,"
on Sunday Washington State Attorney General Bob Ferguson will play actual chess against 20 people at the same time.
Sponsored

Vote Carolyn Ladd by November 3rd for a more progressive justice system
Though Ferguson has been open about a possible run for Governor, he's currently seeking a third term as AG, and this "simul," as the game is known in the chess world, will serve as a fundraiser for that campaign. The event is free and open to the public, but interested players can pay $250 for a chance to swap queens with the state's top attorney.
So far, 17 people have signed up, including a nationally ranked 10-year-old named Derin Goktepe. Though Bob "Bobby" Ferguson used to hold a higher national ranking, over the phone the AG said Goktepe is "almost sure to win."
"I'm hoping to last 30 or 40 moves against him," Ferguson added, admitting he was feeling "pretty rusty."
Ferguson says he started playing seriously at the age of 10, and he even considered foregoing college to play professionally. To that end he spent a gap year playing in Europe, but he ended up enrolling at the University of Washington instead of pursuing the life of a full-time chess master.
He continued competing, though, winning the Washington state chess championship in 1984 and 1987. He last played competitively in 2002, when he took 4th in the state championship.
Ferguson has only played a simul once before, and that was back in his prime. He recalls simultaneously playing close to 30 tournament chess players during that game. "I definitely lost a couple and took a couple draws, but I won the rest," he said.
To get back in the groove, Ferguson says he's been playing chess online every day for the last 10 days. He also recently played his 11-year-old twins while blindfolded. They called out their moves and moved his pieces for him. When he won, he says they accused him of being able to see.
Ferguson expects to lose some games on Sunday but says he's "hoping to maintain some respectability." When pressed, he said he likes starting games with the English Opening, though he'll definitely be mixing it up this weekend.
He has yet to play Governor Jay Inslee in a game of chess, but Ferguson told The Stranger that now would be a good time to issue a challenge.
You hear that, Jay? Suit up!