No (C)ops
I found this on my walk to eat $10 sushi at Whole Foods, lol. It's right outside the
8oz Burger and Co
on the corner, if I'm remembering correctly. This is a sign "intervention" that I haven't seen before. "No Cops," but also remember "No Stops"—don't get a ticket!
Does Anyone Remember Kaiser Chiefs?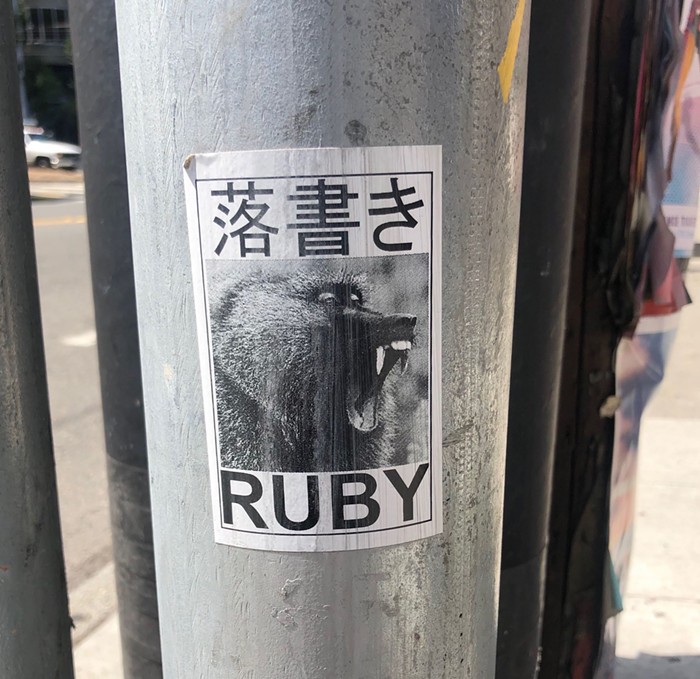 God, this sticker has got that song, "
Ruby
" stuck in my head. Remember 2007? Wild time. From the looks of this sticker, whatever it's advertising is way cooler than Kaiser Chiefs. It looks like either a skate brand or a band. I've seen it posted in multiple places around the Hill and I need to know who or what this is!
I Look Good in a Crown
I caught this picture mid-stream in the bathroom at Lo-Fi last week. Whenever I see a crown my mind immediately goes to Basquiat, though this artist's style and his are totally different.
Trans Liberation, Not U.S. Invasion
"War is tacky" may be the understatement of the century! I am down to ban everyone from the military, defund it, and reappropriate the money! Have it go to free healthcare/education for everyone! Plant 100 million trees across the United States to offset carbon emissions! Call me a hippie! Other ideas are welcome in the comments!!!!
As always, if any of these stickers belong to you, email me at jkeimig@thestranger.com.