QUICK TAKE: THE LEVIES
9:55 PM


SEATTLE LOVES ITS PARKS. SEATTLE LOVES ITS LIBRARIES. THE SECB HAS HAD TOO MUCH TO DRINK.

(The Parks, Recreation, Trails and Open Space Levy predictably is winning 67% of the vote. The levy renewal for the library is passing with an amazing 73% of the vote. Both results show that Seattle and King County wants to invest in open spaces for all and in knowledge for all, minus the fines.)

Sponsored

Laugh till it hurts at this outrageous camp comedy the NYTimes calls "Wickedly funny!"
***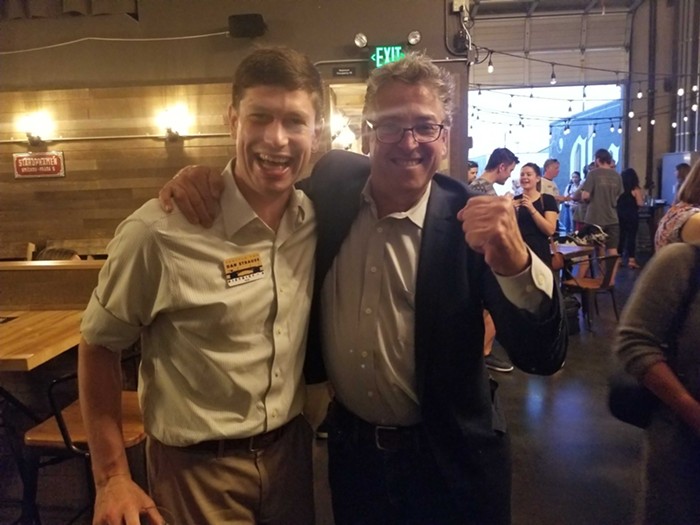 FRED THE WINNER CRASHES THE PAPER BOY'S PARTY
9:52 PM
The SECB spotted Fred Felleman, fresh off winning 69 percent of the primary vote for his Port of Seattle race, at Dan Strauss's party. We asked him to name one thing he wanted to do now that it was almost certain he would be reelected.
"I am going to rock it, I am going to continue to reduce the greenhouse gas and carbon emissions of the port… we have to double down, we have no time to waste. Greenland is running like a river," Fred said.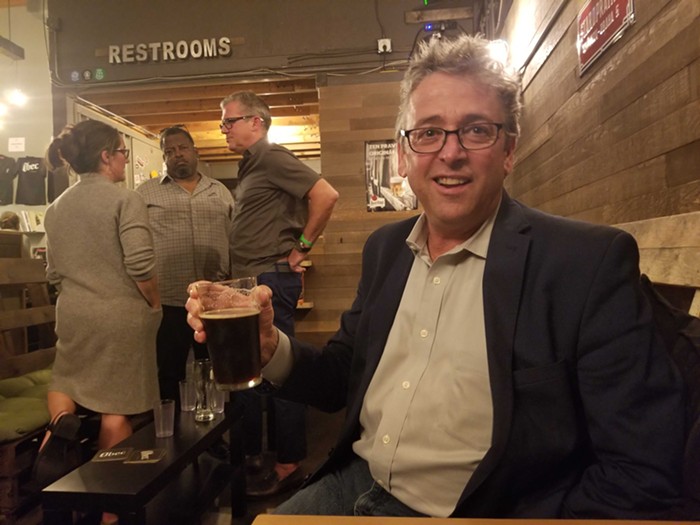 Fred then proceeded to provide a light lecture that the SECB should pay more attention to the port as he drank a "sultry and rich" stout (his description, certainly not how the SECB would describe Obec beer).

"The port has tentacles that stretch into your lives whether you know it or not," Fred told the SECB. How... sultry.

***




QUICK TAKE: KING COUNTY COUNCIL DISTRICT 2
9:51 PM

HOT DAMN, GIRMAY ZAHILAY. With 52% of the vote, the first-time candidate leads living civil rights legend and bazillion-year incumbent Larry Gossett by 13 points. Until this point, Gossett hadn't had a serious challenger since he was elected in 1993. That has changed. Now the Council Member will have to rev up his old political engine and try to make a comeback against a fresh young voice, who ran to the left of Gossett on criminal justice issues.

QUICK TAKE: DISTRICT 7
9:50 PM

In the race between the weird dadbots and that woman who wants to put homeless people in shipping containers, reformist cop Jim Pugel trails assistant Seattle City Attorney Andrew Lewis by two points. It's close, but the SECB reckons the votes will go Lewis's way in the coming days. The next closest opponent, Daniela Lipscomb-Eng, is in a race for third with Michael George Michael, whose showing is pretty sad considering his big time (if shared) endorsements.

At the end of the day, Sally Bagshaw will either be replaced by a prosecutor or a cop who doesn't like upzones. The SECB holds on to the fact that Lewis claims to have organized for Ft. Lawton early on and prays he comes to Jesus on taxing big business.

QUICK TAKE: DISTRICT 6
9:45 PM


Hahahahahah the SECB doesn't know how to thank us enough on behalf of Dan Strauss, who does, to his credit, have a long history in the district and who worked real hard and who knows a lot of people in politics because he worked for outgoing Council Member Sally Bagshaw and current State Senator David Frockt.

But with all the money CASE, People for Seattle, and Moms for Seattle pumped into this race, not even the all-knowing SECB could have predicted this current outcome.

Strauss is currently beating former Seattle City Council Member Heidi Wills, infamous for strippergate (google it), by 8 points. Later votes will likely favor him.

Pouring one out for Jay Fathi, who raised tons of money and who was nice but who didn't directly answer the SECB's questions. And much respect to Sergio Garcia, whose 14.6% represents the district's cop vote, mustache vote, or both. Though the SECB didn't like Garcia for this position, he's invited to all of our parties. (Have you ever been to Pony, Garcia? They'd love you there.)

QUICK TAKE: DISTRICT 5


Incumbent Seattle City Council Member Debora Juarez leads a pack of NIMBYs with 42% of the vote. Next closest is attorney Ann Davison Sattler, who was endorsed by the Seattle Times. Sattler currently sits at 28 percent, far behind Juarez.

The vote for attorney Sattler is the exact measure of the effect of the Times' endorsement on the people of the 5th district, which is much larger than the SECB thought it was. Nevertheless, Juarez is on track to be tired for the next four years. Us too, Juarez. Us too.

***



THE "AUNTIE OF THE MARGINALIZED" SPEAKS
9:25 PM
Sawant was introduced as the "auntie of the marginalized" to loud whoops and hollers. As she took the stage in front of the decently packed space, she spoke for over 30 minutes. The SECB was melting.
Sawant repeatedly emphasized the role that corporate PACs played in the election. "We have seen big business absolutely united in fighting for what they want," she said. "While the left and the labor movement has unfortunately allowed itself to be divided." She noted that corporate PACs have spent over $300K on "anyone but Sawant's campaign."
In her speech, the Council Member targeted Tim Burgess as the "most loyal lieutenant for the chamber of commerce," tagged Egan Orion as the "Amazon candidate," and brought up Jenny Durkan's "we don't need any more socialists in city hall" as unnecessary criticism. She repeatedly emphasized the need to get big businesses to pay their fair share, the need for rent control, and the Green New Deal.
In an interview after her speech, Sawant (who the SECB noted was not drenched in sweat like the rest of us) said, "I think everything we were predicting has been confirmed about this election campaign… which is that big business is going on an assault." She called tonight's result "phenomenal" despite the onslaught of the 100s of thousands of dollars being spent against her. Sawant told us that she's "absolutely" feeling good about November, but isn't complacent. "We have a fight on our hands but it is an inspiring class struggle. It couldn't have been more poetic," she said. "The big business and the ruling class versus the working class and small businesses who are struggling."
The SECB took "big business" to mean Egan Orion and his short-sleeve button-ups and CASE sponsorship. Her biggest hurdle in November? Energizing ordinary people who have watched the work she's done from afar but haven't participated yet. "We need the votes but we need the struggle. They need to join our movement," she said. She also cited bringing other progressive forces, organizations, and labor together to fight big business.
When the SECB asked how she's going to celebrate her victory, Sawant said she's probably going to "get some sleep." Fair enough. After our mini-interview, the SECB immediately fled outside where they were greeted with cool air. Two socialists asked for our lighter to smoke a celebratory cigarette. We obliged.


***



WHO WANTS TO MOVE THE TABLES OUT SO WE CAN LIKE DANCE AND SHIT
9:10 PM

It got loud in Burke Gilman Brewing. We aren't sure but maybe Shaun's supporters didn't know the time of the ballot drop OR they were just that confident in the win. Anyway, the brewery provided the campaign with a mic and an amp but Shaun did not want to make a speech. His campaign staff suggested karaoke. We're not sure if it's going to happen. But, Shaun did invite us outside to smoke a cigar with him. Or, to talk shop while he smoked a cigar. We followed because it's DUSK, baby, and we love someone in their element.

"Did I tell you about my dream when we were storming the gates of capitalism," one staffer asked Shaun while he was mid-celebratory puff. He laughed and said he didn't remember that one. The staff, who are all under 25 and mostly queer people of color, are thrilled with how things turned out. Before the ballot drop tonight people were worried about voter turnout. The fact that the initial votes went their way made them optimistic. They're ready for the fight that's ahead and are energized by the student vote that will be present in the November general. Shaun was wearing new Toms. "I'm glad we didn't invite you to a losing party," Shaun told us.

***

QUICK TAKE: DISTRICT 4
8:58 PM


So, apparently Shaun Scott's ground game was as good as it looked online. With 19.4% of the vote so far—nearly 7 points ahead of Cathy Tuttle—it looks like he'll make it through to the general. Labor activist/scientist Emily Myers trails Tuttle by a point. Those two will battle it out for a moment, and the SECB assumes the votes will trend toward Myers/Scott.

Alex Pedersen's commanding lead—nearly 26 points ahead of Scott as the numbers currently sit—probably has the former Burgess aide feeling pretty good right now. But if you add Tuttle's and Myers's total to Scott's—assuming those voters would go for Scott—you get 43.5% to Pedersen's 45.4% of the vote. That's a race, people.

The SECB thought we were going to get Jon Grant flashbacks, with labor pouring tons of money into Myers's race, but our hunch—if not our Grant endorsement—was wrong.

QUICK TAKE: DISTRICT 3
8:40 PM

Good news for Sawant: So far, she has the opponent she wants in chamber-backed Egan Orion, and that doesn't look like it's going to change.

Bad news for Sawant: Given a choice, 67% of the voters wanted somebody else. In the 2015 primary, Sawant took 52% of the vote with 11,675 votes. This time she only grabbed 33% with 6,270 votes. If Sawant is indeed "toast," like some Slog commenters have suggested, it's because big business and old money have finally taken over the Hill. Labor has a choice here: They can either partner with big business as they did during Jenny Durkan's election, or they can ally with Sawant and prevent the Council from leaping to the right.

Decent news for Sawant: She currently has three times more contributors in District 3 than Orion does.

Not decent news for Sawant: Since her opponents grabbed a larger share of the vote than she did, CASE, the Chamber of Commerce's PAC, might dump a couple hundred thousand dollars into the race to close the current 9-point gap between her and Orion.

The SECB could maybe see Bowers voters and Murakami jumping for Orion, since those candidates shied away from supporting taxing big business to raise money for housing, but it's hard to see DeWolf voters or Nguyen voters doing so, too.

As for the others:

Though she raised $93.6K total (57K in vouchers), more than every other challenger save Sawant, Nguyen is only coming away with the second least votes so far. Weird.

Bowers's showing reveals the limits of promoting the holy shit out of your campaign on Twitter and serves as a measure of the influence of Seattle's pure urbanists. We wouldn't be at all surprised if this tally directly corresponded to the number of pageviews sightline.org sees from District 3 on a given day. Anyway, move to the 7th or 6th or 5th district, Bowers!!

If nothing else, Murakami's second failed council campaign closes the door on the idea of sweeping homeless people onto cruise ships during the day and just kinda letting them drive around.

QUICK TAKE: DISTRICT 2
8:40 PM

With a 20 point lead over Mark Solomon, Tammy Morales is looking pretty fucking good right now.

Ari Hoffman, a bouncy castle tycoon who likes to rev his Dodge to hurt nature, wasted $91K on a campaign that distracted from better competitors. He will be missed, the SECB suspects, only by the nonemergency line dispatcher at the Seattle Police Department.

The SECB is sorta bummed Chris Peguero didn't see a better showing, but we hope to see what both him and Phyllis Porter do in the future.

QUICK TAKE: DISTRICT 1
8:40 PM

Incumbent Lisa Herbold currently leads attorney Phil Tavel 48% to 34% in District 1. That's a 14 point lead that's likely to favor Herbold. Bad cop Brendan Kolding will likely get booted from the race with his measly 17%.

Former interim mayor Tim Burgess's PAC, People for Seattle, spent thousands on negative ads trying to discredit Herbold, and it looks like she's holding on despite that.

Tavel didn't make it through the primary when he ran for council in 2015, and Seattle didn't "hand him the gavel" when he ran for judge before that, and it looks like he'll have a hard time unseating the incumbent this time.

Still, we are still haunted by a 19-year-old we met at Pete Buttigieg's campaign event a few weeks ago. She said she voted for Tavel because she wanted to "see a change" in West Seattle, not seeming to recognize that Tavel represents a return to a more conservative body.

***
STRAUSS IS BALLARD'S PAPER BOY AND THE STRANGER IS HIS PAPER
8:18 PM
The SECB was unable to find Dan Strauss moments before the ballot drop, we think he was hiding in the bathroom, but then he returned with a beaming smile as soon as a crowd could be heard at least two Ballard brewery warehouses away chanting "Dan! Dan! Dan!" Strauss, Ballard's paper boy, somehow managed to beat Heidi Wills and Jay Fathi with 30.85 of the vote. Maybe it's because this paperboy was endorsed by Seattle's only newspaper? PROBABLY.
Strauss then stood on one of Obec Brewing's tables and, after giving recognition to the Duwamish tribe, proceeded to spend 4 minutes thanking individual people for helping his campaign. It may have been the most boring way to launch a surprise underdog win election speech imaginable, but he finally got to actually saying something.
"We need strong leadership to guide this growth," the paper boy said. "I am running because I love our community. I am at the nexus of my parents' generation and the kids younger than me. Seattle is strong. There are solutions. We just have to work together."
***



THE SOCIALISTS ARE STILL HERE, MOTHERFUCKERS
8:15 PM
It's horrifically hot here. We're convinced people are going to melt into puddles of socialist goop. The SECB is unsure if people are flirting or movement building and we're on our second beer and rolling with it. "Cranes in the Sky" is playing as the results come up. Someone yelled "the results are up!" as their tech person fumbled with the internet so we looked at the results on some dude's phone. Once up, people applauded and congregated around the giant screen. An older gentleman asked the SECB to read the returns which we obliged to. "Those are good numbers," he said to us. SAWANT WON. The room somehow got hotter. Supporters moved more towards the front in anticipation of the still unseen Sawant speech. THE PEOPLE ARE WAITING.
***



ANDREW LEWIS IS TAKING A MINUTE TO DIGEST THIS
8:15 PM
The line for the bar at Andrew Lewis's campaign party is nearly out the door and we forgot our vape pen back at the office, so the SECB nearly missed the first ballot drop while slamming a pre-roll in the alley. Thankfully, the clapping alerted us that something was happening and we made it back just in time to hear Andrew Lewis take the mic: HE'S IN. Lewis and Jim Pugel will be advancing to the next round of this particular Real World Seattle. Lewis thanks his campaign manager, his volunteers, his family and friends, and he says "needs to take some time to digest this. We're not going anywhere, and thanks for coming out." Short and sweet. He's definitely moved on to beer.
The candidate, seeming a bit less dazed than he sounded a minute ago, made a few minutes for the SECB. He says he's excited and plans to keep doing exactly what he's been doing: knocking on doors and bringing the good word about Andrew Lewis to the people. As for why those people who opt for him over his likely opponent Jim Pugel, Lewis says, in short, because he's younger. "We need a change. This isn't a retirement job. This is a job for a new generation of leadership." The millennial has arrived.
***
SAY GOODBYE TO THE BOUNCY HOUSE TYCOON
8:15 PM
"See ya, Hoffman!" shouted Tammy Morales's husband not long after returns showed Morales in first place, taking almost 45 percent of the vote, with chamber-backed Mark Solomon in second taking 25 percent and Bouncy House tycoon Ari Hoffman in a distant third with unlucky 13 percent. Womp womp.
"This has exceeded our expectations," Morales said. "This is amazing. But this is just the first step."
She asks for volunteers, especially people who speak other languages and can help her canvass Seattle's diverse south end. And she told everyone to keep their eyes on November.
"We all need to get to work," Morales said. "Thank you, thank you, thank you. Have a drink!"
To which the SECB says: ON IT.
Also: "SEE YA, HOFFMAN!!!!"
***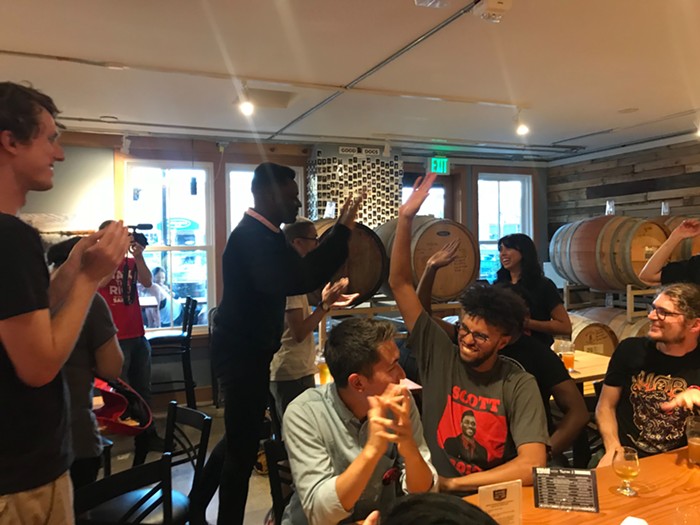 SHAUN SCOTT NEEDS A BEER SOMEONE GET SHAUN A FUCKING BEER
8:12 PM

In the tense moments before the initial results were posted, one of Shaun's staff joked "shit it was the primary today??? I've been canvassing for Ethan Hunter for six months." (Ethan Hunter is the 19-year-old candidate.) But, the results are in! Shaun went to go grab another beer. As soon as he left, it was announced that he was in second place! Alex Pedersen is in a strong first with 45.5 percent of the vote. But, Shaun is in a confident second with 19.4 percent. His strongest competition, Emily Myers (whose party we were supposed to go to but WE COULDN'T MAKE IT THERE WE'RE SORRY) is being beaten by urbanist Cathy Tuttle—something another staffer pointed out—by 1 percent. There are a lot of whoops and cheers and we almost got caught in a Shaun high-five sandwich as he reached over us to touch palms in celebration with someone. He finally went to get that beer. "What else would it be?" He asked us. "It's the L'Internationale." He is also finally sweating. (P.S. Ethan Hunter got 74 votes.)

***




RESULTS ARE IN—HERE ARE SOME QUICK TAKEAWAYS
8:12 PM


Quick takes based on initial ballot drop: The socialist constituency is still alive, motherfuckers! Amazon's constituency is also growing, motherfuckers!!! (Good job partnering with big business, labor!! It's really working out for you!!!) Stranger endorsements rule supreme!!!


***



IS THAT SCHNAPPS, HEIDI?
8:00 PM
The SECB is surprised to learn mid bite that Heidi Wills had parmesan brittle not peanut brittle on her charcuterie board at Hale's Ales. Mmmmmmm cheesy. Way better than peanut brittle.
Wills told the SECB that she had her primary election party at Hale's Ales 16 years ago the first time she was elected to the City Council. She told us that she thinks "it's gonna be pretty close" tonight.
The SECB has reason to believe Wills was carrying around a thermos of "special schnapps" before grabbing a pale ale, but we had to run to Dan Strauss's party before we could confirm.


***



SHAUN SCOTT IS SOMEHOW NOT SWEATING IN HIS COLLARED SHIRT AND SWEATER IN THE BOWELS OF THIS BREWERY
8:00 PM
We got out of Alex's party and raced down to Burke Gilman Brewing Company where Shaun Scott, campaign staff, and supporters were gathered around a long table. We asked Shaun to take a picture and he would only do it on the grounds that the whole staff was in it. So that took a couple of very valuable minutes. More importantly, Scott is feeling CONFIDENT that whatever happens tonight he has made a difference and pushed the envelope—and more importantly the rest of the council race—more progressive. He is also IMPERCEPTIBLY not sweating. When asked he said, "It's important to look good. I tried at all the candidate forums to make it look like nothing was bothering me. I didn't drink water when other candidates were taking sips from water bottles when it was hot. I didn't take bathroom breaks during intermissions." He expressed that it might have been kind of foolish but that it's a "mind game where I like to psyche myself out a bit."
The food here is... not as good as Alex's. There. WE SAID IT. There are veggie platters and a whole lot of beer that it seems we have to purchase ourselves. You know what, it's fine. We're not upset. But boy, we are thirsty and the first ballot drops FUCKING SOON. Shaun still isn't sweating. We don't know how he does it. Where's that beer?

***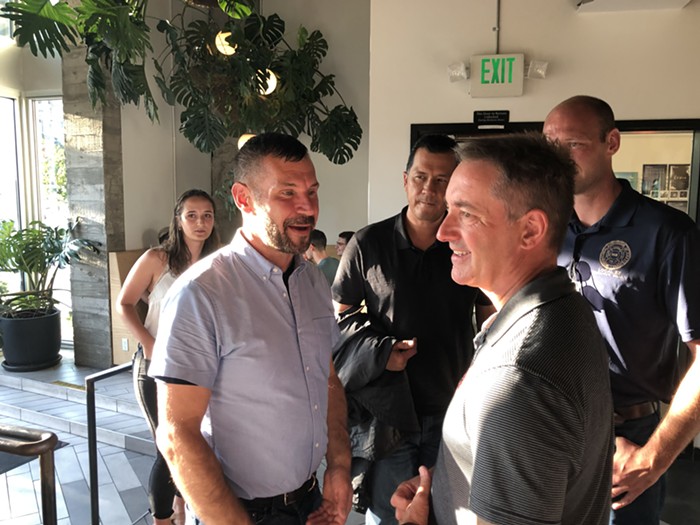 WE'RE WORRIED ABOUT "SMALL DICKS DRIVE-IN" AT EGAN ORION'S PARTY
8:00 PM
The suns was splashing all over Egan Orion's party at Rachel's Ginger Beer on 12th Ave, forcing the SECB to squint at the small clutch of the candidate's Banana Republic constituency, which, to his credit, included one righteous old school butch lesbian. By 7:20 p.m., approximately 15 of those supporters had gathered around two reserved islands in the middle of the bar. A stamp on your wrist earned you a drink on Orion, who's amassed $89K so far, not counting over $123,000 in PAC money. The SECB wasn't granted a stamp, but we didn't ask, either.
David, 21, who lives in District 3 and who was "raised in Seattle" initially didn't want to talk to the SECB because of some things we'd Tweeted and written about Orion. But he ended up being a sport and telling us how he felt anyway.
David, who was no fan of the head tax, said he was attracted to Orion's campaign because Orion was someone who "wanted to bring all types of businesses to the table," which he thought would lead to "very practical and pragmatic, actual, practical, data-driven solutions, versus just personally yelling to get a point across like the current incumbent."
The SECB squinted due to the sun and asked if he was frustrated with Sawant's "yelling."

"My frustration with Sawant is not necessarily her verbal yelling," he clarified, "But just how she tries to get her point across, and how she kinda uses her verbal language as scare tactics to try to pressure people to make quick decisions."
The SECB, almost completely blinded by the sun at this point, asked David if he thought Amazon had a big enough voice on the council.
"I feel like they do have a loud enough voice…," he said, but he worried about mom and pop shops like Uwajimaya and "even small Dick's Drive-In" not having a say in city politics.
"Small Dick's Drive-In." A blessing.
As for Orion, in a brief interview, he said he was feeling good about tonight. "After four months of hard work, you finally get to see a number that represents that hard work, and to see if your candidacy caught fire. For a first-time candidate you have no clue—people will stop you at the grocery store or along the street or at the doggy daycare and say they voted for you, but I don't know—that means I got 5 votes, right?"
He said a "good night" means "8 to 10 percent above whoever is in 3rd place, if we're in 2nd."
If he gets knocked out, he says he'll continue his work with the Broadway BIA and PrideFest, and said the campaign has made him think about the homelessness crisis, and how people working with nonprofits and businesses and the government "can have an impact on that," so he'll do something in that arena.
***



CHATTING WITH AGNES
7:58 PM
Agnes, a customer service representative and resident of the Central District since 2013, voted for Sawant in the last election and is here to support the CM again. When we asked why she was here, Agnes responded, "It's simple. I'm a socialist and I've been voting socialist since 2000." She continued, "The two party system is corrupt and broken because of corporate money." She hates the way that PACs have served corporate interests and haven't been there for the people. Agnes voted for Sawant the first time around because she addressed specific issues around wage, is fighting for rent control, and "addressed the tax issue," which the SECB took to mean Sawant's support of the head tax. Behind her, chants of "stand up fight back" echoed into the hallway. This room is revved the fuck up and ready for these motherfucking results!!!
***
ANDREW LEWIS IS SWITCHING TO BEER
7:55 PM
The attractive white person contingent has shown up by the dozens to Andrew Lewis's campaign party at CÔBA, a very nice Vietnamese eatery in Lower Queen Anne. Lewis, who won the coveted SECB endorsement over several near lookalikes, is drinking the house drink, which he says might have rum in it? Who knows but it's pink, fruity as fuck, and the candidate plans to switch to beer next, demonstrating that he is already making good decisions.
As for the race, Lewis says he's feeling confident (and how could he not after winning the legally binding SECB endorsement?). Over the course of the campaign, he knocked on over 5,000 doors, and when asked if he took Purell on these district meet-and-greets, he says no, but he did drink kombucha. Not sure kombucha is a disinfectant, Andrew, but it's too late to take back our endorsement at this point.
Lewis has stiff competition in this race, including from Jim Pugel, the ex cop who rubbed CBD ointment on his knees during the SECB cannabis summit last month, and when asked who he thinks his stiffest competition (and not just in the knees) is, the candidate—sounding every bit the politician he hopes to be—says, "Everyone ran a really strong race. I could make an argument for any of them." But was his strong enough? We'll know very, very soon. In the meantime, the crispy rolls and fruity drinks are flowing.
***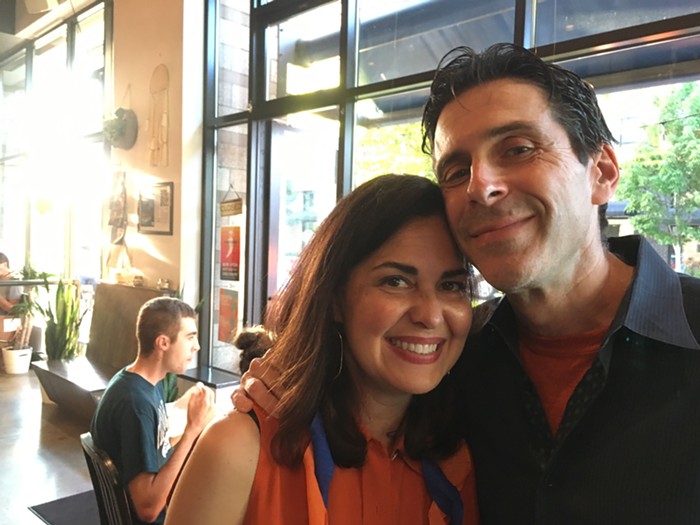 WE LEARNED HOW TO SPELL MEZCAL
7:51 PM
We are stuffing our faces with tacos at Bang Bang Kitchen near Othello Station as Tammy Morales and her supporters (including her husband, above) do the same. (Much more elegantly than the SECB, if we're honest.) Lots of chatter here about whether Bouncy House tycoon Ari Hoffman will make it through the primary—and lots of hope that he'll just fucking go away after tonight.
No such luck, though, because Hoffman has announced he's having a party tomorrow (not tonight, which—okay, Ari, you do you) whether he wins or loses. It'll be in an inflatable tavern and by invitation only. Though the SECB's invitation has oddly not yet arrived, we send our regrets in advance.
Chamber-backed Mark Solomon is having a private little thing at his house that starts mere minutes before the ballot count drops, so we also send our regrets on that one. We'll stick here with the tacos and the mezcal. (Special thanks to the Morales supporter who just helped us spell mezcal.)
PS: People at the Morales party are now DEMANDING that we go to tomorrow's Ari Hoffman inflatable tavern party, especially if the Hoff loses, because they would read the shit out of the SECB bouncing in Hoffman's sad, defeated, hopefully kinda deflated house. We will think about it but we might also have to paint our nails.
***
WE HAVE A MOLE IN THE PARKS LEVY PARTY
7:45 PM
These snacks? They're decadent.

***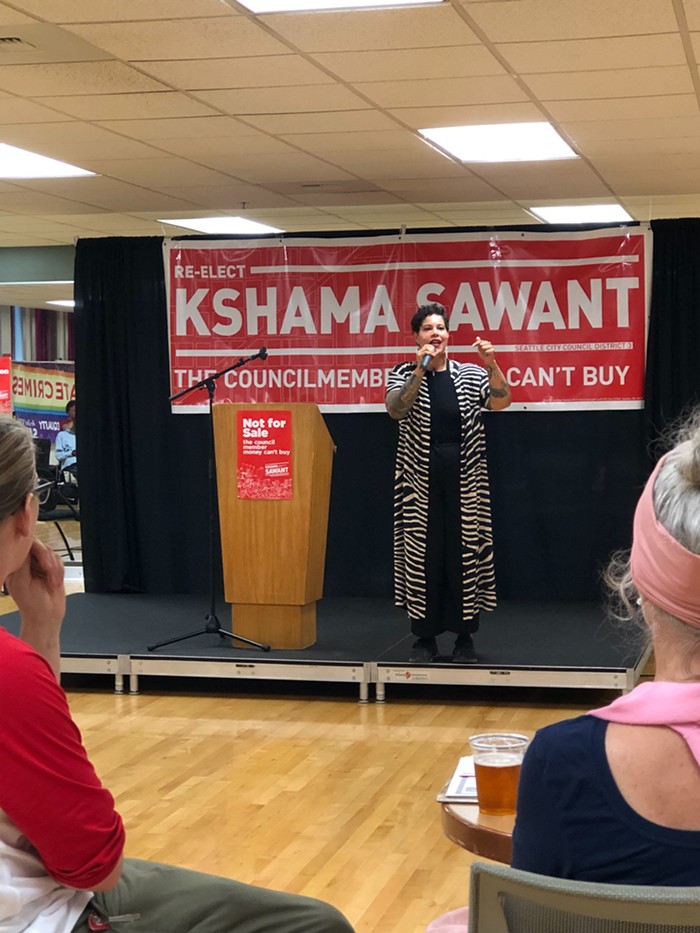 NIKKITA OLIVER SPEAKS AT SAWANT'S RALLY, WE'RE DRINKING COSTCO BEER
7:41 PM
We arrived sweaty to the basement of Langston Hughes Performing Arts Institute where we were made to sign in on laptops. The SECB tried to use the "I'm the press" line to slip past registering our email for yet another mailing list to no avail. When we finally got into the basement room, fuck—the smell of bodies, salad dressing, and sweat in the space hit us like a brick wall. Socialists don't believe in air conditioning!
2017 mayoral candidate Nikkita Oliver was in the middle of performing a poem which segued into an impassioned speech about why she supports Sawant. "It is those who are most impacted by the ills that face us that will help us do better," said Oliver. She cited Sawant's accountability, her bold steps forward, her refusal to compromise over civil and human rights, and her putting people over money and property as reasons why she supported the incumbent. Oliver's one line of criticism, however, was that she'd like to see more POC in the councilmember's office. "I'm just being honest y'all." The SECB looked around at the people in red baseball tees that said "Seattle needs rent control." Most were white. The criticism was noted.

There were various other speakers yelling about Bezos and asking for money but the SECB started getting hungry. The snack table was pretty healthy with hummus, cucumbers, and a single pack of sushi. We popped a roll in our mouths quickly. It was still cold. Once we found out there was free beer, we settled in the back with our Kirkland brand IPAs waiting for Sawant to arrive.
***



NICK LICATA SAID WE REALLY HAVE TO TRY ALEX'S MEATBALLS
7:34 PM
The food is OUT and it is an absolute spread. There are THREE different types of meatballs. That's great because the music is not very tasty. First they were playing that Chainsmokers ft. Coldplay song and now they're playing what sounds like the Autozone jingle. We do not love it.
Meanwhile, while watching hungry members of The Voting Generation (and some children who can't vote so they don't count) feast on this MECCA of hummus and basketfuls of tasty tots, former city Council Member Nick Licata was chatting our ear off (in a very friendly and welcoming way) about the state of The Stranger. He wanted to know how many views our website gets! We made up a number!
Licata says he endorsed Pedersen because he "worked well with him and he worked for someone I disagreed with a lot of the time."
Also, Pedersen's campaign staff is very sweet and asked if we needed any food. The song on now is "Power of Love" by Huey Lewis and the News which reminds us of Back to the Future, a movie we're fond of. We have to get out of here soon before we're inducted into something or, worse, miss a better party.
***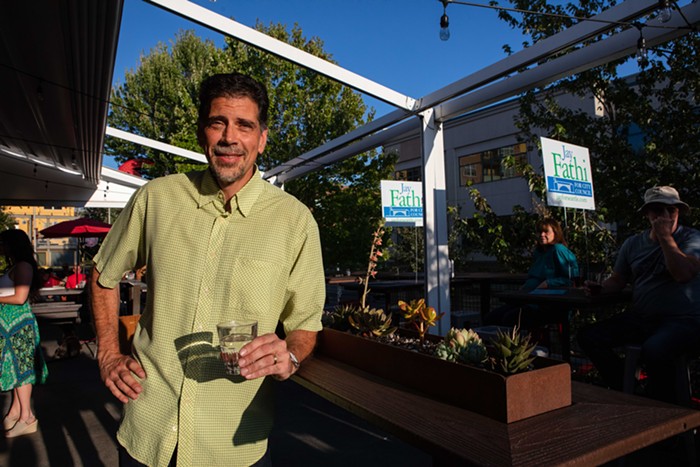 JAY FATHI IS DRINKING WATER AND FEELING GOOD
7:28 PM
The SECB spotted District 6 frontrunner Jay Fathi drinking water at the Red Door tonight but he quickly clarified to us that "he's a light beer guy" and that it was only "water for now until after the results… hopefully it's celebratory."
Fathi has the support of both the Chamber of Commerce and lots of labor unions, an interesting coalition that has put him ahead in the 14-person District 6 race even though he didn't get The Stranger nor the Seattle Times endorsement. He said he felt "really good going into the night."
The rest of Fathi's party was dressed in formal Ballard attire (collared shirt, blue jeans, well-worn shoes) and a few people appeared to have been born in Ballard before it was annexed into Seattle.
***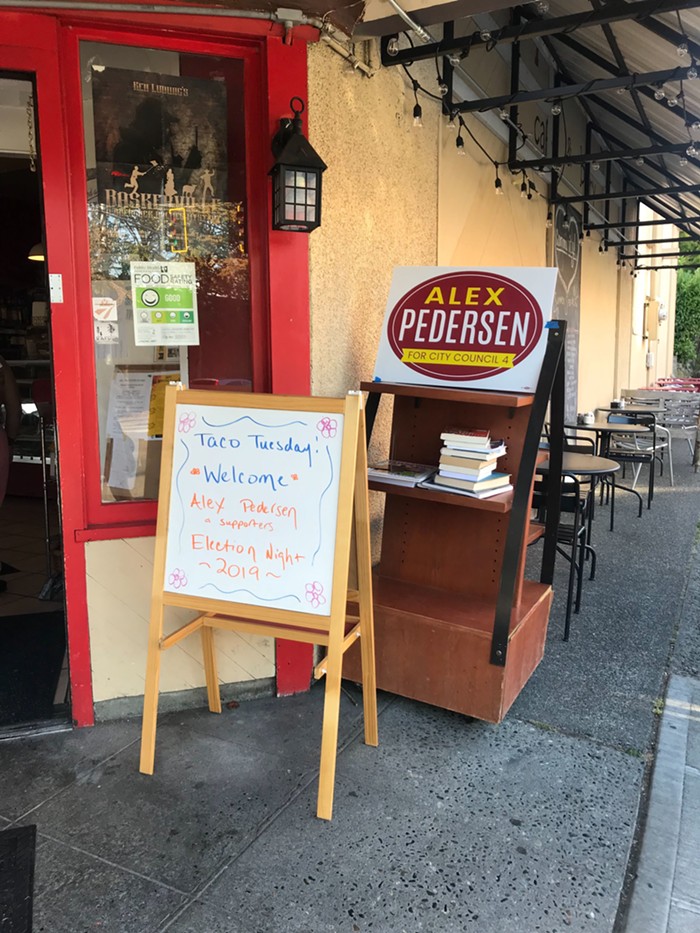 IT'S TACO TUESDAY AT BRYANT CORNER CAFE/ALEX PEDERSEN'S PARTY BUT HE DIDNT TELL US THAT
7:05 PM
The SECB is unfashionably early to District 4
snake
favorite Alex Pedersen's party. What makes matters worse (besides the social faux pas, of course) is that we weren't even invited. Pedersen ghosted us when we asked where the party was. And we say ghosted because Pedersen's camp responded to an email that contained that question but didn't answer that question. We're heated (and hot, in the temperature sense) and we only found out the thing was at Bryant Corner Cafe because we asked the Internet for help. Anyway, we're sweating, we have to pee out the fucking iced coffee we decided to chug at 5:30 p.m. and we really hope none of the accountability lovers at this thing notice that we forgot to cut one toenail on one of our Birkenstocked feet.
"I want to talk to you about Save 35th," was the first snippet of conversation we heard from one of the touch-of-gray people here. Save 35th, you'll recall, was the neighborhood coalition to defeat protected bike lanes on the 35th Ave NE redesign.
That interest group is well-represented tonight. The demographics here are… about what you'd expect from a party hosted at a cafe in a suburb-adjacent neighborhood. Basically, the people here are the generation that actually voted.
We've been told there will be food and a cash bar but they're still setting up.
***



DOES DAN STRAUSS EVEN LIKE BEER?
6:30 PM
Before we wait to find out if the HoffFather will soon fade into obscurity we need to talk about Dan Strauss's beer choices. The SECB is sad to report that Strauss, our endorsed candidate in District 6, chose Obec Brewing for his party tonight, which by our estimation is the second-worst brewery in Ballard. We'll be there tonight, maybe it will change our minds. Meanwhile, Strauss's competitors are doing better off, with Heidi Wills at Hale's Ales (an old daddy of the beer scene but also a sleeper dank IPA maker) and Jay Fathi is at The Red Door (tasty craft beer purveyor, is that a Chuckanut Pilsner we see??).
Meanwhile, our other endorsed candidates are doing better. Shaun Scott is at the delicious upstart brewery Burke-Gilman Brewing, Lisa Herbold is at Zeek's Pizza, where craft beer is king and you can't buy a Budweiser if you wanted to, Kshama Sawant is at Langston Hughes Performing Arts Center, where we assume proletariat-owned beer is being served, Andrew Lewis missed the opportunity to go to his district's standout breweries (Holy Mountain, Dirty Couch, Urban Family) but is at CÔBA which has a decent tap list, and Liza Rankin is at the Wedgwood Ale House (olde tyme beer fun!). Shout out to Logan Bowers (who we didn't endorse) for choosing the dad pants of beer bars: Chuck's Hop Shop. Boy, does the SECB love getting into some dad pants.
***
TONIGHT'S THE END OF THE ROAD FOR 41 OPPORTUNISTS TRYING TO MAKE IT ON CITY COUNCIL
6:10 PM
Hello baby, it's primary election night and this is the Stranger Election Control Board coming to you live from Stranger World Headquarters AND the entire city of Seattle. We're out partying with City Council candidates so you don't have to. We've got our Juuls charged. Bongs lit. Beers in hand. And bellies full of Lucky Charms.
Tonight, we'll find out… Does Seattle really hate its incumbents? Are we really the socialist hellhole MTV VJs say we are? Is Shaun Scott's ground game as good as it looks? Will Logan Bowers's Twitter promotional strategy pay off? Will the Moms 4 Seattle toast with a glass of Chablis or will they accept nothing less than "Dom Pérignon for the primary"? Will Dan Strauss get through based entirely on the strength of The Stranger's endorsement? Will we finally get a measure of the worth of Seattle Times's endorsement by looking at Ann Davison Sattler's vote count? And, most importantly, is this Amazon's town or is it the People's motherfucking town!? LET'S GO, SEATTLE!
The first and only results of the night will drop around 8:00 p.m. See you out there.