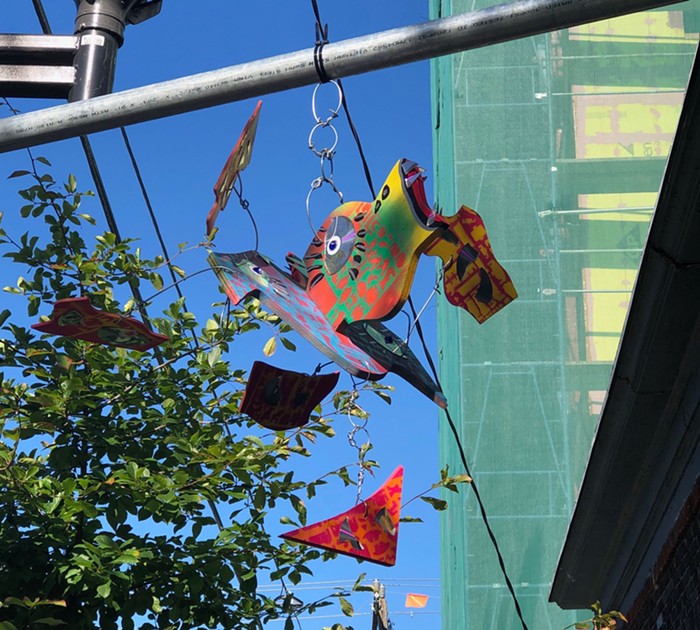 Maybe you've seen them on your walk to work or late at night after having drinks with friends. Your eyes unglue themselves from your bright phone screen and you see it. Dangling, twisting in the breeze, a sculpted creature made of wood, CD shards, bright paint, and wire, hanging from the telephone pole above the sidewalk. Maybe you're scared the things will fall down and stab you. Or curious. Now accustomed to looking up, you'll notice these wooden creatures are all over the city—Capitol Hill, West Seattle, Columbia City, the Central District, Rainier Beach. There are even some in Portland and Los Angeles. Those mobile-sculptures are the result of one person (with the help of some friends).
Seattle, meet SEA Dragons.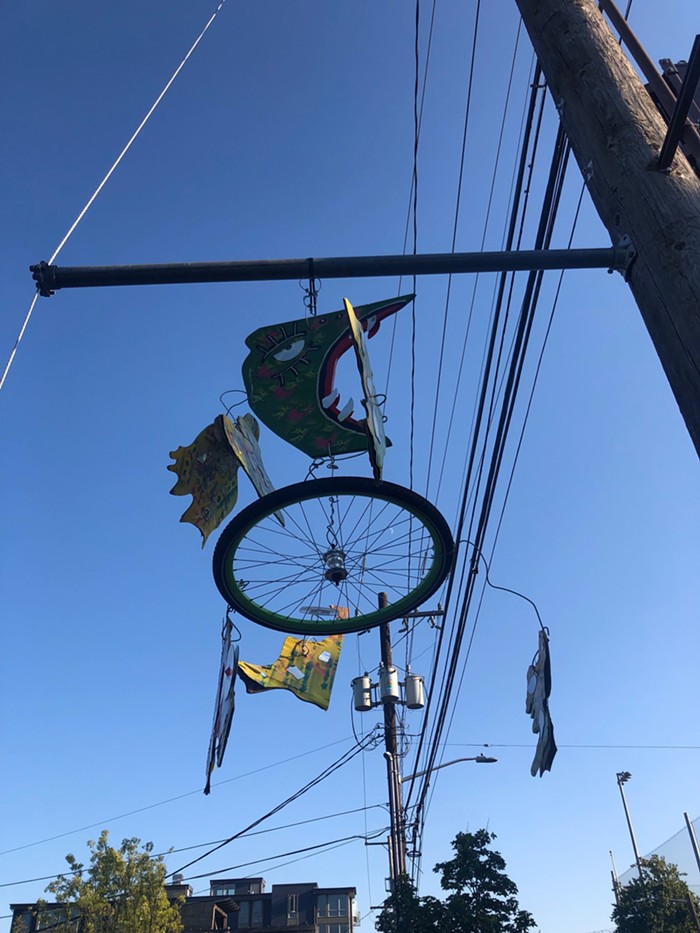 SEA Dragons—a project run by a local artist who wishes to remain anonymous for the time being—consists of nearly 300 mobile-sculptures all carefully strung up around the city. Based out of South Seattle, the artist has been running this project for five years using scraps of wood and other discarded materials to create the dragons. The CD shards, which adorn the majority of sculptures as teeth, are a remnant of the artist's past life as a not very popular musician. They had been sitting on a giant stock of their old supply before deciding to use it in this project.
For the most part, these sculptures are dragons, hence the name. "Time Traveling 🐉 Dragons. We're gonna save the fucking world!" reads their Instagram bio. They tell me over the phone that this is a motto they like to stick to.
But not all of these sculptures are dragons. Some are abstract, some are poop emojis, others are "robber baron" characters they string in front of banks and resemble a certain Commander-in-Chief.
The artist tells me they mostly hang these sculptures in the dead of night to avoid interactions with the police or errant NIMBYs. Having never been arrested, they point out that
technically
nowhere in the Seattle municipal law does it define "graffiti" as any hung item. They may be literally correct, but their work does get taken down in certain areas. Especially the Central District.
When I asked them what compelled them to take on this project, a project that came with risks, that had to be carefully thought out and orchestrated, that seemed a bit kooky and strange but full of vision, they revealed, "I don't really know why I'm doing this." Refreshing and honest! Hurrah!
"One thing I hear back from people sometimes is that it made them happy to see," they continued. "Seattle, especially in the winter, can be such a dark place, dreary and just depressing. It's nice that [my work] will make somebody happy even just for a month." On a gloomy and rainy day like today, I understand that.
Their plan for the future is to enlist more collaborators to help create a cartoon featuring the characters from the sculptures. Thinking even further out, they told me of their dreams to create a theme park out in the middle of the desert, Disney-style. For now, the artist is improving the sculptures, sometimes by adding solar-powered LED lights and bicycle wheels to the mix.
As a pedestrian, I've been obsessed with these sculptures for months. The way their bright colors contrasted against the blue summer sky, the sun glinting off those sharp-looking CD shards—it's all wonderfully homespun. And Seattle.