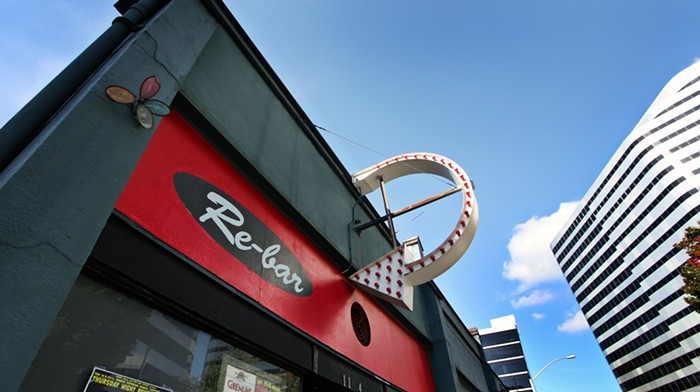 It looks like another Seattle music venue is at risk of being displaced or shut down for good. The building that houses
Re-Bar
, a beloved queer nightclub and hub for underground and electronic music, was just recently put up for sale for $6.4 million by its owners, Diamond Parking. The news was announced on KEXP's
Sound and Vision podcast
by Re-Bar co-owner Dane Wilson.
"We've been told that we have about a minimum of two years before they would start bringing the bulldozers," Wilson told KEXP's Emily Fox on the podcast. This sale wouldn't just affect Re-Bar (which has been in that space since 1990), but also implicates two other businesses: Midori Teriyaki and Market House Meats, one of Seattle's oldest sandwich shops which opened in 1948. Wilson and other co-owner Michael Manahan found out just last week.
"I mean we saw the writing on the wall," Wilson told me over the phone this afternoon. "Originally Diamond Parking [said] they were going to wait for Nicole Stone, who runs Kremwerk, to sell her building so they could get the whole corner, but they just decided that they didn't want to deal with it anymore."
I reached out to Diamond Parking today for comment and will update if I hear back.
On KEXP's podcast, Wilson laid out a couple of different options for how Re-Bar will deal with this impending sale. "We can basically move, we can stay, or we can go away," he put it bluntly. "We're either going to ask people if they would like to help us relocate and keep our current programming and have the Re-Bar maybe on the south side of Seattle. Or we could try to become part of the development that's going to go there by having some sort of equity in the building," he continued. "Or we could just decide to permanently close."
This comes two years after The Stranger originally reported that Wilson and Manahan were seeking historic landmark status for the building to ensure that Re-Bar— which hosts the longest running house music night on the West Coast and is also the space from which Nirvana was famously thrown out of during their Nevermind album release party—would be around for generations (and events) to come.
"Since then we found out that historic landmark status has to do with the physical aspect of the building. So even if we got approved to be a historical landmark, that's no guarantee that the business would continue as is," Wilson told me over the phone today.
Instead of going that route, Re-Bar is opting instead for surveys. Wilson told me the surveys will be available online with hardcopy surveys available at the space. The survey is meant to get feedback about which of the three options would be the best route for Re-Bar to take: move, stay, or go away.
"We're reaching out to other people because we want it to be a community decision, what happens. We think that we're right at the crest of what it means to be a piece of culture since we do a lot of LGBTQIA and QPOC focused events. We serve such a fringe crowd, being an underground electronic music club and an alt theater night club," Wilson told me. "We really serve a lot of stuff that keeps Seattle weird. And we're just beginning to find out what that means to Seattle."
The podcast episode also features Dana Sims of El Corazon/Funhouse and James Keblas, former Director of Seattle's Office of Film and Music—Seattle figures familiar with the surmounting difficulties of running a music venue in the city. Keblas highlighted nine other venues that are either at risk, about to close, or closed: Highway 99 (already closed), Lo-Fi, Neumos, Chop Suey, the Crocodile, Showbox Market and Sodo, Tula's (which is already slated for closure), and now—a bit more urgently—Re-Bar.
"We're kind of in the same boat as the Showbox, but the Showbox is a 1,000 person venue and my venue is a 250 person venue," said Wilson. "So I think that when we look and see what happens at the Re-Bar we're going to see kind of what's in store for the rest of Seattle."