A ride-share tax
: Seattle may consider slapping a tax on Uber and Lyft—51 cents a ride—to pay for the downtown streetcar project and affordable housing. Additionally, Mayor Jenny Durkan proposed a minimum wage for ride-share drivers. Across five years, the tax could raise a buttload of money. From the
Seattle Times
: "$56 million to the streetcar, $52 million toward affordable housing, and $17.75 million for a new [ride-share] Driver Resolution Center."
Sponsored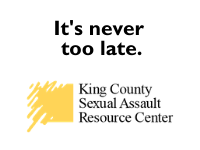 Free, confidential, inclusive support and information about sexual assault is available 24/7
Justin Trudeau is really (please read in Canadian accent) "sorry": The Canadian prime minister has been called out for wearing black- and brownface on multiple occasions. In 2001, while teaching at a private school, Trudeau dressed up as Aladdin for an "Arabian Nights"–themed party. He wore a turban and a robe, and painted his skin brown. A photo of him in his high-school yearbook, wearing blackface at a talent show where he sang the song "Day O," the Jamaican folk song, also surfaced. This comes on the heels of Trudeau's reelection bid, which he announced last week.

Exclusive: Justin Trudeau wore brownface at 2001 'Arabian Nights' party while he taught at a private school, Canada's Liberal Party admits https://t.co/j3UobfYNIF
— TIME (@TIME) September 18, 2019
Trudeau's apology: He deeply regrets that he dressed up the way he did.

"When I was in High School I dressed up at a talent show and sang "Day O" with makeup on," said @JustinTrudeau #cdnpoli pic.twitter.com/MoR9zJH9ct
— Power & Politics (@PnPCBC) September 19, 2019
The monorail is probably still irrelevant
: Buuut... you can
now
soon use your ORCA card to ride it. Which, in case you forgot, wasn't a thing you could do until now. Big news for anyone who has to get to the Seattle Center from Westlake Center or vice versa. Nothing else. I love the monorail and its sweet, sweet irrelevance.
Good news: starting October 7th, you'll be able to use your ORCA Card to pay to ride on the Monorail.
— SCC Insight (@SCC_Insight) September 18, 2019
A big day for Boeing: Roll out the red carpet! The Federal Aviation Administration chief is in town to test the 737 MAX, the Boeing plane that crashed twice and killed hundreds of people. The chief is going to test the plane via flight simulator and personally make sure that all the software fixes the Renton-based plant has made on the plane are hunky-dory.
Everyone wants to work at Amazon: The neighborhood bookseller is trying to fill a slight 32,000 or so open positions. They had career fairs in six cities. The biggest, of course, was right here in Seattle, where the company is trying to fill 10,700 of those 32,000 roles. After the hiring push, Amazon received a cool 208,000 job applications.
US airstrike kills 30 civilians in Afghanistan: The strike was aimed at an Islamic State hideout. Instead, the strike hit a gathering of 30 pine nut farmers who were gathered around a fire after a long day in the fields. They were killed. Forty other people were injured.
Trump said he would penalize San Francisco for its "homelessness problem": The president has said that he will issue a notice of environmental violation against the city because of "used needles that were ending up in the ocean." Trump said that San Francisco was "in serious violation" and "they have to clean it up. We can't have our cities going to hell." London Breed, San Francisco's mayor, called the comments ridiculous.
Rain, rain, rain:

The wet September continues. In Seattle this September it is already wetter than 58 out of the 75 Septembers on record. More showers today with a slight chance of thunderstorms late afternoon/early evening. Next organized front arriving Saturday night/Sunday. #wawx pic.twitter.com/ghj6I0AZvu
— NWS Seattle (@NWSSeattle) September 18, 2019
Whistle-blower complaint involves a Trump phone call: A member of the intelligence community has filed a whistle-blower complaint about Donald Trump. The Trump administration is reportedly withholding the complaint from Congress. The complaint, as far as the press knows, has to do with a phone call Trump had with a foreign leader and a promise Trump made during that call.
Bezos says Amazon is committed to climate goals: And that Amazon has signed the Climate Pledge.

Amazon CEO Jeff Bezos says at a press conference at the National Press Club in Washington, D.C., that the company has signed the Climate Pledge and will meet the terms of the Paris climate agreement 10 years early. pic.twitter.com/E7ZiGYSkrT
— Nathan Bomey (@NathanBomey) September 19, 2019
New York teen died as onlookers filmed: A teenage brawl in Long Island, New York, turned deadly when a 16-year-old was fatally stabbed. Around 60 kids were watching the fight unfold. Many whipped out their phones, but no one stopped the fight.
An Amish DUI: Two Ohio Amish men were pulled over for drinking while driving a horse and buggy. They had a 12-pack of Michelob Ultra and a stereo strapped to the roof. Don't ask me how the stereo fits into the whole "Amish thing," these are just the facts. When the police pulled the men over, they leaped out of the buggy and ran into the woods. The horse also took off running. The police caught up with the horse and are holding it, hoping the men will come to pick it up.
Fashion company releases school shooting line: The self-described "neo-native" postapocalypse streetwear brand Bstroy has released a line of hoodies with the names of schools that suffered school shootings. The hoodies include bullet holes. Naturally, most people are upset. Supporters are saying that the brand is creating awareness. The brand itself is saying "sometimes life can be painfully ironic" as its defense.

Tonight's best Seattle entertainment options include: The live storytelling podcast Risk!, a free screening of John Waters's Polyester at Central Cinema, and Gustav Mahler's Symphony No. 1.