Welcome to Unstreamable, a weekly column that recommends films you can't find on major streaming services. This week: Days of Being Wild, Eddie, Written on the Wind, and Medabots. Find our other recommendations here.
***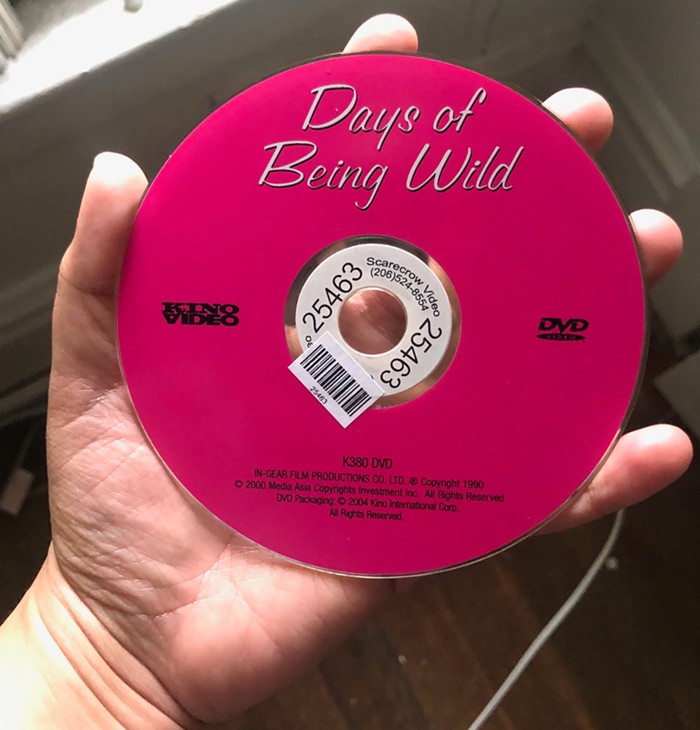 Days of Being Wild
seems to take place under the cover of night, or at least underneath thick humid clouds. Despite the violent tendencies exhibited by its suave main character, York (bisexual
Cantopop icon
, Leslie Cheung), it's never seedy. This film by Hong Kong director Wong Kar-wai is the first in a trilogy where he became known for his atmospheric and smoky approach to filmmaking (
Days
is followed by the arthouse classic
In the Mood for Love
and
2046
). It's also the first collaboration between WKW and cinematographer Christopher Doyle; the duo would go on to make six more films together.
Days more or less follows York as he breaks the hearts of two beautiful women; first, concession stand worker Su Li-zhen (the iconic Maggie Cheung) and then mouthy cabaret dancer Mimi (Carina Lau). Li-zhen spins out, ending up in the arms of policeman and eventual sailor Tide (Andy Lau), the pair having an almost-romance before disappearing into that aforementioned murkiness of the Hong Kong night. All of these four characters' lives intermingle, though each seems to stand alone in their own sorrow and desire. And despite the fact that clocks are ever-present throughout WKW's vision of Hong Kong, time and place seem to be afterthoughts. In a good way. My king Barry Jenkins has cited WKW as being a major influence on his work—both seem to be enchanted with the experience of place in a similar way. Also, as luck would have it, today is Maggie Cheung's 55th birthday. JASMYNE KEIMIG
***
EDDIE
USA, 1996, 100 min, Dir. Steve Rash
I picked out
Eddie
because I recently discovered that Frank Langella and Whoopi Goldberg were partners, which surprised me.
Frank Langella?
The guy who played Richard Nixon and Count Dracula? (I've always thought Whoopi gave off serious lesbian vibes, but I've been told we have to believe people when they say they're straight.) Langella is known for playing men who are dashing and powerful and
dom
but blind to boundaries. (Have you read his memoir? It's a sexy, navel-gazing ego-fest called
Dropped Names
. It's just him name dropping all the stars who've fawned over him: Marilyn Monroe, John F. Kennedy, Montgomery Clift, Laurence Olivier, Rachel "Bunny" Mellon [but not, conspicuously, Whoopi Goldberg].) Langella, previously married to Ruth Weil from 1977 to 1996, left his wife and partnered with Whoopi while creating
Eddie
. This film is to them what
Mr. and Mrs. Smith
is to Brad and Angelina.
But Eddie isn't about assassins, it's a comedy about the New York Knicks. Langella plays the owner of the Knicks and Whoopi plays a passionate fan who somehow becomes the Knicks' coach. Coming out the same year as Space Jam, it rode the '90s NBA fever but barely broke even at the box office. It does, however, feature Donald Trump, Rudy Giuliani, Edward Koch, Fabio, Dennis Rodman, Muggsy Bogues, and David Letterman as themselves. (Langella did not include any of these names in Dropped Names—also conspicuous.) Eddie is improbable and stupid but many of the scenes end with Whoopi making basically the type of speeches she makes every day on The View: authoritative, inspiring, and sometimes nonsensical. But the thing about Eddie that I keep coming back to is what Whoopi finds in Langella that is so seductive. They both seem like such doms to me. Was there a sub? CHASE BURNS
***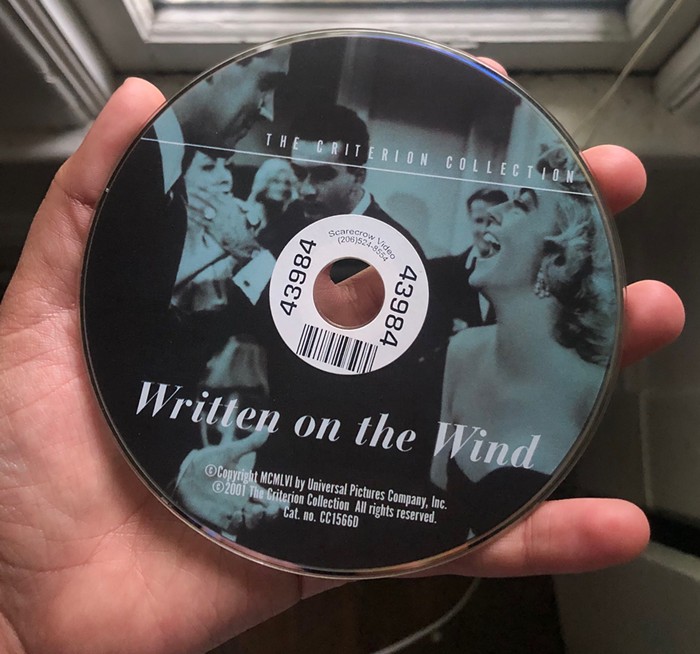 Another director
that Jenkins admires
is Douglas Sirk, the Godfather of Melodrama. In 1987, J. Hoberman of the
Village Voice
wrote of this film, "
Written on the Wind
is not simply epic trash but meta-trash. As the pulp poetry of the title suggests, it's about the vanity of trash set in a world Sirk finds poignantly innocent." That world is one in which an executive secretary Lucy (Lauren Bacall) is swooped up and quickly married to the compulsive son of a wealthy Texas oil baron, Kyle (Robert Stack). He is always attended to by his noble-but-poor, childhood friend Mitch (Rock Hudson), who is secretly in love with Lucy, but Kyle's "nympho" sister Marylee (Dorothy Malone) is constantly on his dick and trying to marry him. Also there's a lot of talk about sperm count, weirdly enough—it wouldn't be a 1950s drama if someone's reproductive ability wasn't brought up.
Based on a true story, the film is ostensibly a comment on the sickness and alienation of wealth. It's also quite kitschy, but nevertheless an enjoyable, soapy, bright morsel to devour. Though I can't be sure that Jenkins has seen this film specifically, the romance, color, and melodrama in Sirk's work no doubt had an influence on If Beale Street Could Talk. JASMYNE KEIMIG
***
MEDABOTS
Japan, 1999, 30 min/episode, Produced by Bee Train
We know
Pokémon
, and we know its arguably better counterpart/knock-off,
Digimon
, but we forget about the other '90s alternatives to
Pokémon
.
Monster Rancher
is a good and notable one—it's streamable on Hulu—but my other
Pokémon
-knockoff childhood obsession was
Medabots
, a surprisingly well-done anime about kids fighting with their pet robots, who have unruly personalities. I recently fell down a nostalgia hole after stumbling on some
Medabots
VHS tapes (in cozy clamshell cases!). I rented the whole first season from Scarecrow and it holds up. Big reasons to watch: It's the Japanese animation studio Bee Train's try at the
Pokémon
genre, the character of Mr. Referee is fresh and funny, and Discotek Media is planning
a rerelease of the series later this year
. They say they're working on releasing the Japanese-language subtitled version soon. That's a first for the US and a big deal!
CHASE BURNS