Welcome to Unstreamable, a weekly column that recommends films you can't find on major streaming services. This week:
Great Balls of Fire!
,
Missing
,
Love Streams
, and
Harry & Tonto
. Read our other recommendations
here
.
***
Work room banter prompted this pick. A colleague—who will remain nameless—saw the report of Dennis Quaid (65) proposing to Laura Savoie (26), who is nearly 40 years his junior, and could not stop talking about it. This colleague laughed hysterically at the engagement. "In another time where Trump wasn't always in the news, THIS is what should be the main news story." This is the space I've given for this bit of "news."
They really don't make 'em like Quaid anymore, and maybe for good reason. I see his type of white masculinity in a similar vein as Harrison Ford—both rugged, charming, naturalistic actors who more or less play the same dude in everything they are in, leaning more on their personality than ability. That's what makes Great Balls of Fire! notable. Instead of basically playing himself, Quaid (rather poorly) takes on a young Jerry Lee Lewis, who apparently was once in the position to unseat Elvis as rock n' roll's beloved white boy. That all comes thundering down once it's revealed that Lewis is married to Myra (Winona Ryder) his 13-year-old (!) first cousin once removed (!!). A fact that he refuses to denounce, which ultimately ends the cultural momentum behind his rise to fame.
This film is bad. Boringly bad. Instead of focusing on the music, what it means for white people to profit off of black culture, what the concept of celebrity permits, or incestuous and abusive relationships, Great Balls of Fire! inexplicably and awkwardly focuses on the relationship between Lewis and Myra. Though Quaid is meant to be playing Lewis in his early twenties, he was actually 34 at the time of filming, making the age gap between him and Myra seem even vaster. Skip this boring and overly simple biopic—the trailer tells a more interesting story! JASMYNE KEIMIG
Available for rental on DVD at Seattle Public Library and Scarecrow Video.

***
Missing
USA | Mexico, 1982, 122 min, Dir. Costa-Gavras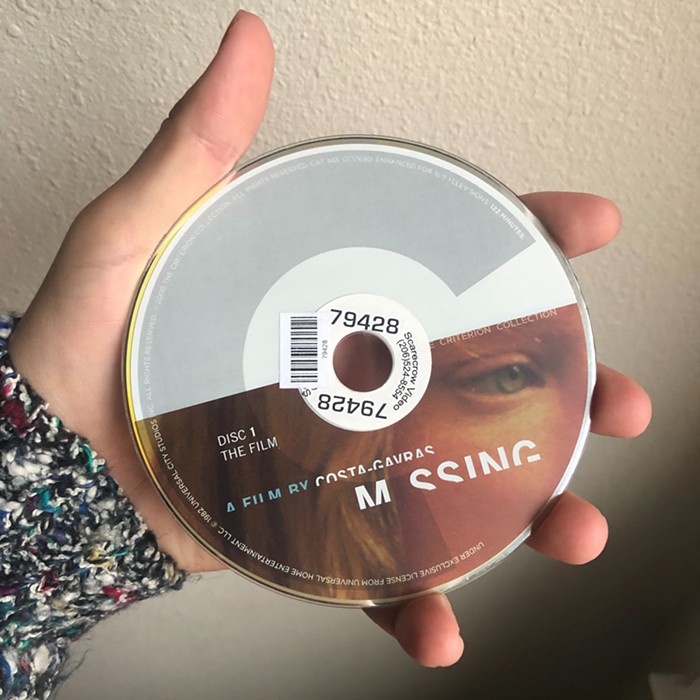 If
Missing
was made today, I like to believe some of its parts would be made very differently. You'd think a movie about the US-backed Chilean coup of 1973 would feature some Chilean characters. Too often, the only Chilean bodies we see are dead. And there are a lot of dead bodies. In one scene, the camera works through a building full of dead brown bodies, but the only name we learn belonged to the sole dead white one. There is no mercy for the Chileans. It's distressing, and perhaps intentional.
The film is a star vehicle for Sissy Spacek and Jack Lemmon, who both give tremendous performances that earned them Academy Award nominations. Spacek ultimately lost to Meryl Streep, who won her second Academy Award for her role in Sophie's Choice. Lemmon lost to Ben Kingsley for Gandhi—that film dominated the season. Still, Missing remains one of director Costa-Gavras's best works. It's a part of the Criterion Collection but is currently unstreamable. CHASE BURNS
Available for rental on DVD at Seattle Public Library and Scarecrow Video.
***
This column does not have enough space to contain my love for this film.
Love Streams
was my introduction to John Cassavetes, and from the first frame I knew I wouldn't be able to get it out of my brain. The story follows Robert (Cassavetes), a lonely and alcoholic writer of trashy novels who fears being alone and believes—and repeats several times throughout the film—that all beautiful women have a secret that they must offer to a man. Needless to say, he's deeply unhappy.
And in that unhappiness he's joined by his sister, Sarah (Gena Rowlands), a recent divorcee who's lost custody of her child, which only deepens her obsession with her own family and the concept of love. She fervently believes and often repeats that "love is a stream—it's continuous, it doesn't stop," an idea that's rebuked by other characters in the film. Over the two-and-a-half-hour runtime, both Robert and Sarah find themselves providing shelter for one another—in their failings, insecurity, and emotions. It's circuitous, unpredictable and—despite the plot line—it never once falls into melodrama.
It's worth noting that Rowlands completely bodies her performance. Watching her is like witnessing a flame take to kindling, becoming a giant fire. Also, how does her hair do THAT!? JASMYNE KEIMIG
Available for rental on DVD at Seattle Public Library and Scarecrow Video.

***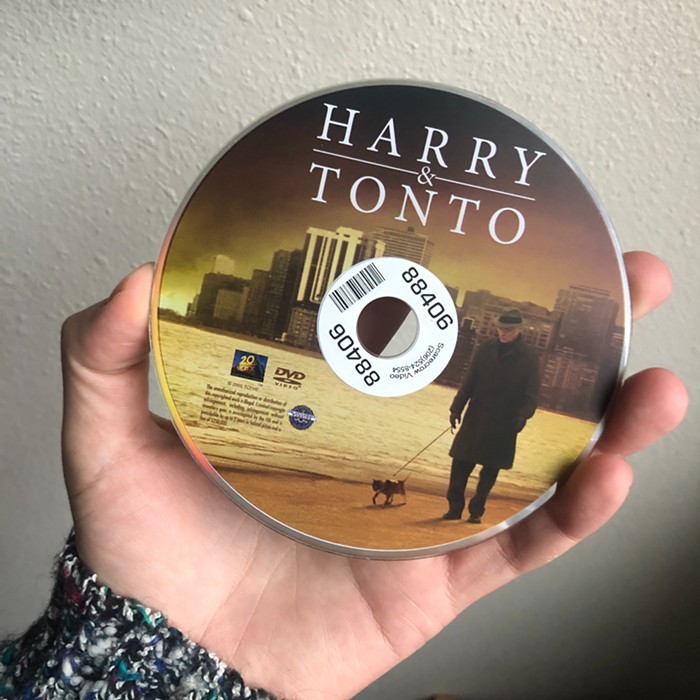 Academy Awards lore led me to
Harry and Tonto
. While I love its director (cf. Paul Mazursky's film
Bob & Carol & Ted & Alice
[1969]), and while I was into the idea of a road movie featuring a cat on a leash, what sold
Harry and Tonto
to me was the fact that the film's star, TV sitcom legend Art Carney (of
The Honeymooners
fame), beat out much more (currently) famous actors like Dustin Hoffman (for
Lenny
), Al Pacino (for
The Godfather Part II
), and Jack Nicholson (for
Chinatown
) to win the Best Actor award at the 47th Academy Awards. It was a huge upset. After his loss, Nicholson, who had been nominated for his fourth time as Best Actor but had yet to win the award, told reporters, "Maybe next year I'll be the sentimental favorite." (He would be. The next year he won his first Academy Award for
One Flew Over the Cuckoo's Nest
.)
45 years late, I'm here with the hot take that Art Carney never should have won that award. His win can only be explained by a country that was beleaguered by the Vietnam War and ready for melodramatic schmaltz. It's a white fantasia of a road movie, a fantasy about the aging Greatest Generation wrestling with death and too-hip Baby Boomers. I had to rewind some scenes because they were so unbelievably sentimental. The film has curdled into camp. But I'd like to point out that the cat, Tonto, did win the 1975 PATSY Award (Performing Animal Television Star of the Year). The PATSY Awards aired on network television in the 1970s, but the awards sadly ended in 1986 due to a lack of funding. Pour one out for Tonto. CHASE BURNS

Available for rental on DVD at Seattle Public Library and Scarecrow Video.