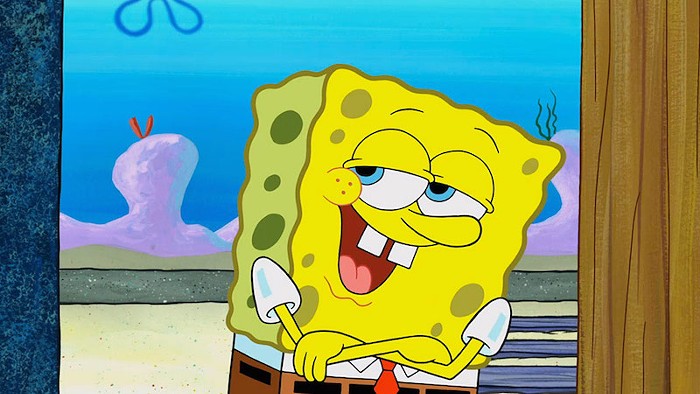 SpongeBob SquarePants
is a cornerstone of millennial culture.
Millions of us
grew up watching the cartoon, which follows the good-natured albeit annoying burger-flipper and the weird situations he gets into with his friends. Though most of us stopped watching the program years ago, the Nickelodeon cartoon has seeped its way deep into our cultural vocabulary, with scenes from the show
still inspiring memes
. It's incredible, perplexing,
alarming
. The show's new cultural life isn't relegated to memes—it's expanded into our music as well.
Though there are certainly examples of rappers referencing the world's most famous sea sponge pre-2019, this year stood out for the horniness of the shout outs. Which, on first thought, is maybe strange for a show millennials watched as children. (32.5 million children age 2 to 11 watched SpongeBob in just one month in 2002. Those kids are 19 to 28 now.) But, on second thought, the ocean is ripe with potential sexual references: the wet, clammy texture of sea kelp; the slickness of a dolphin's back; the knowing, suctioning tentacles of an octopus. "Sea" does rhyme with "pee," after all.
Please, join me on this journey through three songs released in 2019 that put the "horny" into SpongeBob SquarePants.
***
"Squidward Nose" by CupcakKe
Chicago rapper CupcakKe was known for her explicit and hilarious sex-positive tracks. Recently, she abruptly announced her retirement from the rap game, citing the judgment she felt from others and how she felt unable to be herself. As of this writing, CupcakKe is still M.I.A. Fortunately, she left behind a wealth of tracks to turn up to—notably, "Squidward Nose."
In "Squidward Nose," CupcakKe longs to scoot up on SpongeBob's irritable neighbor Squidward Tentacles's oblong nose. In the chorus, referring to the shortcomings of her current lover, she raps: "His dick smaller than my toes/I'd rather ride Squidward nose." What an image. Come back to us, CupcakKe!

pic.twitter.com/4TFGOUy8NU
— out of context spongebob (@outofcontxtsbsp) April 26, 2019
***
"Running Up Freestyle" by Megan Thee Stallion
This freestyle debuted in March during the Fire in the Booth segment of the Charlie Sloth Rap Show. The Houston rapper Megan Thee Stallion really bodied this performance, using her signature clever wordplay and incisiveness to let everyone know who's in charge. It's hot, and made its way onto "Hot Girl Meg"'s fantastic third mixtape Fever, which dropped in May of this year.
The SpongeBob bar comes at you fast. Near the end of the song, Megan speaks to her sexual prowess and how she always stays ready to fuck: "And this pussy so wet, might have to eat it with a spoon/Always in bikini bottoms 'cause I got that goo lagoon." We get two references here—a reference to the town that SpongeBob lives in, Bikini Bottom, and the large brine pool, Goo Lagoon, that town residents go to during a sunny day.
Megan even acknowledged this line herself, tweeting at another SquarePants/Thee Stallion fan who also caught the line:

Listen, we are HERE and we want MORE SPONGEBOB REFERENCES.
***
"Trina" by SMINO
Finally, this is the most recent track to hornily expound on the
SpongeBob
universe. It comes to you from Chicago-by-way-of-St. Louis rapper Smino, who is perhaps criminally underrated and one of my favorite artists right now. "TRINA," which dropped last week, is full of 2000s nostalgia, referencing, of course, Miami rapper and "Da Baddest Bitch" Trina as well as Trick Daddy.
The SpongeBob reference here is more abstract than the others, but it's there—something maybe only a stoned brain can catch. A part of the chorus, the bar also references a character from the 1995 movie Friday: "Stay off my grass like Stanley (Huh)/Threw me cheeks on the beach, she sandy." "Threw me cheeks"—meaning fucking, for those of you that don't know.
By using both "cheeks" and "sandy" Smino is covertly referencing SpongeBob SquarePants character Sandy Cheeks, an adventurous Texan squirrel who sometimes acts as the SpongeBob's love interest. I literally squealed when I heard it!

so much for "your sponge" @PearllCrabs pic.twitter.com/VLM2EnzeLQ
— Sandy Cheeks (@ClapNuttyCheeks) November 1, 2019