Welcome to Unstreamable, a weekly column that recommends films you can't find on major streaming services. This week:
Hyenas
,
Patlabor: The Movie
,
Subarnarekha
, and
Night and the City
. Read our other recommendations
here
.
***
HYENAS
Senegal, 1992, 110 min, Dir. Djibril Diop Mambéty
The Stranger
's film editor and resident philosopher Charles Mudede calls
Hyenas
the "best African film of all time." High praise, but this Djibril Diop Mambéty feature is really fucking good. The follow up to Mambéty's
Touki Bouki
(1973),
Hyenas
is the second film in a trilogy on colonization and corruption that he could not finish before his death in 1998.
The film falls somewhere between satire, drama, and comedy. Three decades after being run out of her dusty small town, Linguere Ramatou (Ami Diakhate) returns home with more money than the World Bank (supposedly). This is huge news for the impoverished citizens of Colobane, most especially for the old grocer Dramaan Dramah (Mansour Diouf) who was once her lover but left her for a more respectable woman. Receiving a king's welcome, Linguere announces to the town that she'll be the city's beneficiary IF they kill Dramaan for his previous misdeeds against her.
Hyenas—which is based on the Swiss play by Friedrich Dürrenmatt—was also restored this year by Metrograph Pictures and, damn, the images look gorgeous. Mambéty's niece Mati Diop's first feature-length film Atlantics is coming out on Netflix next week. I saw it at Orcas Island Film Fest and, woo boy, I cried. Make it a double feature and you'll get twice the return, twice the lovers' crux, twice the sun setting over the ocean off the Senegalese coast. JASMYNE KEIMIG
***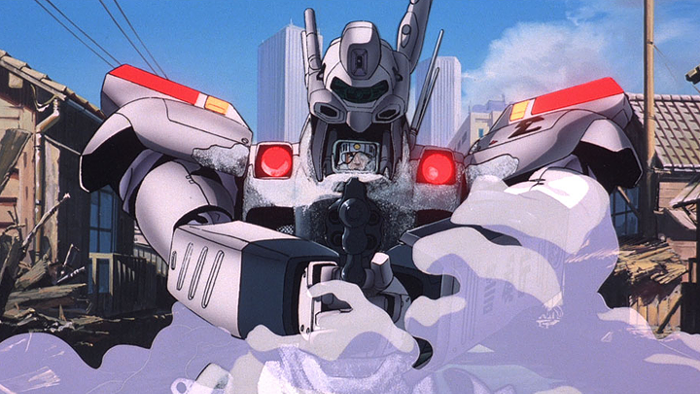 The Patlabor franchise is sick. A popular addition to the
mecha
genre, the Patlabor world includes large, human-like robots, named "Labors," who essentially
work in Amazon warehouses
. The Labors produce labor more effectively than humans, but everyone is apparently surprised when Labors begin to randomly destroy buildings and commit crimes. Who's responsible for the chaos? The robots? The programmers? The politicians? The conversation is
a little too timely
. Andrew Yang's Freedom Dividend would probably be popular in the political world of Patlabor.
Patlabor: The Movie is a standout for the franchise, notably directed by Palme d'Or-nominated Ghost in the Shell director Mamoru Oshii. Released in 1989 but set in 1999, the anime focuses on the tension between naughty Labors and the specialized Patrol Labors (get it, "Patlabor"—it's a portmanteau) assigned to keep the Labors in check. Members of the back-up squad running Patrol Labors begin to suspect that a Labor programmer intentionally created software that would cause the Labors to go berserk.
The Beacon is screening Patlabor: The Movie as a part of their excellent Anime Sunrise series later this month. For a crime-fighting mecha anime, I find the film surprising, philosophical, and funny. Somehow, it doesn't seem like science fiction. CHASE BURNS
***
I learned of this film from a series on its director Ritwik Ghatak at the Lincoln Film Center in New York. I URGE you to read more about their curation and Ghatak's fantastic body of work
here
. But
Subarnarekha
was my introduction to Ghatak and the world of Bengali cinema. I was blown away, despite the translation of the subtitles being pretty off.
Named after a river that flows through West Bengal, Subarnarekha is set right after the partition of India in 1947, following Hindu East Pakistan refugee Ishwar (Abhi Bhattacharya) as he deals with the massive social upheaval while caring for his sister Sita (played by Bengali screen legend Madhabi Mukherjee) and a boy they take in from a refugee camp (Satindra Bhattacharya).
When Sita, a beautiful and talented singer, and Abhiram, who plans on becoming a writer, reveal their desire to get married, it sets off a chain of events that end in tragedy. Subarnarekha upset a lot of conventions of cinema at the time with its realism, commentary on society, and beautifully zany shots. Watch for Mukherjee's gut-wrenching performance—you can almost see the sadness pool in her eyes in this film. JASMYNE KEIMIG
***
In 1948, a studio executive reportedly told American director Jules Dassin that he was about to be blacklisted. This was the McCarthy era and Dassin had been a member of
Communist Party USA
in the 1930s. Despite the impending blacklisting, the executive told Dassin he had enough time to make a movie, but it would probably be his last. And he had to make it fast. So, Dassin fled to the U.K. and made one of his most important films in a total rush. The result is the perplexingly dark film noir,
Night and the City
. (Dassin later admitted he shot the most expensive scenes first, in fear of losing funding, and didn't even read the book the movie was based on.)
Centered around an unsuccessful hustler played by actor Richard Widmark, Night and the City is primarily about a bunch of scoundrels whose plans keep going awry. (Also, I'm sorry to say this and I don't care if you disagree—Richard Windmark looked just like Tim Eyman.) Like any noir, we've got lots of crime going on: forgery, smuggling, chunky fistfights. Famously, it features an extended fight scene involving Polish strongman and wrestler Stanislaus Zbyszko. Watching this fight scene is like watching walruses whack each other for 20 minutes. You can hear the bones knock. Was I turned on? Absolutely.
The Beacon is also screening Night and the City. More here. CHASE BURNS