Unstreamable is a weekly column that recommends films and TV shows you can't find on major streaming services in the United States. This week, in a special holiday-themed Unstreamable: Cher gets jolly in
Sonny & Cher's Comedy Hour
, cocaine is more ubiquitous than snow in
Less Than Zero
, an eerily prescient doc on Chinese-U.S. trade relations in
Xmas Without China
, and Jesus and a gay Quebecois teen have a lot in common in
C.R.A.Z.Y.
Read our other recommendations
here
.
Sonny and Cher never made a holiday album together, but they did record multiple Christmas specials for their Sonny & Cher Comedy Hour, which ran for four years in the early '70s on CBS. Added together, the specials constitute enough jingles for an album, and luckily, a DVD was released in 2004 devoted to all of these Christmastime shows. It's seriously delightful, with special guests including Bernadette Peters and some old TV personas I can't place. These episodes air during the era of Nixon's impeachment, and the show's struggle to create joy around impeachment news is particularly relatable.
The costumes are from good old Bob Mackie, who recently told Harper's Bazaar that he would make Cher "up to 20 costumes" for one hour-long show. "It might be on camera for 30 seconds or 10 minutes, but she wore lots and lots of clothes," Mackie said. "She became this amazing clothes horse." I'm not being hyperbolic when I say my jaw dropped at some of these looks. Colorful, proud hippie modernism is alive and well in Mackie's designs.
Enjoy the razzle-dazzle—diva worship can get tedious, but it's deserved when directed at Cher. CHASE BURNS
***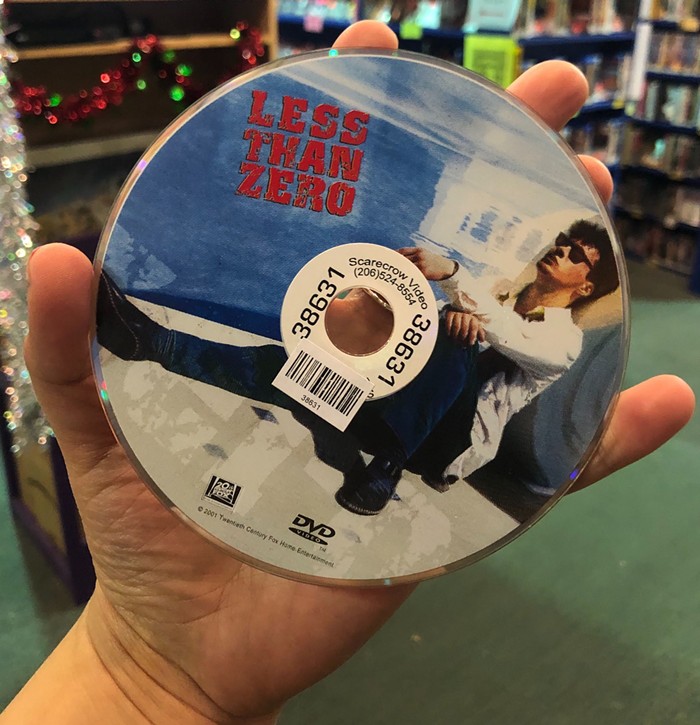 In the same way that
Die Hard
is a Christmas movie,
Less Than Zero
is a Christmas movie. But instead of Bruce Willis blowing stuff up, everyone's favorite '80s stars are snorting coke and emoting from $10,000 couches next to cheap-looking Christmas trees. Adapted from a Bret Easton Ellis novel of the same name,
Less Than Zero
is peak Gen X anxiety over conformity, wealth, and cynicism set against the backdrop of L.A. during the Christmas season. Wealthy college freshman Clay (Andrew McCarthy) comes back from the East Coast for the holidays to find his ex-girlfriend Blair (Jami Gertz) and best friend Julian (Robert Downey Jr.) struggling with substance abuse. Julian in particular is having a hard time—he's fully addicted to cocaine and owes the villainous Rip (James Spader) a fuck ton of cash, which soon becomes everyone's problem.
It's an interesting spin on the "coming home for the holidays and finding everyone has changed and so have you" trope found in other Christmas films. Instead of stark '80s minimalism, the family houses of these rich and famous twenty-year-olds are packed with color and excess, overlooking the city. Also of note is that RDJ has said this role was like "the ghost of Christmas future," as right after shooting he began to struggle with substance abuse himself. Heavy stuff. JASMYNE KEIMIG
***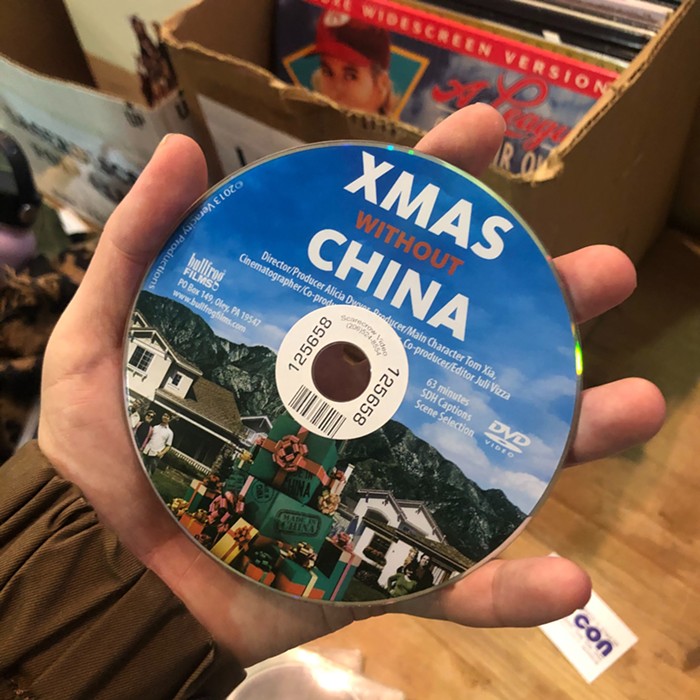 I've been thinking about this documentary every day since I watched it. This uncelebrated gem is set during a time of heightened anxiety in the United States around led in Chinese-made toys, when news headlines were dire: "
One third of Chinese toys contain heavy metals
," read
The Telegraph
. The fears played on rising xenophobia in America—the doc, filmed around 2011, starts off with audio clips of Donald Trump and Hillary Clinton yelling about China; spooky stuff.
Centered around producer Tom Xia, a Chinese-born filmmaker raised in the U.S. who is working on getting his citizenship, the doc tries to get a white American family to commit to spending an entire December without using any Chinese products. "It's like a diet," one mom says in the film. It's a preposterous, impossible diet that one family irrationally commits to, putting into action a darkly comical series of events that make the interconnectedness of the Chinese-U.S. economies literal and apparent. The family has to get rid of everything—the lightbulbs, the toaster, the Christmas lights. There are tears. Meanwhile, that family is juxtaposed against Xia's parents, who are obsessed with having a perfect American Christmas in their new Colonial-style home.
The documentary occasionally feels like it's about to veer into pointless absurdity, but its emotional grounding in Xia's citizenship journey makes it engaging, curious, and smart. It was ahead of its time. CHASE BURNS

***
C.R.A.Z.Y.
Canada, 2005, 127 min, Dir. Jean-Marc Vallée
For some reason,

C.R.A.Z.Y.

reminded me a lot of

Mr. Holland's Opus

. Both take place over the course of several decades. Both are emotional family dramas. Both center music in the telling of the story. Both feature fraught father-son relationships. It's a vibe, you know? Except

C.R.A.Z.Y.

takes place in Quebec, is all in French, and centers a closeted gay teen Zac (Marc-André Grondin) instead of a surly American music teacher. Zac was born on Christmas, which becomes a central element to the film—he has healing powers like Jesus and hates having to share his birthday with this holiday that brings together his family members who ridicule him for being gay. Told over the course of three decades with big familial moments set around Christmas, the film also includes a lot of music from each era, thanks to director Jean-Marc Vallée (of

Big Little Lies

fame). It was actually one of the biggest Canadian films of 2005, making money and winning awards, but never released theatrically in the United States due to distribution rights surrounding the movie's use of "Shine On You Crazy Diamond" by Pink Floyd. It could also be the reason why this popular film isn't streaming—get it on DVD instead.

JASMYNE KEIMIG

***


SPECIAL HOLIDAY ANNOUNCEMENT: This week's Unstreamable was featured on NPR Weekend Edition: Sunday. We had a chance to talk with host Lulu Garcia-Navarro about our column, why we love Scarecrow Video, and some unstreamable recommendations for the holidays. Listen below: