And it is great. If you didn't see it, in this week's Sources Say, we reported that a "NIMBY bingo" card, said to be a response to neighborhood complaints about tent cities, was floating around the audience in city council chamber at last Wednesday's meeting discussing homeless encampments. But tragically, we didn't get a copy, so we asked you to send it if you had it.
Well, Slog Tipper Marlin came through! Spotted on a telephone pole in Crown Hill:
Laying this on that one neighborhood group isn't totally fair to the complicated situation surrounding Nickelsville, but this list is damn funny—and spot on. These are the exact arguments you hear over and over, from neighbors and politicians alike. I only wish someone had shouted "NIMBY!" at city council. (And I wonder what, exactly, the council would've done when it happened.)
Sponsored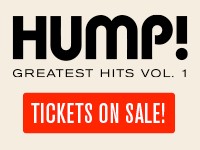 What are YOUR favorite HUMP! films? Start with HUMP! Greatest Hits, Volume One! Relive the memories!