DOESN'T MIND:
If you know his phone number is 206-ODDBALL.
WAS:
Mugged twice for his Leica camera.
KNOWS:
Where the morels are.
ONCE PLACED AN AD THAT SAID:
"Black woman willing to make your favorite meal. You bring the ingredients. I prepare. Come hungry."
BELIEVES IN
Beauty.
DRAWS
Like a mother, but you wouldn't know it.
TOOK:
Her first real art class at Michael's craft store.
USED TO:
Paint piles of rotting flesh in the desert.
WONDERS ABOUT:
How things happen in your brain versus your body.
**
Read about all fifteen of the 2014 Genius Award nominees here.
Sponsored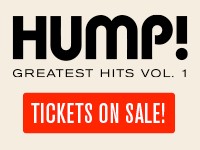 What are YOUR favorite HUMP! films? Start with HUMP! Greatest Hits, Volume One! Relive the memories!