When you close your eyes and picture the best professional wrestler in the world, there's a good chance a huge muscle-bound, smack-talking, oiled-up, alpha-male hybrid of the Rock and Hulk Hogan comes to mind. But that couldn't be farther from the truth. The best professional wrestler in the world is a humble, eco-friendly, five feet ten inches tall bookworm with a mainly plant-based diet who was born and raised in a small suburb just outside of Aberdeen. His name is Bryan Danielson. 
Danielson has won multiple WWE championships, appeared twice on Sports Illustrated's top 10 wrestlers lists, and has millions of fans on Instagram. But a conversation with Danielson will make you push aside all preconceived notions and egotistical meathead stereotypes associated with those wrestlers of yesteryear. He speaks of his in-ring battles like an artist describes their process. 
"I view it as my creative outlet," Danielson said. "How I craft stories in my head is through this medium. That's essentially what it is. It's a medium for art. There's a million different stories you can tell. One of the things that I'm fascinated by with wrestling is the idea that it's kind of stupid. You'll have people tell you that it's stupid. They'll say, 'Professional wrestling…Oh, you mean the fake stuff? Why don't you just watch UFC?'
"I think you can take those same people and put them in an arena where they're watching great wrestling and, even knowing that it's not real and having these preconceptions about it, they will get caught up in it. You just get caught up. They talk about flow state. When I'm in a wrestling match, that's when I'm in flow. That's where I paint. That's my canvas."
Danielson's artistry will be on full display for his hometown crowd this weekend as AEW (All Elite Wrestling) returns to Climate Pledge Arena for a two-night stand featuring a broadcast of their Saturday night television show Collision and the debut of a brand new pay-per-view called WrestleDream on Sunday. Danielson will be headlining the latter against the technical wrestling wizard Zack Sabre Jr. 
Just seven years ago, in that same building—then known as the Key Arena—Danielson was forced to retire. There wasn't a dry eye in the building on February 8, 2016, as Danielson—then wrestling in WWE under the name Daniel Bryan—addressed the crowd for close to half an hour. It turns out the hundreds of hard-hitting in-ring battles he had engaged in prior to the fame and fortune of the WWE had taken its toll. He had accumulated a number of concussions. Those concussions, combined with the fact that Danielson admits he wasn't exactly upfront about all the serious effects they had on him, forced the company's hand and he had to step away from the ring.
After months of rehabilitation and countless visits to medical specialists, Danielson was ultimately cleared to return in 2018.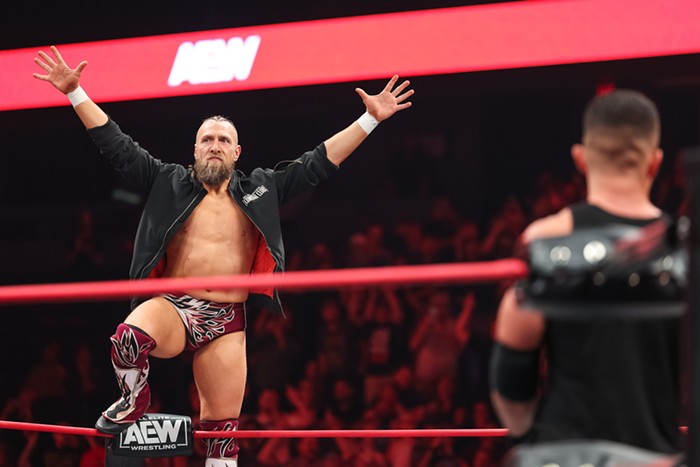 "One of the things that escaped me my entire career was I've never felt like I've had a really great match in Seattle," Danielson explained. "The whole time I was in WWE, whenever we'd come to Seattle, we would really just kind of be doing nothing. I'm really looking forward to this as being my first real chance to have a really great match and in front of what, to me, is my favorite crowd to wrestle in front of in the entire world."
Danielson's first glimpse of pro wrestling came back in Aberdeen, as a young school friend showed him a stack of magazines depicting ring legends like Dusty Rhodes, Ric Flair, and the Ultimate Warrior. He was hooked.
"Aberdeen is not by any means a wealthy area," Danielson said. "It's a kind of a poor logging community. We didn't have very much money. But my mom and dad saw that I really loved wrestling. So, when we would go to the video store they would rent the VHS wrestling tapes for me to watch because that seems to be all I was interested in."
This passion for pro wrestling resulted in him moving down to Texas right after graduating from Aberdeen High School in 1999 to learn the craft at WWE legend Shawn Michaels's training academy.
"I had a wonderful high school English teacher named Dr. Carter," Danielson said. "I was a pretty good student, but most of my teachers really did not like the idea of me trying to go be a professional wrestler. Dr. Carter was the one teacher who actually pulled me aside one day and said, 'The best thing that I ever did was right out of high school I didn't go straight into college. I went into the Peace Corps. Going into the Peace Corps helped me have a better understanding of who I am as a person. So then when I went back to college, I went back with focus and I knew I wanted to be a teacher.' He said, 'You may never succeed in wrestling. But you'll learn a whole lot about yourself as you do it. If you go and you do it, you'll get all these amazing experiences. And then if you want to come back and you want to go to college, it's there for you. If you want to come back and work in a paper mill, that will be there for you. But go learn about who you are, learn about what you want to do.'"
At the beginning of this month, Danielson dropped a bombshell announcement on AEW television, explaining that he had promised he would retire from being a full-time wrestler when his daughter turns seven. Being that she is currently six years old, we are looking at the final stretch of a 23-year ride for the man known as the American Dragon. These next 12 months are a chance for Danielson to live out his dreams in the sundowning of his full-time in-ring career. 
"Mostly, I want to have fun," Danielson said. "I don't want anything to be kind of just by the numbers. When you put a finite limit on what you're doing, what you're saying is, 'I only have X amount of these left.' I do not want to take any of them for granted. It's not even necessarily to have the best matches. It's that this is my last full-time year of wrestling. Enjoy it. Don't take any of it for granted. Because that's what I felt like when I was forced to retire before. I didn't know that my last match would be my last match. When I was forced to retire, even though it was only three years, I missed the feeling of wrestling. I missed the excitement of diving through the ropes. I missed the excitement of going out there and you don't know what the crowds gonna be like, you don't know how they're gonna react. There's a certain excitement and during this whole last year, I don't want to miss out on any of that. I want to enjoy all of it."