In the second half of OL Reign's match against the Washington Spirit, veteran forward Megan Rapinoe, 38, received the ball, turned, and sprinted toward the goal. The whole crowd roared. Then, we all held our collective breath. 
Throughout the game—Rapinoe's last regular season home match before her retirement—all anybody wanted was for Rapinoe to perform well. Up in the press box, I willed passes to go her way, for her to dish out balls, juke defenders, and score as she had her whole career. All 34,130 people of the record-breaking crowd, many who sported pink wigs reminiscent of Rapinoe's iconic 2019 World Cup hairstyle, wanted a game worthy of a punctuation mark for Rapinoe's 11-year career of making waves and shattering expectations. 
Rapinoe, confident with the ball at her feet, took on a lone defender, then cocked her leg back for the shot. Everyone cheered as the ball came off her foot. The cheers continued even after the goalie blocked it. 
The tension continued throughout the game. Rapinoe had given so much to us, the fans. A gold medalist, a two-time World Cup champion, an activist, an equal pay champion, and one-half of Seattle's favorite local sports power couple, Rapinoe had entertained and inspired us for over a decade. Let her have one last goal, please. 
Disappointingly, the game remained a scoreless 0-0. That didn't help anyone. Not the storybook ending for Rapinoe's career, nor the Reign's playoff pursuits (they need to win one of their two remaining games to secure a playoff spot). But, as Rapinoe's longtime teammate Lou Barnes reminded people, "Today was way bigger than soccer." 
As Rapinoe pointed out in a press conference, "We're young in women's sports, so we don't have a lot of these big milestone retirements."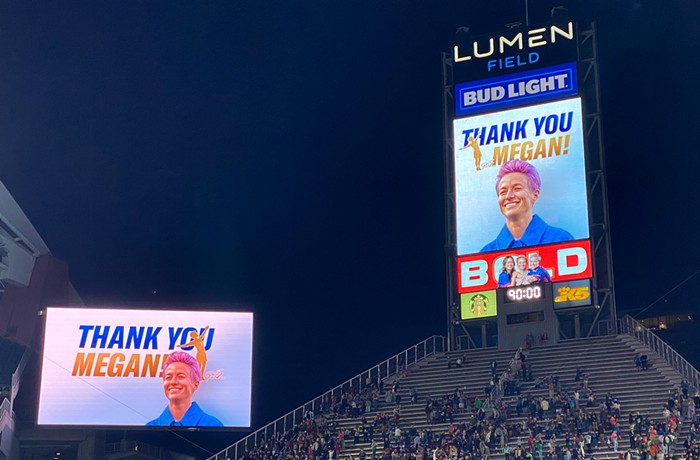 Rapinoe's career bridged a critical period of time in women's sports. In soccer, Rapinoe entered the game after the trailblazing players of the 1999 World Cup team were retiring (players such as Mia Hamm, Julie Foudy, Kristine Lilly). That team inspired a whole generation of soccer players and kickstarted the attention for women's soccer. Rapinoe's generation of soccer players and women athletes was responsible for not only growing the sport, but garnering respect and trying to fix systemic problems that made being a professional woman athlete an unviable career. 
"From early days on the Reign when we had nothing, we were always trying to fight for more and we always knew that the most powerful voice in the room was Pinoe," Reign head coach Laura Harvey said. 
Women athletes haven't had the luxury of just being athletes. They have had to be stewards, diplomats, change makers, and representatives of an entire gender.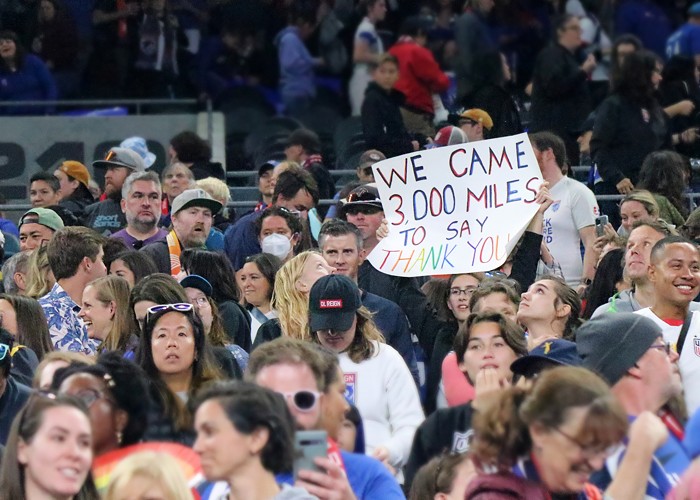 "As athletes in women's sports, we don't get to define success by winning—we never have," Rapinoe said. "That's very frustrating and infuriating at times. By necessity, it made us think bigger and think how to not only be the absolute best we can be on the field, but make our communities better, make the world a better place, challenge ourselves to be better, and challenge everyone else around us to be better."
Rapinoe views her career as successful not by how many goals she's scored, but by how she's improved the league for the women who came after her. 
"Just looking at the league over the last 11 years, women's sports is in such a better place," Rapinoe said. 
When Rapinoe started playing for the Reign in 2011, only around 2,000 people were in attendance at the crumbling now-defunct Memorial Stadium. After playing at that high school sports field for years, then relocating to a converted minor league baseball field in Tacoma for a spell, Rapinoe finished her career with the Reign at Lumen Field in front of over 34,100 people, an NWSL attendance record. The team only started playing at Lumen last year. 
In the last few years, Rapinoe and her US Women's National Team teammates fought and won a historic equal pay agreement with the US Soccer Federation. The NWSL just inked a media deal with CBS that is reportedly "10 times" more lucrative than the $1.5 million deal the two entities signed in 2019. Part of this is due to Rapinoe and her team's continued success and their consistent efforts to fight for appreciation and respect.
And there are still issues. Like, for instance, how Spain Soccer President Luis Rubiales non-consensually kissed one of his players on the mouth after the team's World Cup win. Or, how the Portland Thorns ousted four coaches across the league this year for "widespread systemic misconduct and abuse." Still, the fact that Rubiales lost his job for that kiss and that the NWSL is actually dealing with some of the skeletons in its closets is a step in the right direction. 
Women sports on the whole are trending upward. Just this year, a college volleyball game between the University of Nebraska and Omaha sold out the Huskers' football stadium, setting a worldwide women's sports attendance record in the process. For the first time in 2023, the women's NCAA basketball tournament had the same amount of teams as the men's tournament and they were allowed to use the moniker "March Madness." As of 2021, the Women's National Basketball Association's viewership was up 51%. People want to see women play sports.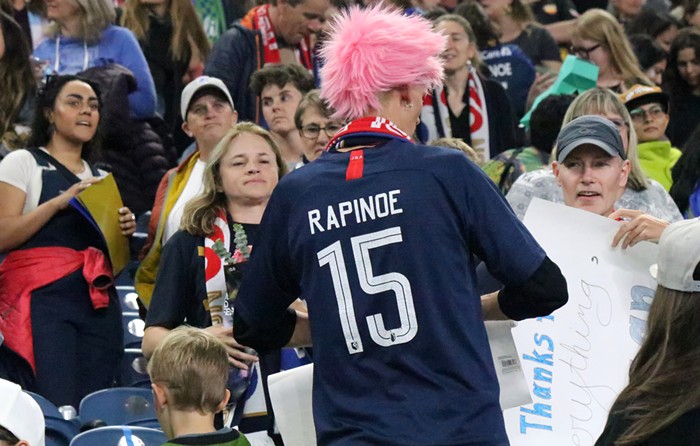 "It's a really exciting time for women's sports because we're just at the beginning," Rapinoe said. "We're just starting to get the respect and investment that we really need to allow us to reach our full potential."
Rapinoe and her legacy are linked with this progress. She, as a women's soccer player, is a household name, an icon. It took over a decade of playing through the shit to get the league where it is today. And, while it's beautiful, in some ways it's bittersweet.
"I wish my career were starting now," Rapinoe joked.
Even for non-professional players, the evolution of women's sports makes you wonder "what if?" I grew up playing soccer in a time when going pro wasn't even a consideration. If I'd started playing as a kid watching Rapinoe in this era of women's sports, I'm left to wonder what I would have done with the knowledge of what a woman soccer player could be.
But, then I have to remind myself, the sport is still growing. Being a professional women's soccer player is still not really a viable career path. I mean, the NWSL did just raise the minimum player salary 60%—up to a paltry $36,400. Maybe it will be better for those kids in the stands at Lumen Field wearing those pink Rapinoe wigs. And, if it is, it will be better because of Rapinoe and the women athletes who come after her, who will still have to work and fight for recognition. 
Creating change is bigger than soccer. Those are the successes Rapinoe will hang her hat on. And, she's not going anywhere. 
"I'm not going to miss out on the fruits of that labor, to disappear and not be a part of [this exciting time in women's sports]," Rapinoe said. "I have so much to offer."
Just because I can, here's that Nike Rapinoe ad one last time:
 

 

View this post on Instagram