Seattle Symphony Artist in Residence Angelique Poteat has achieved a remarkable feat: she's created a 15-minute piece of music about climate change with 30 teens who had no formal composition experience—and it sounds good! Better than good, even! 
Poteat and her Community Youth Chorus harness the power of 50 voices and a big orchestra to blast out a four-part musical journey that begins in innocence and wonder at the natural world, marches through the fire and smoke of belching polluters, and comes out the other end clear-eyed with a clipboard and plan of action. 
The piece, Dear Humanity, premieres at Benaroya Hall on Friday, April 21 alongside a program that includes other ecologically focused compositions from international superstar Tan Dun, award-winning composer Michael Abels (he scored all the Jordan Peele films), and Californian composer Gabriella Smith. (I've been listening to her record, Lost Coast, on repeat for a week.)
Sure, all those established and rising talents will make for an incomparable FREE night of music designed to draw our attention away from the latest episode of Love Is Blind and back toward the planet—for as long as we have one, at least. But Dear Humanity—featuring the Seattle Symphony Orchestra and a melange of seven University of Washington choirs—will be the focus of it all. 
Poteat's herculean effort began in 2019, when she and a couple other symphony workers held auditions for youths aged 14 to 19 all around King County. The kids only needed to demonstrate that they could match pitch, but the panel wasn't picky. "Pretty much, we took everyone who was interested," she said. 
Normally, musicians take years of classes to learn how to compose music. The symphony gave Poteat five months and a couple dozen enthusiastic amateurs. But sometimes, that's all you need.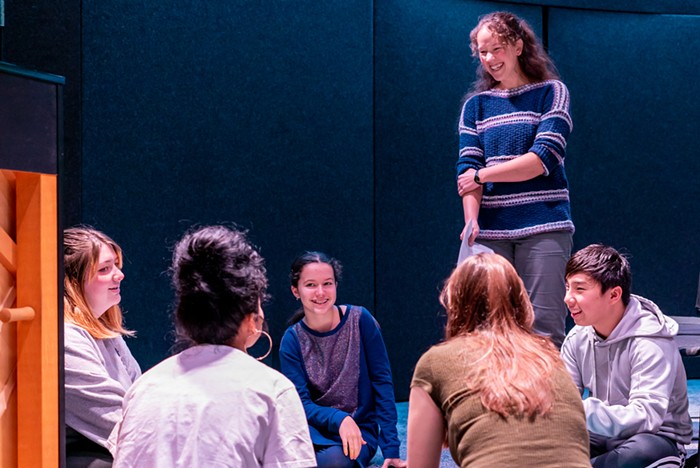 How to Create a Symphony from Scratch 
When she and the students started meeting weekly in late autumn of that year, they knew they had to write a piece, but they didn't know what to write about. After a few exploratory discussions, some common topics emerged: anxiety, other mental health issues, climate change. The latter subject seemed tied to the other two, and so they ran with it. 
First, Poteat asked the students to write about how climate change made them feel. Then they turned those feelings into stanzas of poetry. From those poems they created lyrics, and from the lyrics they drew out melodies. Musicians from the Seattle Symphony Orchestra visited to teach them about the roles that different instruments play, giving them a better idea of which ones to select to carry which melodies. From those melodies they drew out harmonies, which Poteat then started shaping into movements. 
At every step of the way, the students turned in their writings, vocal recordings, suggestions, and other notes with or without their names on them, and then voted on the stuff they liked or didn't like. By the end of the process, they'd created a 15-minute piece of music split into four parts, each with its own theme and mood. 
The first movement sees the world through youthful eyes, a wistful and sylvan sound that tumbles around like schoolchildren exploring the forest. The second movement introduces heavy rhythms and urgency. "It sounds like boss music from a video game," Poteat said. In the third movement, the planet catches fire, and the innocent voices from the first movement start speaking different languages in a Tower of Babel moment that crescendos into chaos before a sudden halt cuts off their breath. The fourth movement concludes with a commanding call to action. 
Poteat and the students wrapped up orchestration on March 8, 2020, a few months ahead of their scheduled performance in June. The next week, the pandemic hit and everything shut down. 
On Monday, more than three years later, some of the students from the project joined a mix of members from several UW Choirs on the rafters in the university's music building for rehearsal. Choir conducting grad students Scott Fikse and Anjali Chudasama directed a couple dozen singers as they tackled the complex rounds and tricky phrasings. 
Despite the challenge, the students seemed charged with energy and enthusiasm—the altos especially. Fikse said 90 students from all the choirs auditioned for the show, and that many of them expressed passion about ecology and the big problems facing the planet. 
Not Just a Concert
Though the youths drove the process from the beginning to the end, they're not the only ones passionate about this project. When she's not composing, Poteat regularly hikes, skis, climbs up rocks, and "sometimes gets distracted with kayaking and cycling." So she's out there. And when she's out there, she sees Adams Glacier beating a retreat, fewer crabs scurrying along the seafloor, bright green cedar leaves cooked brown at the edges beneath heat domes, and whole forests burned to black stubble. "This is all happening so quickly, in my lifetime. I'm only 37 years old," she said over the phone. 
The cynic says a free concert won't bring back the glaciers, electrify everything, or really even politically challenge Seattle concert-goers. The conservative puts on his dunce cap, points at the symphony's carbon footprint—all those people driving in to see the show, all those special guests flying out, the hall's emissions, etc.—and sneers, "Isn't the concert itself contributing to climate change???" 
Poteat said she and the young composers asked themselves the same questions. They landed where most artists do: "The main thing is this concert is bringing awareness to the issue… It's an invitation to consider all of our impacts on the planet, and how we can work together as a community to conserve energy, take care of our environment, and to make sure our concerns resonate with organizations and corporations that can really make the biggest difference," she said. 
Some of the students from the community choir will also issue an actual call to action at the end of the performance. They plan to direct audience members to the lobby, where they'll find sign-up sheets to volunteer with local environmental organizations. 
That's probably as good as the arts community can do—aside from screaming at their local, state, and federal representatives every day to build the political will necessary to solve or at least adequately adapt to the climate crisis. 
I'd only add that the process sets a good example, too. Not just for the kids but for all of us. If American popular culture valued the work of making symphonies as much as it values the work of keeping the engines of consumer capitalism roaring, then we might not live in a world where children feel responsible for saving the planet from the unchecked greed of corporations, the short-sighted decisions of politicians, and our own derelictions of civic duty. 
With a slew of pre-concert activities featuring some behind-the-scenes artwork and a week of programming before its debut, Dear Humanity gives us an opportunity to appreciate the process and the product of music-making, nudging us to incorporate the act of writing poems and singing songs into our own lives. That's something. 
And who knows? Maybe taking up that practice could help us all reimagine our relationship with the planet, or prompt us to write to our members of Congress, or convince some of us to chain ourselves to a pipeline. Might be a little more fulfilling than working 80 hours and then blowing off steam in Tulum for a few weeks. 
---
The Dear Humanity concert featuring the 2020 Community Youth Orchestra is Fri, April 21 at Benaroya Hall, 200 University St, 7 pm, free, all ages. RSVPs are encouraged; walk-ups are welcome.
See all the Dear Humanity Youth Art Festival events, including an art show and other performances, here.