Family bands are nothing new; just look at Haim, Tegan and Sara, and the legendary local sister act Heart to name a few. But when talking to La Fonda, the dreamy Seattle band led by sisters Valerie and Veronica Topacio, it was heartwarming to hear them banter in ways only a close-knit family like theirs could. 
When I called the Topacio sisters, they were still buzzing from a successful run of showcases at South by Southwest where they debuted a bunch of songs from their new album We Are Infinite (released April 7). They had just pulled over at a cafe in Salt Lake City and were relieved to take a break after driving through a surprise blizzard the night before.
Veronica, La Fonda's lead vocalist, was forthright about the stress of the drive. "I actually started crying and had to pull over for Valerie to take the wheel because she's the stronger driver," she told me. But then Valerie, who plays lead guitar, turned the conversation around just as quickly to ask about my day job, equally as interested in my part-time barista gig as their harrowing drive the night before. Not only are the sisters close from growing up together and playing music together for the past eight years, but they are just as open to letting a stranger like me into their circle.
But then again, I guess that's the personality you need in order to cultivate a community in a city like Seattle, a city that is known to be a bit standoffish. La Fonda started in 2015 while Valerie was in Spokane working on her bachelor's degree from Gonzaga University and Veronica stayed on the west side of the state. In a classic example of distance making the heart grow fonder, Valerie moved back and the two moved into a small studio apartment in Belltown, getting closer than ever before while renting a practice space in the old Rainer Brewery building. 
Valerie reminisced on the early days fondly. "It felt like we could touch the Viaduct from our window, and we were two blocks away from the Crocodile. We'd go busk in the market on the weekends and hang out at Croc or Neumos at night." The rest of the band came together from their lifelong connections in the city. Another guitarist, Jesse Cole, was roommates with Veronica when they were 18, and the other band members joined after the sisters put up an ad for musicians on Tinder of all places. 
After eight years of releasing EPs and their only other full-length, 2021's New Self, Old Ways, We Are Infinite is both a love letter to the city that raised them and also critical of Seattle's rapid gentrification, but in a way that only someone who knows the area so intimately can critique with love and familiarity.
This is most evident in the song "Living in the Amazon." It's hazy and heavy with reverb as the sisters sing about the day-to-day grind of living in an overwhelmingly expensive city like Seattle, vividly capturing all the Lime Bikes scattered in the street and cranes looming overhead.
"This is our home, this is our city, but what becomes of a city that prices out the artists that make it unique?" Veronica asked. "That studio we lived in was about $2,000 a month when we signed the lease, and we just checked recently and it [is now] $3,200 to rent. We're very lucky to be creatives in this city and to carve out a space for ourselves, but it's hard. It's really, really hard." 
Valerie continued to question the system. "People are just getting pushed out of their communities. And that's very clearly happening all over. And it's like, where does that leave the dreamers? The people that are trying to make art or trying to create these communities, these all-ages spaces where people feel welcome and safe?"
We Are Infinite was recorded entirely during the later stages of the pandemic, so the struggles they sing about run much deeper than just location. The sisters were together for the entire quarantine period, which gave them time to reflect on their personal struggles with drug use as well as the people they lost over the years, including their paternal grandmother, who they affectionately refer to as Lola, who passed early in the pandemic at the age of 98. "She was the original dreamer of our family, and she took everyone out of the Philippines to Seattle. She's the entire reason we're here now and can do what we do." 
Now a mother herself, Valerie wanted to write about how every little thing, good or bad, was able to bring them to a headspace where they could write the new album. "I just felt being with the pandemic and being pregnant, I just kept thinking about all the million tiny things that had to go in my life to even be able to experience pregnancy in this beautiful time of being a woman, and being strong, and being a writer, and having the many blessings in my life that include family and my sister."
The Topacio sisters have also been busy planning the third incarnation of the Belltown Bloom festival, which will take over the three rooms of the Crocodile complex for the first weekend in May.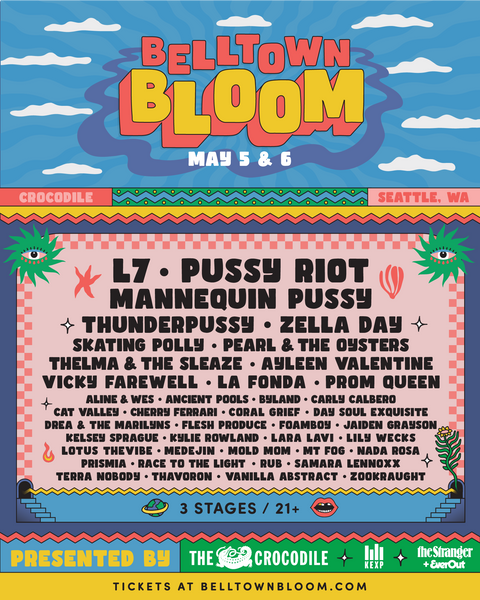 The festival takes local acts like Thunderpussy, Prom Queen, and Coral Grief, and places them alongside major headliners including riot grrrl legends L7, Pussy Riot, and the Philadelphia-based punk outfit Mannequin Pussy for a weekend that connects the current underground Seattle music scene to the rest of the country. It's a project they started in 2019 when they learned that, despite an oversaturated festival market competing with other events such as Capitol Hill Block Party, Day In Day Out, and the now defunct Sasquatch festival, only a mere 26% of the acts on festival posters actually included women.
"As we started playing shows, we started to see that lack of diversity," Veronica explained. "It felt pretty obvious, especially as an indie band in Seattle, so we dreamed up a lineup that filled that space as we saw fit."
Compared to their experience at South by Southwest, both sisters are proud of their work to make a festival that spotlights music made by women, queer people, and people of color in a city that is infamous for its rapid gentrification and a music industry that is growing more and more inhospitable to new and up-and-coming bands.
"Music is our extension of giving, and we just hope that whatever space we're creating, we hope that it serves positivity, and will help and encourage our community to stay attuned to practices that keep us centered as conscious allies and as friends," Veronica added.
"That's really what Belltown Bloom is. We want people to be inspired by music discovery. A lot of people reach out to us and say, 'Bloom is the first festival I ever played. It's the first time I ever got to play the Crocodile.' And we want to be able to be in a position to keep giving those opportunities. Not a ton of artists have thousands and thousands of monthly listeners, but we definitely stand behind their musicianship and their songwriting. And we almost want to [book] people who don't have that fanbase already. If I've seen you live and you just moved me and you told a beautiful story and then you sang a song [and] I have goosebumps, but then I look on your Spotify and you have 123 monthly listeners, well you better believe I'm going to come harass you to play at Belltown Bloom because I want people to hear you. There's nothing more than to just give people the platform."
---
La Fonda's album release show is Thurs April 13 at Neumos, 925 E Pike St, 7 pm, $12-$15, 21+. Belltown Bloom is May 5-6 at the Crocodile complex, 2505 First Ave, 5 pm, $60-$295, 21+.
This story has been updated since its original publication to note that Valerie Topacio plays guitar in La Fonda and Veronica is the lead vocalist.