Think back to where you were about a year ago, give or take a month or two. Fresh out of a pandemic, spring air, masks off, and riding the vibe of not dying in a once-a-century plague. The more single folks I talk to about that time, the more it seems as though that long-term isolation translated into immediate, explosive emotions upon re-entry. Touch-starved and unpracticed in socialization, people were palpably visceral again, and they wanted to LOVE.
To paraphrase my girls Latto and Cardi B, we were all fresh "out the plastic and acting brand new." Or experiencing a collective social rebirth, if you will. And a birth of any kind leads to a lot of mess. Folks got into intense situationships with coworkers and neighbors and bartenders, and more than one woman I know (coughs, drinks water, coughs again) gave a fuckboy way, way too much credit. Seattle songstress Grace Love might be the first of us to have turned that experience into great art.
People who say there isn't a summer song of 2023 haven't been listening. Grace Love's "Broke" is that jam. It comes in with a grinding, instantly memorable guitar hook and Love's vocal play is enhanced with a distortion effect that sets off the track's chaotic sexual energy, making for perfectly executed funkified hard rock. It is, in short, everything a critic who worships at the altar of Betty Davis could ask for. 
One of four tracks off her latest EP Work in Protest, "Broke" showcases Love's rock edge. It was written about a situationship gone wrong in real time, art born of the pandemic and the aforementioned fuckboy nonsense. Love assembled her starter samples herself, instead of seeking collaboration, letting her move quickly as the work began to flow.
Her track "Higher" is hard disco right at home on a playlist with this summer's releases from Jessie Ware and Alison Goldfrapp. Love had to advocate for the song, as her label was less than sold on disco as a direction. Her bet on the dance floor paid off. All four songs—"Higher," "Broke," "Firefighter" (a yearning ballad of the James Blake variety), and "In Waiting" (an electro R&B slow jam)—signal four different directions she is capable and comfortable working in. More importantly, they take her out of the "soul singer" box she's felt placed in by local media who can be quick to categorize and are seemingly uninterested in moving past her earliest work with former band the True Loves.
"'Broke' came out of anger and rage, and I'm so fucking done with people telling me what genre I'm supposed to be in," she told me over a plate of summer greens at the newly relaunched Central District institution Neighbor Lady. "I was so tired of being told what mode I'm supposed to be in, what I'm supposed to sound like, who you think I sound like. I am me. It came out of rage."
Neighbor Lady reopened in June as part of the Midtown Square complex after losing its original spot across the street. When we visited just a few days after opening, the new space was so fresh there were still ladders and finishing touches afoot. This version of Neighbor Lady is 100% your friend who used the pandemic to get really fit. It's everything you loved before, just a little beefed up with outdoor seating and a menu that includes lunch, dinner, and brunch on the weekends.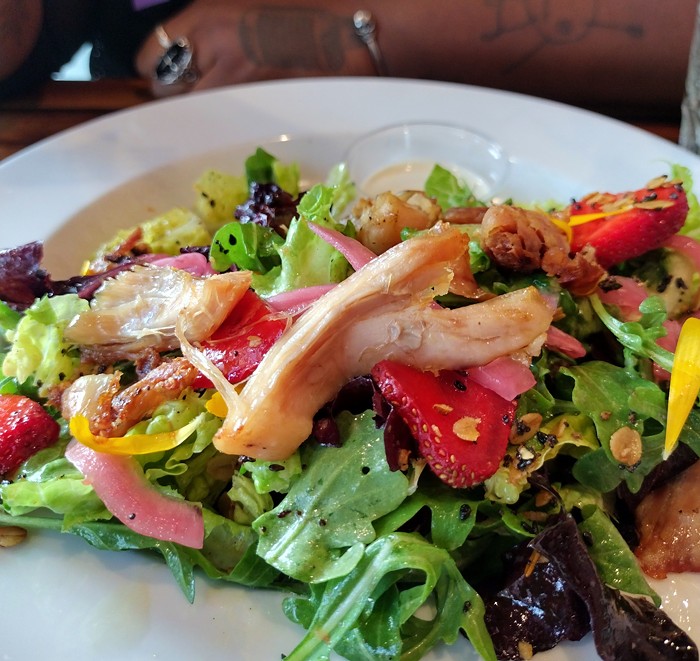 We went with a summer salad (bright berries, blue cheese mousse, granola, confit chicken, and a super light rose petal vinaigrette) but the burger is the thing at Neighbor Lady, and they have several variations, including a new $10 lunch special with fries.
 

 

View this post on Instagram

 
Midtown Square has an outdoor community space boasting a gorgeous mural and stage area begging for day shows. It was just the place to prep our palettes. To pair with our bright and fresh salad, I chose Soulshine Cannabis pre-rolls. Around since legalization, Soulshine is an OG brand known for green growing practices and packaging. Their Seattle Rainmaker is a calming hybrid of the strains Mandarin Sunset and Citral Skunk, making for a fruity, funk-filled smoke that primed us for more greens and gabbing. Soulshine also does infused half-gram pre-rolls if you're looking for a little more kick.
Love found the strain "chill and fruity" as she told me her reason for choosing to lunch at Neighbor Lady—it was about more than just the menu. She was an employee of the former space. In 2015 she was going through a rough time and needed work. Through a friend she got an interview at the restaurant and, "10 minutes later I had the job and keys to the place."
It made sense, as food is one of Love's other passions. Along with making music—she just dropped a new track, "Nekked," produced by Seattle music luminary Jenn Champion—she is also currently working as a private chef and she's cultivating a one-of-a-kind music and dining experience set to debut in Seattle November 3. Find her at gracelove.co for more info.