WEDNESDAY 7/26 
FIFA Women's World Cup Watch Party
(SPORTS) As resident soccer fan Nathalie Graham wrote on Slog, if you're planning on watching Wednesday's US vs Netherlands game in the Women's World Cup, get to wherever you're going early. Last week, despite arriving at Ballard's Rough & Tumble two hours before game time, Graham wasn't able to snag a seat at the at-capacity women's sports bar. This city loves women's soccer! Thankfully there are several spots in town showing the game—EverOut has a list of all the local watch parties here. One particularly enticing option is the FIFA Women's World Cup Watch Party at Westlake Center. Watch the game outside on a 17-foot LED screen! There will also be food trucks, music, family-friendly activities, and appearances from "pro players." Probably not Rapinoe, though—she has a game to play. Festivities start at 4:30 pm, game starts at 6 pm. GO USA! (Westlake Park, 401 Pine St, 4:30 pm, free, all ages) MEGAN SELING
---
THURSDAY 7/27 
Alex Pappademas and Joan LeMay: Quantum Criminals: Ramblers, Wild Gamblers, and Other Sole Survivors from the Songs of Steely Dan
(BOOKS/MUSIC) Smooth, sunny groovers Steely Dan are, as we all know, the true titans of '70s soft rock—and if you're not familiar with them, do your "dirty work" and listen to Aja. (Listen, I tried really hard not to make that pun, but it happened anyway. I'm sorry.) Let's move on! In Quantum Criminals: Ramblers, Wild Gamblers, and Other Sole Survivors from the Songs of Steely Dan, author Alex Pappademas conjures the strange characters that populate Steely Dan songs, interpreted through imagery by artist Joan LeMay and expanded upon in short essays. If you're into dad rock, cultural context, and laughing a lot, grab a copy and catch this convo with Pappademas, LeMay, and Stranger arts and culture editor Megan Seling. (Third Place Books Lake Forest Park, 17171 Bothell Way NE, Lake Forest Park, 7 pm, free, all ages) LINDSAY COSTELLO
---
FRIDAY 7/28 
(VISUAL ART) Returning to Lumen Field for the seventh year, Seattle Art Fair will continue to offer Seattleites the opportunity to see cool, cutting-edge contemporary artwork from all over the world without leaving town. Plenty of local institutions and artists get involved as well, making for a jam-packed weekend of incredible art-viewing opportunities; I'm stoked to see artists like Catalina Ouyang, whose experimental furniture navigates themes of language, space, and power dynamics, get attention this year. The fair promises to be a bit like last year's—a hectic weekend of avant-garde, artsy goodness that rivals its pre-pandemic days—with public projects by big names like Marita Dingus, Sharita Towne, Tariqa Waters, and Jeffrey Gibson, plus talks on AI art and gallerists visiting from near and far. (Lumen Field Event Center, 800 Occidental Ave S, Fri-Sat 11 am- 7 pm, Sun 11 am-6 pm, $35-$65, all ages) LINDSAY COSTELLO
---
SATURDAY 7/29 
Bandella Concerts and Octavia Butler Avenue Dedication
(MUSIC/BOOKS/SCIENCE) Remember Chris Hadfield? His performance of David Bowie's "Space Oddity" on the International Space Station went viral in 2015. Though Hadfield's space days are now in the past, his music is not. He has a band, and all but two members of it, called Bandella, are former astronauts. People who have been to space are rocking on Earth. That's all I need to know to go to the show at the Museum of Flight. Just think about it. There will be a day in the not-too-distant future when we (humans) send the last of our kind to space, which is, as we discovered 50 years ago, mostly empty and too harsh for words. A human will never wake up, let alone walk on, lifeless Mars. The closest you will ever get to the stars is watching these former astronauts rock and roll in a museum. That said, the great Black American science-fiction writer Octavia Butler never went to space, but she does have her name over it: on one of the mountains Charon (Pluto's moon); on an asteroid in the Astroid Belt (Butler is the only Belter), and the site where NASA's robot, Perseverance, landed on Mars. This Saturday Butler, who is mostly known for her 1979 novel Kindred (which was recently made into a terrible FX TV series that was rightly canceled after the completion of its first season), will name a street in down-to-earth Lake Forest Park. Originally from Pasadena, California, Butler spent the last years of her life in Lake Forest Park. The city recently rediscovered her incredible fame and decided to honor it with: "Octavia Butler Avenue," which is "along Lake Forest Park's 37th Avenue, between NE 165th Street and NE 162nd Street." (Museum of Flight, 9404 E Marginal Way S, Tukwila, 6:30 and 8:30 pm, $40-$50, all ages; Lake Forest Park at NE 165th St and 37th Ave NE, 10 am, free, all ages) CHARLES MUDEDE
---
SUNDAY 7/30 
Renegade Edo and Paris: Japanese Prints
(VISUAL ART) To begin with, this show connects two twilights: the Edo period (1603–1868) and Belle Époque Paris. (Edo is now called Tokyo.) The former era was brought to an end by the Meiji Restoration (or Revolution), which ended Japan's isolation and, ultimately, restructured its class system. What brought the latter to an end was the war that did not end all wars, the First World War. The Belle Époque can be described as Europe's farewell to its dominance in the capitalist world system. This farewell was marked by the ascendance of financial capital. What marked the end of the Edo period, also known as the Tokugawa period, was the ascendance of a class that was poorly regarded, the merchant class. Making money in pre-Meiji Japan was not at all respectable, and nor were the prints and subject matter of the prints in this show. This was not the stuff of the warrior class. This was the floating world of fleeting and popular pleasures: music, theater, whore houses. Also fleeting was the nightlife of Belle Époque Paris brilliantly and famously captured by the prints of Henri de Toulouse-Lautrec. Also around his time was the craze in all things Japanese. This exhibit, expertly curated by Xiaojin Wu, makes this (the craze) and other important connections to produce what I can only describe as a double dusk. (Seattle Asian Art Museum, 1400 E Prospect St, Fri-Sun 10 am-5 pm through Dec 3, free-$17.99) CHARLES MUDEDE
---
MONDAY 7/31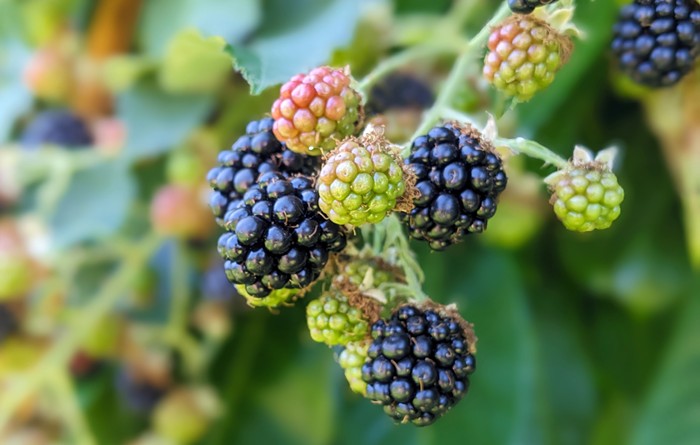 (FOOD) You've probably noticed that Seattle is fully saturated with wild blackberry vines, and yes, it's perfectly safe to eat this sumptuous free food from nature. You may wanna soak 'em for ten minutes first to get all the fruit fly larvae out (unless you're into that), although it's more of an issue later in the summer. Discovery Park is absolutely teeming with berries in every direction, the east end of Carkeek Park behind Viewlands Elementary has a loopy path lined with 12-foot-high blackberry hedges, and there's a massive block-long patch on Fourth Avenue North on the edge of Queen Anne Hill, on the steep slope just above (west of) the Fremont Bridge and that giant billboard. Perhaps the most appropriate place to pick them is Mercer Island's Luther Burbank Park—botanist and horticulturist Luther Burbank, inventor of the plumcot, is the reason the entire Puget Sound region is inundated with Himalayan blackberries. Seemed like a good idea at the time. (Get more summer activity tips on EverOut) MEG VAN HUYGEN
---
TUESDAY 8/1 
(CIVIC DUTY) Stop trying to get ChatGPT to show hole for literally one second and listen up! We've got a primary election on August 1, and it's the most important local election of our lifetimes since–well, since the last one. With seven of nine city council seats up for grabs this year, Seattle has a chance to do what we should have done 20 years ago: BUILD ENOUGH HOUSING FOR EVERYBODY, create a justice system that actually rehabilitates people, and make it safer to walk or roll to a bunch of fun little shops!!! All you have to do is vote exactly the way we tell you. You should have received your ballot by Monday, July 17—if you didn't, then ask King County Elections what's up. Now, just carefully fill in the bubbles we tell you to fill in, slide it into the little lingerie sleeve it comes with, stuff the whole package in the envelope, and then mail it in by Friday, July 28—no need for a stamp! Did you miss the recommended postmark date? That's okay! Just drop it into a nearby dropbox no later than 8 pm on August 1 and your vote will still get counted. (Read The Stranger's election endorsements here; find our Cheat Sheet here) STRANGER ELECTION CONTROL BOARD
---
 Prizefight! 
Win tickets to rad upcoming concerts!*
Boygenius
The Gorge
July 29
Contest ends July 27 at 10 am
ENTER HERE! 
Alicia Keys
Climate Pledge Arena
July 30
Contest ends July 28 at 10 am
ENTER HERE!
*Entering PRIZE FIGHT contests by submitting your email address signs you up to receive the Stranger Suggests newsletter. You can unsubscribe at any time.