WEDNESDAY 8/2 
(COMEDY) "Come to Puff, Puff, Pass if you live, laugh, love a good time," suggests Alyssa Yeoman, the show's host. I live, laugh, love a good time as much as the next person, so I also have to recommend it—Puff, Puff, Pass is geared toward stoners and normies alike, with stand-ups indulging in a smoke sesh before they answer questions and play games based on internet trends. Silly gooses Danny Meyerend and Monisa Brown will join Yeoman for this set, alongside other special guests. (Here-After at the Crocodile, 2505 First Ave, 7 pm, $15, 21+) LINDSAY COSTELLO
---
THURSDAY 8/3 
 

 

View this post on Instagram

 
(VISUAL ART) In spring's Art and Performance guide, Jas Keimig described the concept of the installation FLÓÐ (Flood) at the National Nordic Museum as "meditating on climate change." That's certainly how one can read it, but my experience of the work, which is by Icelandic artist and musician Jónsi and occupies a huge space in the museum, recalled less the inevitable underwater Anthropocene world with its sad sea sounds and scent of seaweed, and more Seattle in the middle of winter. Though we have left those short and beautifully bleak days, they can still be found here, in the heart of the Nordic Museum. The strip of flickering light above, the mist, the coldness of it all. One with proper Pacific Northwest blood feels very much at home here. The exhibit was supposed to close in June but it has been extended through August 6 and general admission is FREE on First Thursday and the museum is open late until 8 pm. (National Nordic Museum, 2655 NW Market St, 10 am-8 pm and free on Thurs Aug 3) CHARLES MUDEDE
---
FRIDAY 8/4 
(FILM) The highly unlikely story of brothers Donnie and Joe Emerson—Fruitland, Washington's finest (only!) musical exports—has received the deeply sensitive cinematic treatment it deserves. Directed and written by Bill Pohlad, who also helmed the memorable Brian Wilson portrait Love & Mercy, Dreamin' Wild focuses on songwriting phenom Donnie Emerson's struggle with thwarted artistic goals, the belated fame earned for the 1979 private-press classic LP Dreamin' Wild, and the redemptive power of family. Read Dave Segal's interview with director Bill Pohlad here. (Regal Meridian 16 and AMC Seattle 10, various showtimes) DAVE SEGAL
---
SATURDAY 8/5 
(MUSIC) If the term "festival season" has you conjuring $20 beers, anxiety-inducing crowds, costly accommodations, and all-around iffy vibes, Tacoma Porchfest is here as your laid-back semi-staycation alternative. Back for a second year, Porchfest is a one-day party where central Tacoma residents—most action can be found between 6th Avenue to South Sprague Avenue to South 12th to South Cedar—offer up their yards to nearly 100 musical acts, from Analog Brass to Porch Cat to Weep Wave. It's free (donations are appreciated) and very walkable, and even if you grab a takeout picnic from one of the nearby restaurants or participating food trucks, it will still likely cost less than your standard big fest commemorative T-shirt. (Various venues throughout central Tacoma, 1-6 pm, free, all ages, see the full festival map at tacomaporchfest.org) MA'CHELL DUMA
---
SUNDAY 8/6 
The End of the World Comes at Dawn: Early Nick Ray x4
(FILM) If you want a sound introduction to the genius of Nicholas Ray, an American director who made his mark after the Second World War, then this series provides it. The first film, They Live by Night, a film noir classic, sets the tone for the other films: In a Lonely Place, On Dangerous Ground, and The Lusty Men. The last two are less well-known than the first two. Also, Ray directed Rebel With Cause, which, of course, starred American icon James Dean. (Though not in this series, it's worth mentioning because it offers, to the uninitiated, a sense of the scale of Ray's fame during his peak.) My favorite film of his is In a Lonely Place, which has a dash of noir and a plot that seems too dark for its time. But the film was made, and it stars Humphrey Bogart and Gloria Grahame. We will not discuss the curious marriage between Grahame and Ray in this Suggests. (The Beacon, 4405 Rainier Ave S, various showtimes, through Aug 27) CHARLES MUDEDE
---
MONDAY 8/7 
(FOOD) This is not breaking news, but rather a reminder: The Best Roasted Corn Stand in White Center serves the best summertime snacks. Cobs of freshly roasted corn are served with a variety of toppings—American-style has butter, salt, and black pepper and the Central American option is slathered in mayo, cheese, ketchup, and mustard (??)—and on-the-cob elote is available with the usual chili, mayo, and cheese combo and also with Hot Cheetos or Takis. The esquite—a sizable and under-$5 cup of roasted corn kernels, mayonnaise, cheese, lemon, and chili pepper—is the perfect grab-and-walk snack, but when I'm really hungry, I go for the Tosti-Esquite. That same elote mixture of creamy, spicy, corny goodness is piled atop a bed of crispy tortilla chips. Corn on corn. Every culinary texture in the world. Amazing. If you eat at the attached covered picnic area you will likely be joined by a friendly one-footed pigeon. I named him Ethan. Toss him a kernel or two and tell him I said hi. (Best Roasted Corn Stand, 9811 15th Ave SW, daily 11 am-10 pm) MEGAN SELING
---
TUESDAY 8/8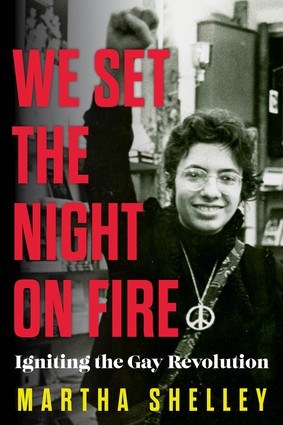 (BOOKS) I dare you not to feel a twinge of inspiration from Martha Shelley's life story. The lesbian feminist activist, who organized the first gay protest march following the Stonewall Riot(!), also cofounded the Gay Liberation Front, which provided a voice for the newly out-and-radicalized gay communities after Stonewall. She's also a socialist who's been linked to pro-choice movements, the Black Panthers, the anti-Vietnam War movement, women's liberation, and more. I could go on and on, but why not keep the inspiration juice flowing with a copy of We Set the Night on Fire: Igniting the Gay Revolution? The tome details Shelley's upbringing as the offspring of refugees and undocumented immigrants and traces the path of her radical activism work. Show up for this talk with Shelley, too, who I'm certain will have a wealth of knowledge to share. (Elliott Bay Book Company, 1521 10th Ave, 7 pm, free, all ages) LINDSAY COSTELLO
---
Prizefight! 
Win tickets to rad upcoming concerts!*
Smashing Pumpkins
White River Amphitheatre
August 5
Contest ends August 4 at 10 am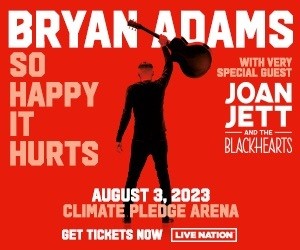 LIGHTNING ROUND
Bryan Adams
Climate Pledge Arena
August 3
Contest ends TODAY at 5 pm
*Entering PRIZE FIGHT contests by submitting your email address signs you up to receive the Stranger Suggests newsletter. You can unsubscribe at any time.