WEDNESDAY 9/27 
(FILM) If you have never seen Lou Ye's Suzhou River, now is the time. It has so much going on in it. Indeed, it's a bit dizzying, despite its noirish story being, in essence, straightforward. And you never leave this film without sensing that its plot is hiding something greater, something you can't see or missed. But one wonders if this sense is drawn from the film's time and place: China at the beginning of the present century. The China then is nowhere like current China. Yes, the censorship might be the same (if not even worse), but the economy and its related social structures are not. Suzhou River has about it the feel of a rupture. The scale of Chinese capitalism and its social forms are leaving the past and heading to the future. (Northwest Film Forum, 1515 12th Ave, various showtimes through October 1, $7-$14) CHARLES MUDEDE
---
THURSDAY 9/28 
(MUSIC) Let's begin with that dazzling science chapter of James Joyce's Ulysses: "Of our system plunging towards the constellation of Hercules: of the parallax or parallactic drift of socalled fixed stars, in reality evermoving wanderers from immeasurably remote eons to infinitely remote futures." And then the last lines of William Butler Yeats's "Who Goes with Fergus?": "For Fergus rules the brazen cars, / And rules the shadows of the wood, / And the white breast of the dim sea / And all dishevelled wandering stars." Plus Portishead's Beth Gibbons: "The blackness, the darkness, forever." Later, I would sing, during the excellent karaoke session at a local bar, the Church's "Under the Milky Way": "And it's something quite peculiar / Something shimmering and white / It leads you here, despite your destination / Under the Milky Way tonight." The last, the Church, are an Australian band that made some of the dreamiest of pop of the late-'80s and '90s. The Church also helped discover and explore that sense of rock exhaustion that eventually obtained the name late-rock. Finally, "Metropolis," a tune on a suburb album of the same name, is, a city song, up there with Black Star's "Respiration," the Eurythmics' "This City Never Sleeps," and Prince's "Erotic City." (Neptune Theatre, 1303 NE 45th, 8 pm, $35, all ages) CHARLES MUDEDE
---
FRIDAY 9/29 
(MUSIC) As an outlet for the songwriting whims of band leader Lauren Denitzio, Worriers have never sonically settled in one place for too long. They're like a tetherball—tied down to rock but still able to take flight and bobble around in everything from confessional power pop songs that draw inspiration from the Weakerthans to melodic rock anthems that'll appeal to Gaslight Anthem's most tender-hearted fans to a Rancid cover that manages to feel like it's being played in the middle of a house party with all your best friends. The band's latest release, Trust Your Gut, is maybe their most contemplative collection yet. It still rips! Drummer Atom Willard makes sure of that. But after flipping off the apocalypse with 2020's sing-along rager You or Someone You Know and soaking the restlessness that can come with isolation on April's Warm Blanket, Denitzio has started to catch their breath and make space in their songs (which former Hold Steady keyboardist Franz Nicolay often fills with sparkling keys). Scream along with the band at the Vera Project, then go home and continue listening while staring out the window and watching the rain. Worriers can do it all. (Vera Project, Republican St and Warren Ave N, 6 pm, $16, all ages) MEGAN SELING
---
SATURDAY 9/30 
(FILM) In Shinji Somai's Typhoon Club, a ferocious storm traps a half-dozen frustrated teenagers on the precipice of adulthood and high school entrance exams inside their junior high school for the five freest, unsupervised days of their young lives. It's like a more existential Breakfast Club, where the storm is a vehicle of transformation and a representation of just being 14. We meet a boy obsessed with the void, two girls struggling with their sexuality, and a young woman who uses the storm to run away to Tokyo. (The Beacon, 4405 Rainier Ave S, various showtimes, $12.50) VIVIAN MCCALL
---
SUNDAY 10/1 
(MUSIC) Last year, Samara Joy won the coveted Grammy for Best New Artist, beating out pop radio heavies like Latto, Måneskin, and Wet Leg—and for good reason! On her Verve Records debut, Linger Awhile, Joy puts her own spin on classic jazz standards, making a case for her to join the likes of Sarah Vaughan, Ella Fitzgerald, and Billie Holiday as Verve's latest jazz singing sensation. Don't miss your chance to catch a national jewel at the very beginning of her career. (Jazz Alley, 2033 Sixth Ave, Sept 28-Oct 1, $51.50) AUDREY VANN
---
MONDAY 10/2 
(HALLOWEEN) Physical media mavens Scarecrow Video, the city's own nonprofit video archive and resident experts on all things cinematic, will celebrate Halloween all month long at SIFF Cinema Egyptian. (Horror flicks are "every video store clerk's favorite genre," says SIFF, and I'm inclined to believe it.) Video Store Day is coming up on October 21, so show Scarecrow some love by checking out the flicks they've curated for this scawie series, which oozes to life on October 2 with The Bride of Frankenstein. Later in the month, I'll be shivering for Cat People, Near Dark, and Possession. (If you can't make it to the theater, never fear—Scarecrow's revamped mail-order rental website has your back.) (SIFF Cinema Egyptian, 805 E Pine, Oct 2-29, various showtimes, $13-$14) LINDSAY COSTELLO
---
TUESDAY 10/3 
Author Talk: Italy by Ingredient by Viola Buitoni
(FOOD) Who doesn't fantasize about cooking and eating like an Italian nonna? Rome-born chef and food writer Viola Buitoni (yes, of the famed Italian food company Buitoni) will teach you how to do just that with her new cookbook Italy by Ingredient, which takes a new approach to the classic cuisine by focusing on luxurious ingredients like mortadella, buffalo mozzarella, guanciale, and more. Famed food writer Ruth Reichl praises the book for its lush writing, which contains delightful sentences like "Keep your ears pricked: if the sizzle becomes a screech, the vegetables are calling for help" and "No need for wine: a gin and tonic works wonderfully with spaghetti alla bottarga." Buitoni will chat about the new release with Pasta Casalinga chef-owner Michela Tartaglia. (Book Larder, 4254 Fremont Ave N, 6:30 pm, $5.75-$44.85, all ages) JULIANNE BELL
---
Prizefight!
Win tickets to rad upcoming concerts!*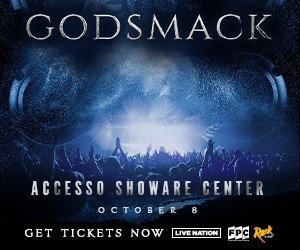 Godsmack
Accesso Showare Center
October 8
Contest ends October 3 at 10 am
Deltron 3030
Bellingham Exit Festival
October 15
Contest ends October 6 at 10 am
*Entering PRIZE FIGHT contests by submitting your email address signs you up to receive the Stranger Suggests newsletter. You can unsubscribe at any time.