The loss of Greenwood's nerdiest bar, the Teachers Lounge, in November 2022 has been a real blow to the skull, guys. Doors closed after a decade, thanks to cancer and COVID, and I've been having a hard time coping. Never flashy, always chill, the TL always kept it on the DL, and they served not only one of my all-time favorite classic cocktails of history, the Corn & Oil (blackstrap rum, falernum, and lime), but also the sexy, mahogany-toned Burlock, a melange of light rum, Bonal, Cherry Heering, and black walnut bitters. All that combined with the neighborhoody flave, the kitschy comfort-food menu, and the pull-down educational maps and fascinating little books… it still stings. I was expressly forbidden to write about the Teachers Lounge by co-owner Perryn Wright, who didn't want any extra hype, and I obliged, and now I finally get to for the worst reason. Christ, I want a Burlock.
The good news, though, is that Dark Room has moved into the bar's old space, opening last month to great fanfare, and that new owners Amy Beaumier, Matthew Gomez, and Matt Hassler are actually industry friends of Perryn and his wife, Des.
"I've lived in Greenwood for 10 years, and the Teachers Lounge was my local," Gomez, who usually goes by his last name, tells me from behind the stick. "When [Perryn and Des] made the decision to close the bar, they didn't want somebody who was gonna take it over and just change the whole aesthetic. We made sure to keep all the bones in place." 
It's true that the overall shape and the geography of the bar feel essentially the same, it's mostly just the walls that've changed. Vintage maps and chalkboards have been swapped out for neon word art and blueprints of old cameras, and the lights have been substantially dimmed. Dark Room. It's super dark in there. 
Well, anyway. I avoided this place out of grief for the first few weeks after it opened, but it was not right to do this, because the cocktail program at Dark Room is easily the most innovative thing happening in Greenwood. These drinks are whole concepts. E.g., the Kimcheech and Chong, with mezcal, lime, orange, orgeat, kimchi brine, and peach bitters, served in a clay mug over crushed ice—and for a garnish, they roll up a thin ribbon of orange peel and singe it on one end, to look like a blunt. Smoky and spicy, fruity and tart, with a funk from the fermented cabbage, it's cute, yes, but it's also spectacular. 
 

 

View this post on Instagram

 
The Kimcheech and Chong is a brilliant cocktail that you should order. But I want to tell you about the Figgy Swizzit as well because, in the spirit of the dearly departed Teachers Lounge, it taught me a whole bunch of shit I didn't know. 
So, the menu tells us the cocktail comprises fig-infused tsipouro, centerba, falernum, lime, orange bitters, and angostura bitters. It seeeeeeems to be a riff on a rum swizzle since it has about half the ingredients in common. But the rest of the recipe bears little in common with Bermuda's national drink, with the gigantic absence of rum, and it's a little confusing. No clue what tsipouo or centerba were. Tell us more.
Tsipouro is not really that weird, it turns out after some digging. It's an unaged brandy from Greece, made from the leftover pomace or grape must from a wine press, and you've had this flavor before. It comes in aniseed flavor and regular; the Figgy Swizzit cocktail features the former, and then the fig essence is added. By itself, the aniseed version tastes a whole lot like ouzo, but it's not nearly as distilled. Licorice moonshine. A little hard to handle on its own. This is what you imagine 14th-century Greek Orthodox monks were getting high on up in the mountaintops. 
Centerba, meanwhile, could be called an Italian version of green chartreuse. Also spelled "centerbe," the name translates to "one hundred herbs," and it's a highly aromatic and super potent amaro, at 75 proof. Among probably other things, centerba contains [deep breath] basil, cloves, saffron, mint, cinnamon, rosemary, sage, juniper, toasted coffee beans, thyme flowers, marjoram, chamomile, and the leaves of various citrus fruit trees, usually lemon and orange.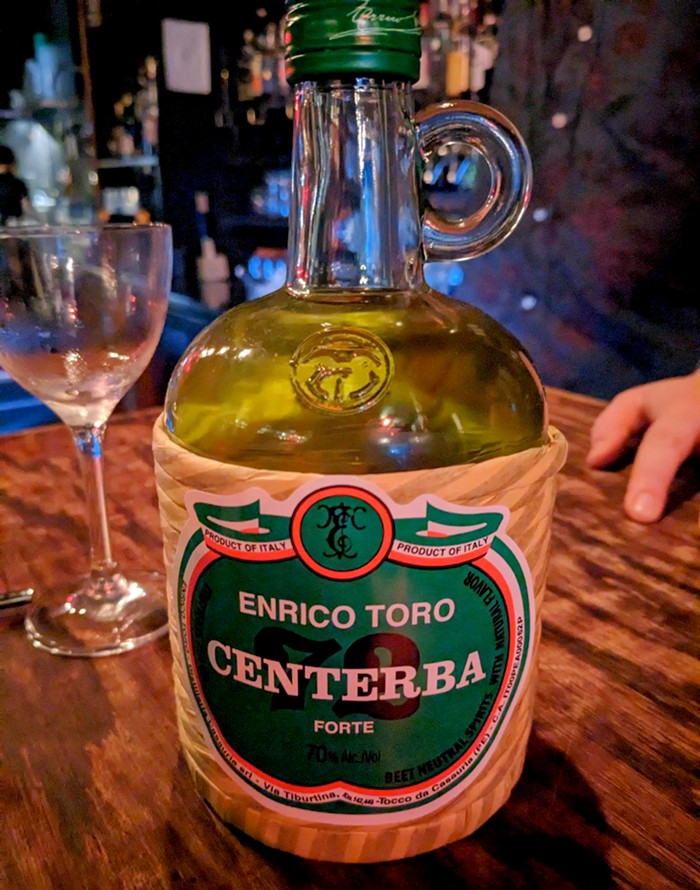 The amount of centerba in the Figgy Swizzit is pretty gentle, but if you ask for a shot glass of the stuff, you can lean down and huff the air above the glass and taste every single individual one of those herbs and leaves and flowers up in your upper respiratory tract. Bright green, herbal, medicinal. But as a lower layer in the Figgy Swizzit's flavor profile, hiding under the amygdalaceous falernum, it wafts on by without totally crushing your skullbones into powder, like the straight stuff threatens to. 
What's up with the name? It rings a bell but I couldn't place it. Co-owner Matt Hassler says, "Oh, well, it was originally called Gettin' Figgy with It, but then we made it a swizzle, to further change the name up." If you don't know, a swizzle is a fruity, usually rum-based drink that's served in a tall glass with ice, which is then churned with a swizzle stick to dilute and aerate the drink. It also makes the glass get all frosty, to give it that refreshing cooling effect. The most famous swizzle is the aforesaid rum swizzle, but there's also the Queen's Park Swizzle with mint and demerara rum, the Sailor's Swizzle with ruby port and pimento berry dram, the Kona Swizzle with spiced rum, coffee, and orgeat… and so on. Perhaps this is the Mediterranean version of the Caribbean classic.
Sure, I can feel that. Viewing it in the context of a rum swizzle, the sharp tsipouro and hyper-herbal centerba—who're pinch-hitting for the rum—stab right through the fruit, making it way stormier than your usual sweet swizzle. The falernum is light and clovey and almond-scented, and lime is sunny and bright, and the fig is molassesy, but there's some real edges underneath all of that, from both the tsipouro and the centerba. Like, when I saw the name Figgy Swizzit, I thought it'd be sugary, but no. This drink has a burn to it. It's a coffee cake with a knife in it.
"We actually started out making this cocktail with grappa and green chartreuse instead of tsipouro and Centebra," Gomez says. "But I first had centerba… I wanna say five years ago. My friend was working at Rum Club in Portland, and he had me try it, and I just fell in love. I've been trying to get it ever since, but I wasn't able to get it in Washington state. But I kept asking the reps in California, saying, "If you can get this for me in Washington, that'd be fuckin' great," and eventually, they did. It took a while, but hey, now we're the first people in Washington to have centerba. We bought the whole case. We got the first case in the state."
Hassler adds that they're thinking of swapping out the centerba for pisco someday to test out a whole new iteration, which they'd probably still infuse with fig. (Pisco also shows up on the current menu in the Pisco and Paparazzi, which includes pisco, lemon, raspberry, orgeat, lavender bitters, lambrusco… and a Polaroid of you posing with your cocktail.) "Or we thought about adding… something else too, on top of the fig?" Matt says. "Who knows? We like to play around with the menu."
Hassler, by the way, comes to us from rural small-town Montana, although he's been in town for many years. "Lewiston—you won't have heard of it. Billings is the closest city, but it's still two hours out. I'm, uh, much happier in Seattle," he laughs.
"When these two," he gestures to Amy and Gomez in the background, "decided they wanted to open this place, I was a manager at El Chupacabra, and they thought it would be a great fit. Everyone kinda fills their roles perfectly—which never happens!" 
Dark Room's third partner, chef Amy Beaumier, had her hands full in the kitchen and couldn't chat when I visited, but she's cooked at Joli, Local 360, and Dragonfish among other local restos. Born in Korea and adopted by a Seattle couple, her heritage influences the menu—the standout of which is the shrimp and pork sandwich with Kewpie mayo and pickled veggies on a heaven-scented milk bread bun, which Beaumier bakes each morning in-house. It's like eating the innards of a mandu, in burger format, with the best bun possible.
 

 

View this post on Instagram

 
Gomez, who created almost every drink on the cocktail program, has been in Seattle for 20 years, moving here from Oxnard, CA, when he was freshly 21. He started branching out into craft cocktail pop-ups a while back, such as his recent Wu-Tails pop-up on February 15 at Dark Room, which reportedly killed.
"Yeah, I really like to do pop-ups!" Gomez says. "My first one was five years ago at North Star—that one was just different iterations of whiskey sours. I also did a pop-up with sour beers with different syrups. But then I did the Wu-Tails one there, and it just got a huge reception." Gomez says he's repeated the Wu-Tails pop-up several times, due to the overwhelming response. "Yeah, I've done one other pop-up called Rhyme Sayers twice, but that's the only other pop-up I've reproduced other than Wu-Tails. This one just does really well."
 

 

View this post on Instagram

 
Why Wu-Tang Clan? "Haha, well, I was obsessed with the Wu-Tang Clan when I was in high school. Way too obsessed! That knowledge has just stuck in my head since I was 16 years old. So I used all that knowledge that isn't useful for anybody else, other than doing creative projects, and it ended up being great. I actually ended up serving Wu-Tang themselves in Minneapolis, during a Wu-Tails event at a bar called Constantine in Minneapolis that's above a hotel, where the band was staying. A few of them came down after hours, and I got to serve Inspectah Deck, U-God, Cappadonna, and Masta Killa, plus their entourage. I served them from 3 to 6 am, and I was just exhausted by that point. They were still partyin'!"
Even if you missed the Wu-Tails event, you can order the Shame on a Negroni off the regular menu anytime, which comes with a Wu-Tang logo ice cube embedded inside a normal ice cube. It's also got Cynar in place of Campari and Punt e Mes instead of the sweeter vermouth you'll find in a usual negroni, plus a dash of chocolate bitters. Per Ol' Dirty Bastard, it'll fuck your ass up.
The neighborhood's lucky to have this trio, who goes forward with former Teachers Lounge owners Des and Perryn's blessings. "We feel such a kismet with the sale of Teachers Lounge and Matt, Amy, and Gomez creating their vision of the Dark Room," Des Wright tells me. "Perryn and I are super fortunate to be able to sell our sweet little nerd bar to such awesome people. We were so glad to pass all that good juju we had in the space down to them." 
Des points out that the Dark Room has a cocktail called the Teacher's Pet, in memoriam to the former bar. I'd noticed they kept "the dunce chair," one of those wooden chair-desk combos, and got a little emotional when I did. "Yeah, they kept some Easter eggs from TL," she comments. "So thoughtful! We have all been very supportive of one another. It's bittersweet perfection."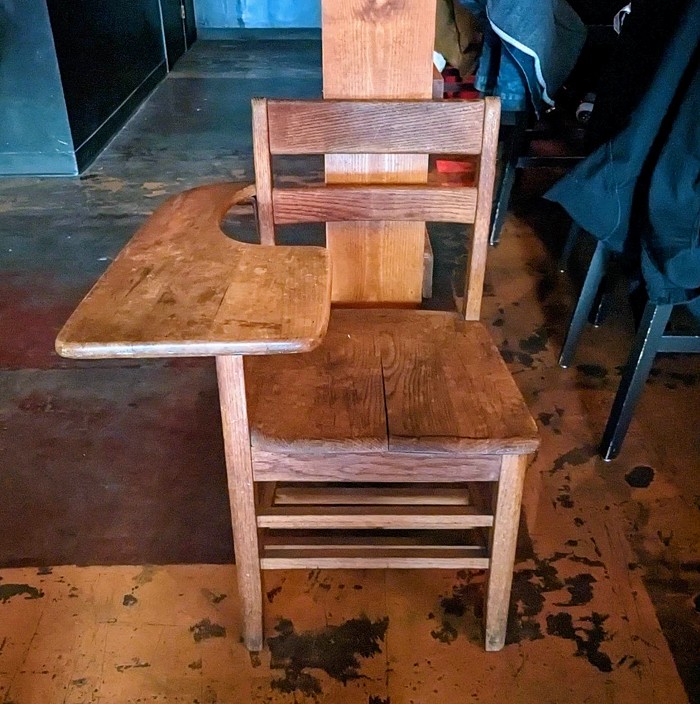 I was clearly a fool to wait a whole month to check out the scene at Dark Room and will be taking my next high-concept cocktail in the dunce chair. I've liked every single item I've tried so far, on both the food and drink menus, the staff is cool as fuck, the bar is POC-owned and the first Black- and Asian-owned bar in Greenwood, and the whole project brings a vibrant, creative, date-nighty scene to the neighborhood. Plus a library of fascinating imported liquors I'd never heard of, in the Figgy Swizzit and beyond. RIP Teachers Lounge, but I'm thrilled that it remains both a great bar and an educational space as Dark Room. Lesson learn'd.