I didn't know Murray Stenson personally. I was just his customer a few times.
Although I've been writing about bars and restaurants for more than two decades here in my hometown, I was a shy late bloomer when it comes to cocktail culture. I didn't start drinking until I was 28, and by the time I got into cocktailing in earnest, it was around when Stenson got sick and initially stepped back from bartending. Plus he was all famous by then. I was served by him a handful of times, since he worked at so many different Seattle bars, but I never wanted to, y'know, bother the guy. 
Stenson's long shadow has permeated my career as a food writer, though—most recently as the author of this column, named for the drink that put Stenson in the national spotlight. Stenson passed away in Seattle on September 22, and I've found myself wishing I'd sat at the Zig Zag Café with a notebook back in the early aughts, in the perennial row of bartenders who considered the bartop their lecture hall whenever Stenson was behind it. Smart move, guys.
Helpfully, it was impossible to hit the bars in Seattle last week without running into folks who were thrilled to tell their anecdotes about Stenson. In Pike Place and Belltown particularly, it seemed every round was a cheers to Murr the Blur—a nickname coined by Seattle food writer Nancy Leson as a nod to Stenson's speed and facility behind the stick, aided by his habit of free-pouring rather than measuring shots. On Saturday night, I started at Roquette, owned by Zig Zag alum Erik Hakkinen, where the scene was somber. Bartender Joe Rumpeltes gestured to the end of the bar: "That was Murray's spot. We had that seat reserved yesterday, and there was a Last Word sitting there all night. Actually, that first dollar up there, framed on the bar, was from Murray as well." 
The night before, Rumpeltes says, they held a vigil when the news broke. "This entire side of the bar was Last Words last night, and we did a toast at midnight. It was all anyone was drinking."
 

 

View this post on Instagram

 
But it was up on the Hill at the Doctor's Office where co-owner Keith Waldbauer reminded me about the Hot Charlotte. The story goes that Stenson unwittingly made his name on the luminous Last Word after finding it in a dusty old cocktail book—as Stenson told it with characteristic humility, "I got famous on someone else's drink"—but the Hot Charlotte was his own invention. Created for his friend Charlotte Voisey, arguably London's equivalent of Murray Stenson in the cocktail renaissance of the mid-2000s, the recipe is simple and exquisite: an ounce and a half of gin, an ounce of St-Germain, and a half an ounce of lemon juice, poured over muddled cucumber. Then it's double-strained over rocks in an old-fashioned glass with a few shakes of Tabasco and garnished with a thin, almost translucent slice of cuke. 
The result is pale sunny yellow, light and fruity with a melon back and that femme floral touch from the St-Germain. Not too sweet, a tiny bit briny, with a zing from the capsaicin. Clean and unfettered. An instant classic.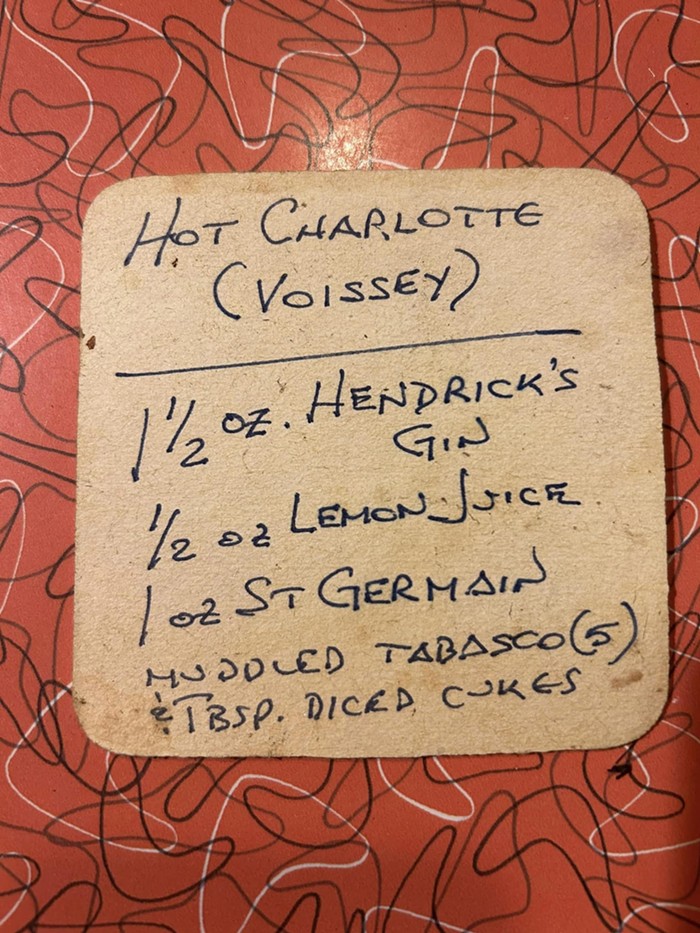 Embarrassing to admit that I hadn't been to the Zig Zag in years, but I'm glad to report that it's just as luxe and sultry as when it was landing on best-of lists in GQ and so on. All red lights and curved lines to this day. One of the first times I was there, I remember brattily thinking that this is just an old cinder-block basement, man—you can see the lines through the paint on the walls—and why is everyone in America jerking off about this place? But now I realize that that's the best thing about it. It's what they transformed a humble industrial basement into. I'm back in love. 
My anonymous bartender, who was extremely busy and who I didn't want to bother, said they've been selling the living shit out of Last Words all week, but not so many Hot Charlottes. "No, it's been so heavy on the Last Word, since that drink's pretty much synonymous with this place." The Hot Charlotte's not on the menu, and I asked if it's all right to send folks this way to order them. "Of course, since this is where Murray invented it," was the reply. "We'll always serve the Hot Charlotte here, don't worry!"  
Good, because if you haven't had one before, you must start here. In this version, the cucumber is the top note. There's a brininess to it from the citrus and the gin, complementing the cucumber naturally, but it's not pickley like you might expect. Gin and cucumber are famous lovers, of course. Meanwhile, the combo of the sweet St-Germain and the cuke brings out the melonosity and helps yank it back from being too tart. It's also a bit spicier than you might have bargained for. Like, I rank Tabasco as batting pretty low on the heat scale, but this is quite sharp and made me cough one time, so there's more than a drop in there—five dashes, per the original recipe. It's not a Warm Charlotte.
Another note for noobs: In Zig Zag's version of the Hot Charlotte, which is by definition the correct one, they use Hendrick's Gin (its namesake, Voisey, is now a rep for the brand), and I know a lot of people think they don't like gin. But if you're one of them, stick with this drink anyway, because I think of Hendrick's as the gin for people who don't like gin—it's way less juniper-forward and doesn't taste like a pine tree. (I personally love things that taste like pine trees, as is well documented.) It's like when someone is afraid to eat raw fish so you order them some sushi with avocado and carrot and cream cheese in it. See? You love sushi!
Back at the Doctor's Office, Waldbauer reminds me that the Hot Charlotte was also the drink that veteran Seattle cocktailor Jon Christiansen, now the beverage director at Monsoon, served in order to cover medical bills for Stenson a few years back. Christiansen co-owns Looking Glass Botanical Blends, by the way, and offers a totally organic premade Hot Charlotte mixer just in case you're not the nation's most influential bartender and want to slam-dunk this drink. It's a flowerier, chilled-out rendition with jalapeno and ancho chili subbing for Tabasco, elderflower for St-Germain, and a splash of champagne vinegar added for 'zazz. Christiansen reached out just before press time to let me know that he and Stenson were even in cahoots on the mix recipe. "Murray recently agreed to brand-rep [for Looking Glass], and we were planning a release party that wasn't to be. He asked that a portion of proceeds go to the United States Bartenders' Guild." 
Now Christiansen finds himself again selling the Hot Charlotte mix in an effort to raise funds—but this time, they're for Stenson's memorial service, tentatively slated to happen at the Chihuly Glass and Glass museum in the coming weeks.  What a melancholy twist. "The wholesale bottles, all profits are going to Murray's memorial," Christiansen says  "Anything raised over the costs for that will go to the USBG, and I donate a buck for every bottle sold in Murray's name as well." The guild itself moves the donations to the Emergency Bartender Relief Fund, and efforts are actually in progress to rename it after Stenson.
Waldbauer serves me a Hot Charlotte made with Christiansen's bottled mixer, and it's easy and lovely. One could easily swap in a splash of club soda in place of gin and make it non-alc too. This is your second Hot Charlotte, though, at the Doctor's Office, not your first. Go to the Zig Zag Café for your very first one. You need to have the thing in the place.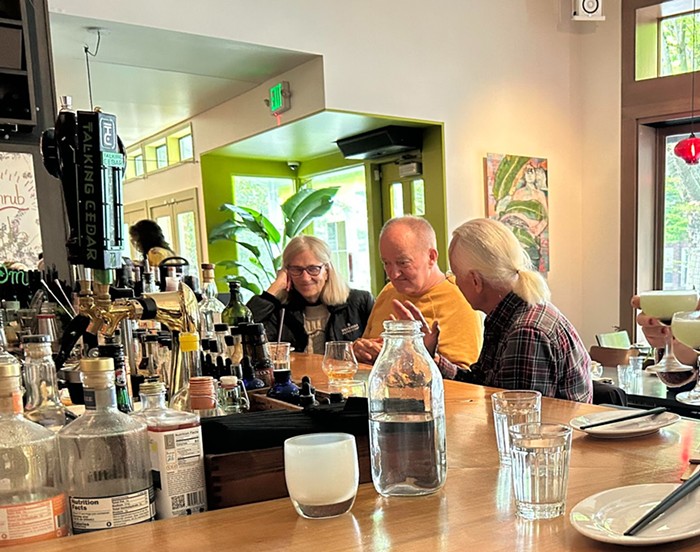 Billie Holliday chirps behind us as I quiz Waldbauer on the legacy of Murray Stenson, a guy I didn't even know, and he drops a fun fact that I hadn't uncovered in my research: that the dude was a giant jazz nerd and owned over 4,000 jazz records. Oh, duh, right. Jazz is indelibly the theme of the Zig Zag. The soundtrack has always been jazz there, especially when Murray was behind the stick—really choice stuff, too—and there's live jazz happening there regularly to this day. That's right on the nose. Of course he was.
"That's actually how I want to pay my respects to Murray," Waldbauer goes on. "You know, the last thing I want to do is drink shots of Fernet and have a giant party, like the rest of the city is doing right now. Instead, an industry friend and I are gonna get a bottle of Billecart-Salmon rosé and sit and listen to jazz records together, as our quiet tribute to Murray. I think that's the best way to do it." 
Cheers to the man. Sounds like a perfect last word to me.