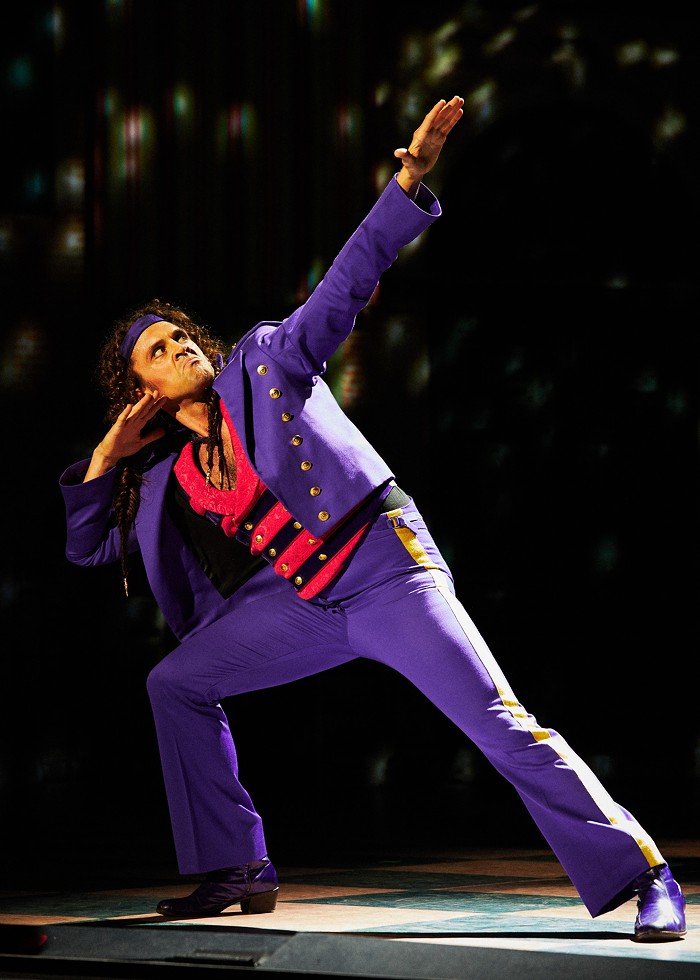 If Prince and Jim Morrison had a secret love child it would be John Moore playing Figaro in the opening night of Seattle Opera's The Barber of Seville. He swings his long, curly, bad-boy rockstar hair around and preens. He brags about how everybody—guys and girls, young and old—wants him. He acts like he's smarter than everyone else. But in the case of this opera, he actually is.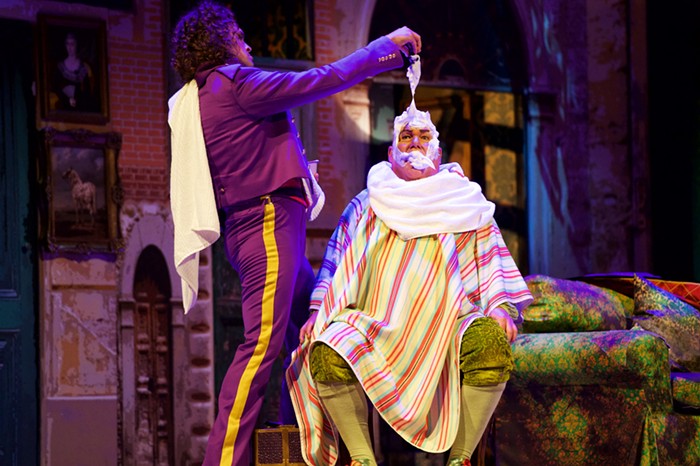 Rossini composed The Barber of Seville 200 years ago from a libretto by Pierre-Augustin Caron de Beaumarchais, a sometime spy of the French Revolution. The story is partly political (lower class Figaro is smarter than his upper class boss, Count Almaviva) but mostly it's a farce full of stock characters and predictably ridiculous situations (pompous old man, pretty young female, handsome young male, wily servants, disguises and multiple comings and going through multiple windows and doors).
The music is funny too: excruciatingly quick sixteenth notes sung at breakneck speed by solos, duets, trios, and ensembles, and maddeningly fiddled by the orchestra, then borrowed by artists ranging from Bugs Bunny in "The Rabbit of Seville" to the Beatles when they are trying to cut off Ringo's ring in "Help!" This opera is also where that "Figaro! Figaro! Figaro!" thing comes from that Spongebob, Tom and Jerry, more Bugs Bunny, and doubtless other cartoons and parodies use.
In other words, even if you think you don't anything about opera, you do: You know this music.
That's one reason this would be a great show for a first-time opera-goer to try. But actually, anyone who likes spectacle will be wowed by this co-production between Seattle Opera, Opera Queensland, and New Zealand Opera. (Thank you, Aiden Lang, for connecting Seattle Opera with Down Under.) It's a crazy bright hilarious production.
Highlights include: dorky white-guy dancing; Seattle boy-lesque performer Waxie Moon (in the non-singing part of servant Ambrogio) in cumulus-cloud muttonchops, who is at one point suspended upside down from a chandelier; ingenue Rosina (Sabina Puertolas and Sofia Fomina, both in their Seattle Opera debuts) in the shower with head in a towel; Berta, the maid (Margaret Gawrysiak) smoking while vacuuming; Vegas-era Elvis wig on very large, bald, funny Kevin Glavin (Dr. Bartolo); Jimi Hendrix-purple headband on Will Liverman (Sunday matinee's terrific if less-sexy-than-Moore bad boy Figaro); clingy, Prince-ly purple costumes worn by both Figaros; Count Almaviva-in-disguise's Liberace-ing at the piano as if playing the orchestra's music (he's sung by tenors Matthew Grills and Andrew Owens in alternate casts); the set as mash-up of Pee Wee's Playhouse, Laugh-In, and a slow-motion bad dream of a disco ball; the force of nature that is Daniel Sumegi's (Don Basilio) bass; red streamers.
I never thought of Prince as a guy with a sense of humor, so I doubt the humor of this production would have done much for him. But I am confident that he would have loved the magnificent tunes and voices, the joyous sass, and the spectacle.
The Barber of Seville runs through October 28 at McCaw Hall.