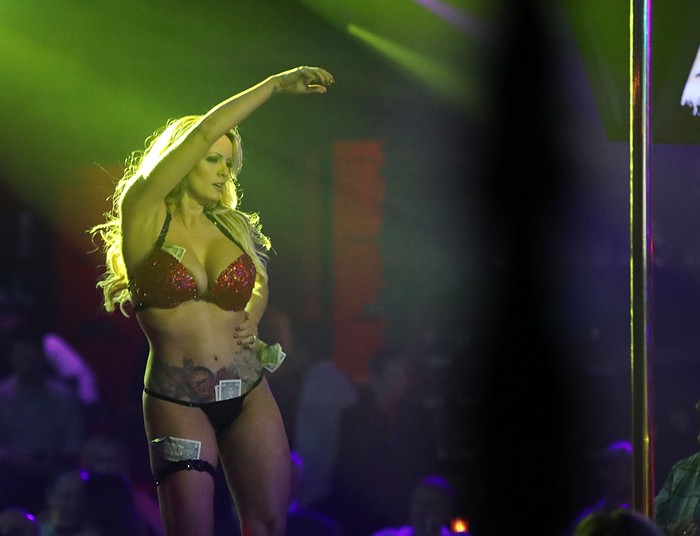 Last night, at promptly 11 p.m., Stormy Daniels took to the stage of Seattle's
Dream Girls at SoDo
and gave a historic, patriotic, vagina-forward, wax-driven erotic dance for me, my boyfriend, and the troops on Veterans Day. (The troops got in for free.) At one point, Stormy kicked so high I thought her heel was going to bend behind her head like Gumby and skewer the face of the man whom she had just walloped with her bare boob. A boob, I might add, that has allegedly walloped the President of the United States. It was electrifying. I felt like I was watching Tonya Harding do the triple axel at the 1991 Nationals.
Daniels was sweeping through Seattle as a part of a nationwide tour of America's strip clubs. The tour—frequently called the "Make America Horny Again" tour, even though Daniels has said she's repeatedly asked promoters not to use that title (good on Dream Girls for going with "Support the Troops" tour)—features Stormy dancing to a set of three songs. She started the performance wearing what looked like a fancy witch cloak and ended up covered in wax and rolling around naked on a furry blanket to what sounded like a Phil Collins song. I imagine, for most front-row viewers, that Stormy's performance will be the only time they will ever get motorboated by a woman who presumably motorboated the Commander-in-Chief. But Daniels is far more than Trump, she is, first off, a newly anointed Saint (👇), and arguably the most famous person working in the world's oldest profession.
Earlier this year, there was some infuriating press around Saint Stormy's tour. Vice's Eve Peyser notably published a piece that focused on the lack of clapping at one of Stormy's shows:
"If you're ready for Stormy Daniels, make some noise," the announcer commanded. Gossip, the aptly named Long Island strip club hosting the event, was crawling with just as many journalists as regular patrons, and the audience did not, actually, make much noise.

[...]

Out of guilt, I gave a half-hearted clap for Daniels, born Stephanie Gregory Clifford, the porn star who Donald Trump's lawyer reportedly paid $130,000 to keep quiet about her alleged 2006 extramarital affair with Trump. She has kept quiet about it, but in 2011 she talked to InTouch in rather too much detail about the tryst—according to that interview, Trump loves Shark Week and hates sharks, and she was worried that he would try to pay her for sex.
This early focus on her crowds' noise levels has plagued the tour, with other media outlets using the piece as evidence to attack Daniels. (Peyser's use of "out of guilt" is telling.) At her Seattle show, Stormy repeatedly made a clapping motion at the audience, which I can only attribute to the media's early framing of her tour because the audience was plenty loud. But, it must be noted, people make "noise" at strip clubs with their wallets. Why does it matter if people are woo-girling while Stormy takes off her top? If a dollar equals a round of applause in a strip club, then last night Seattle gave the longest standing ovation I've ever seen in this town. There were so many dollars thrown onstage that men had to come with brooms to sweep mountains of $20 bills out from under her feet—while she high-kicked! With her pussy out!
Speaking of pussy...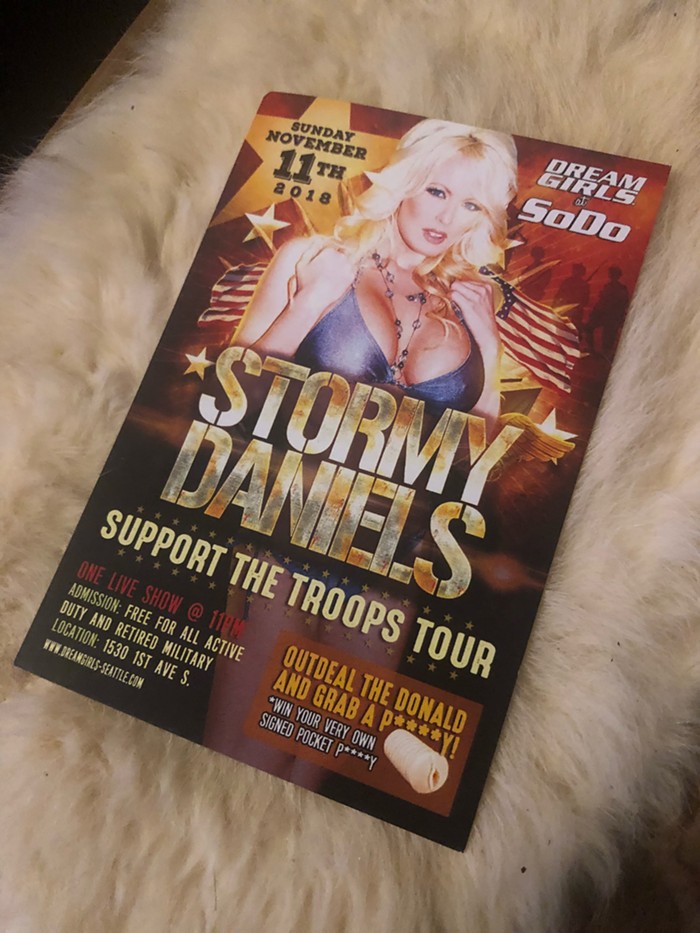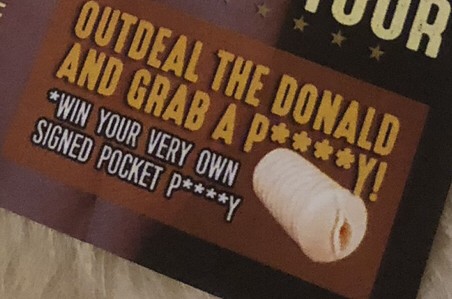 This country owes Stormy Daniels for her service, and she's still out here giving it for the troops on Veterans Day. Yet conservative media and naysayers—Meghan McCain (👇)—use their giant platforms to say this porn star being sued by the president is just "trying to get attention" and that this all "seems like a publicity stunt." But I don't need to defend Stormy, Stormy can defend herself:
The Sisters of Perpetual Indulgence were right when they anointed Stormy Daniels as Saint Tempestuous, Eye of the Hurricane of Truth and Stormer of the Barricades of Intolerance. Daniels is a woman putting a brave, intelligent face on an American industry that is constantly used and never thanked. She is a woman who is giving this nation free lessons on how to combat trolls with style and grace, a woman who pours hot wax across her vagina* and wipes it up with dollar bills. We could all learn something from Stormy Daniels's feminism. She is a patriot, and I, for one, will forever be grateful for her service.
*I know, I know, it's the
labia
but AP says to use vagina.