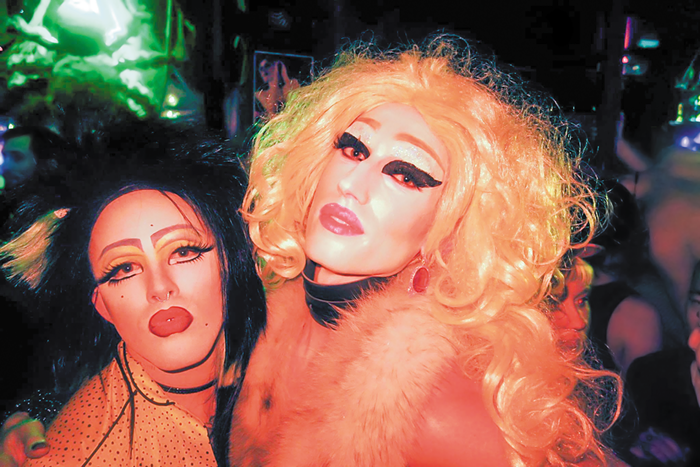 In General
You're going to want to be on Capitol Hill. Though there are gay people and gay businesses throughout Seattle, Capitol Hill is traditionally the gay neighborhood, and it's where you'll find most of the gay bars, the city's only lesbian bar, and a few zany crosswalks painted the colors of the rainbow.
Sponsored

$20 lunch and $35 / $50 dinner options. Venues offer takeout, delivery, indoor and outdoor dining.
---
BARS
The only gay bar in Seattle with an outdoor fire pit also has fantastic bartenders, clever DJs, and vintage gay porn (i.e., huge dicks) wheat-pasted to the walls. Plus, there's a photo booth. Plus, a gloryhole in the bathroom. What more do you want? Go-go dancers? They have go-go dancers on weekends. A tea dance? Sundays at 4 p.m. Karaoke? They have karaoke on Tuesday nights. Once I showed up on a Tuesday, and the entire cast of a touring production of The Book of Mormon was there, singing their hearts out. A word to the wise: The later you show up to Pony, the more crowded it will be.
A sports bar for men who like men. They have TVs, darts, pool, video games, and pull tabs. It's popular, crowded, and unpretentious.
Just steps away from Madison Pub and Pony, this bar caters to bears and the cubs who love them.
The only bar in the city for women who date women has a screaming deal on tacos on Tuesdays—$1 for beef or bean tacos, $2 for chicken tacos, and $2 Tecates. On Wednesday night, there is karaoke at 9 p.m., and on Thursdays, well drinks are only $3.
This bar is trying to do something unique by being a bar for the entire queer community—including trans folks, nonbinary people, lesbians, and good-old fashioned gay men. They also have regular drag performances on the weekends.
This is where the dancing happens. Raised platforms, disco lights, etc. Once a stalwart testament to enduring gayness, Neighbours these days welcomes more and more bachelorette parties. But with more than 30 years under its belt—the place is older than most of its clientele—Neighbours still hosts plenty of queer nights.
Three floors of gay bar with dancing up top, R Place also hosts live drag shows, RuPaul's Drag Race viewing parties, and karaoke (on Sundays, Mondays, and Tuesdays at 9 p.m.). Other nights, the dancing starts at 10 p.m., and on Wednesdays and Thursdays, there's no cover.
A leather bar that's frequently crowded with kinksters, jocks, pups, poz socials, and subs willing to shine your shoes, it also has a large outdoor patio. Seattle Men in Leather meet at the Cuff, and lots of gay sports teams have their social functions there. There are several different areas to hang out in, which makes hiding from your ex much easier.
They have underwear parties on Saturdays, a urinal trough, video projections, an outdoor patio with a string of Christmas lights overhead, and screamingly fun parties.
Kremwerk & the Timbre Room
Kremwerk, located downstairs, is sometimes like a Berlin techno club and sometimes like a punk drag performance venue. Go on the drag nights—but be prepared to get a little blood on you if you sit in the front row. (Or white paint. True story.) Upstairs is the tiny, fun Timbre Room, with a small bar and small dance floor that plays host to popular house music parties and drag events.
The best night to visit this gay bar is the first Saturday of the month—kink night. Guys dress up in the most amazing stuff (or sometimes almost nothing at all). On other nights, go for the slide show of naked men on the TVs, the pool table, and the darts.
This is the only gay bar in its vicinity, over near the Montlake cut. It tends to attract clean-cut, mainstream folks—older men, twinks, lesbians, and the like. This bar used to be strictly a cocktail lounge when it was on Capitol Hill, but now that it is in the new location, there is a full menu.
This is North Seattle's gay bar—the closest gay bar to the University of Washington, the Ballard Locks, or Northgate. They have pool, darts, Seahawks parties, and karaoke on Wednesdays.
West Seattle is where gay folks go to retire, and this laid-back bar epitomizes the neighborhood's laid-back spirit. Monday is trivia night, Wednesday is lesbian night, Thursday is karaoke, Friday and Saturday there are DJs, and Sunday is oriented around whatever game is on TV.
This White Center gay bar is lumberjack-themed. Logs are omnipresent: logs wrapped around the cords of Edison bulbs, logs chained to walls, log benches, log stools, log pictures, etc. The menu includes "wood pellets" (olives in cheese breading served with marinara) and a mashed potato bar.
---
SHOPS
Vibrators on display, classes on everything from rope bondage to strap-ons to erotic massage, and a friendly staff, Babeland is perfectly suited to women who date women—but gay guys, straight couples, and folks across the spectrum are also welcome.
A must-stop shop for kinky guys, this place has handmade leather apparel, pup supplies, bondage toys galore, dirty magazines, and a sexy staff.
---
PUBLIC SEX AND BATHHOUSES
It used to be that Volunteer Park was overrun with bush bunnies, but the truth is, times have changed: Most people who want sex right now just get it through their smartphone. Nevertheless, if you want to tromp around an outdoor setting making eye contact with strangers for old time's sake, Volunteer Park is your best bet. (Forewarned is forearmed: Being naked in Seattle is not illegal, but "lewd conduct"—touching yourself or someone else who is naked—is.) For sanctioned public indoor sex, there are two bathhouses in town: Steamworks caters to a slightly younger crowd than Club Z, but both are for filthy men and the filthy men who love them.