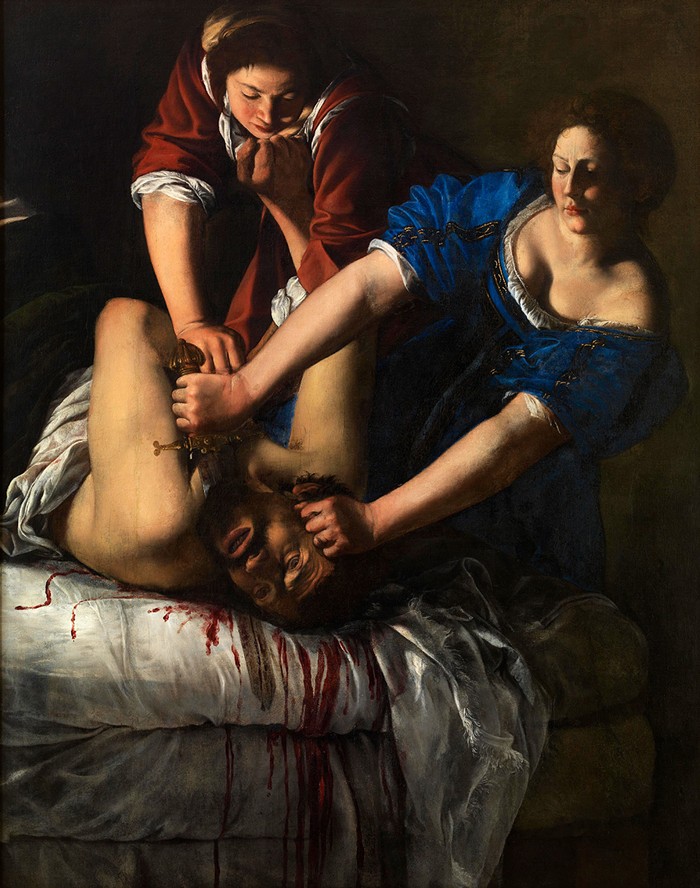 Flesh and Blood at Seattle Art Museum consists of 40 works (39 paintings and one sculpture) by Spanish, Italian, and French Renaissance and Baroque master artists. There are paintings of cardinals, lovers as Greek goddesses, Mary holding Christ's dead body as it was taken off the cross, etc. These works are from the collection of Museo e Real Bosco di Capodimonte, in the hills of Naples, Italy, and this is the first time many of them have traveled together.
Sponsored

Click here to see what people are saying about Judge North.

Paid for by Committee to Reelect Judge North, P.O. Box 27113, Seattle, WA 98165
Perhaps most exciting thing in Flesh and Blood is the inclusion of Italian Baroque painter Artemisia Gentileschi's Judith and Holofernes (1612–1613). It's an innocuous title, but when a slide of the painting came up during a presentation at a press preview, a contemporary viewer gasped in horror.
Gentileschi is one of the few female painters from her time. She endured an excruciating rape trial during her teens (a case from which we actually have transcripts—a case she eventually won). She also endured single motherhood and the death of some of her children.
More recently, she's become a proto- feminist icon, with the story of the trial taking center stage in discussions of her work. More about her fascinating life can be found in the graphic biography I Know What I Am: The Life and Times of Artemisia Gentileschi by Seattle author Gina Siciliano.
Judith and Holofernes depicts the Old Testament story of Judith, a beautiful Jewish heroine, assassinating the Assyrian general Holofernes, who was about to destroy her town. Judith used her looks and Holofernes's desire to get into his tent, where he passed out after drinking too much. Accompanied by her maid, Judith used this opportunity to behead the general with a giant sword, absconding with his decapitated head and saving her city and the people in it.
The beheading was a typical scene for painters to depict during the Renaissance and Baroque periods. But Gentileschi's interpretation is distinguished by the gruesome reality of her composition. Other (male) painters approached the moment differently. Caravaggio depicts Judith looking a bit grossed out by the deed. Rubens depicts a triumphant moment just after the beheading, in which Judith looks sexily out at the viewer with her boobs out.
By contrast, Gentileschi's Judith is clothed, and she shows absolutely no qualms about the task. The surety and determination on her face is matched by the way she grabs Holofernes's hair, holding him so that she can position the sword accurately. She's a butcher of tyrannical men.
"The mechanics of the operation" are something Gentileschi thought about, said Chiyo Ishikawa, SAM's curator of European painting and sculpture, "the amount of force it would need, how many hands are needed to push that body down. There is a physical believability here that is really striking."
In the museum, where the painting hangs on a blood-red wall, the scene is overwhelming. Being close to it, you can better appreciate how the inky blackness of the background contrasts with the peachiness of the figures' skin, the white satin bed sheets, the blood spurting out of the man's neck.
And there's something else about being close to it, the actual object, which Gentileschi made with her own hands, just as Judith carried out Holofernes's death with her hands. A Google image search doesn't cut it. The power of the painting—and the perspective given through it—must be experienced in the flesh.
Sponsored
The all-digital festival features one-of-a-kind performances and panels streamed straight to you.