On July 9, beloved painter and artist Nikita Ares launches a solo show at Mini Mart City Park in Georgetown, where viewers can revel in the juiciness of her abstract, vibrant work. Raised in the Philippines, Ares now calls Seattle home, and she's making our gray little city all the more psychedelic, whether she's slathering a giant Nicolas Cage bust in kaleidoscopic colors or decorating signal boxes in Belltown.
Ares' works on canvas are shimmering portals to lush, distant planets. Though abstract, they offer up shapes and symbols to assist your way-finding through swirling landscapes—stars, suns, Basquiat crowns. "I try to make you not only see but experience and feel all these things with different components: dimension, lines, and color," Ares told me in 2019, on the occasion of her Sugar Babies Only show at Specialist. "I'm trying to create a world." And for her show opening this weekend, you'll have a chance to immerse yourself in her creations through this huge mural.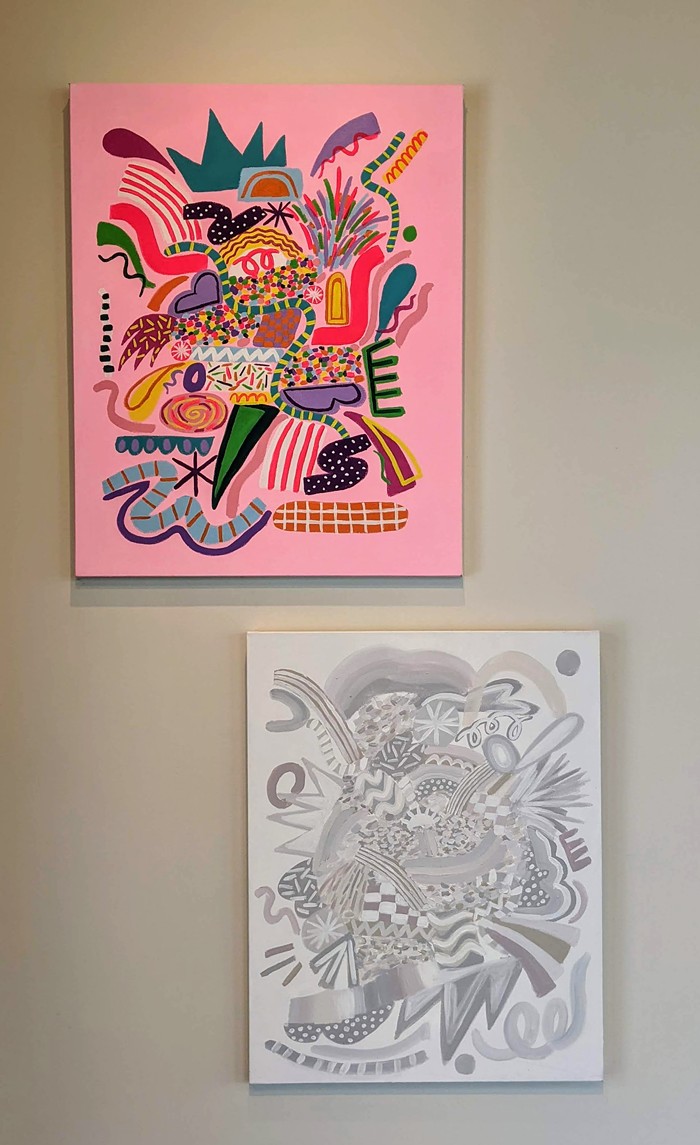 Ares' solo show opening is also the opening celebration for Mini Mart City Park, a new pocket park and arts-oriented community center founded by John Sutton, Ben Beres, and Zac Culler. When the environmentally-minded space swung its doors open earlier this year, it was a debut nearly 15 years in the making. The trio—a.k.a. SuttonBeresCuller—first won a coveted Creative Capital grant for the project in 2008. That same year, they identified an abandoned, 1930s-era noted toxic brownfield, Perovich Bros Gas Station, and decided to turn it into a cultural center. The group eventually purchased the space in 2013.
After over 10 years of planning, designing, cleaning up soil contaminants that stretch "16-20 feet below the surface," tearing down the original structure, forming a nonprofit organization, constructing the new site, and enduring delays, Mini Mart City Park was finally brought into this world. (You can also buy a can of its "not non-toxic" dirt if you're really feeling it!) Replete with a green roof and an air-sparging system that helps clean the ground it sits on, the center is ready to become a hub for gallery shows, movies, potlucks, community meetings, readings, and live music in Georgetown.  
On Saturday, Mini Mart City Park is coordinating a street fair with art vendors and nonprofits, beverages from Georgetown Brewing and Badger Goods, live performances, cupcakes from Deep Sea Sugar & Salt, and a set from DJ Zwickipedia. Coupled with Fantagraphics' Hot Off the Press Book Fair just a few blocks away, Georgetown is about to be LIT this Saturday.
---
Nikita Ares' solo show and Mini Mart City Park's opening celebration is going down on Saturday, July 9 from 3-9 pm.